Obama's Naughty Economist
"I behaved badly," Jonathan Gruber told a House committee Tuesday, walking back his condemnation of the Affordable Care Act in an exercise in self-flagellation.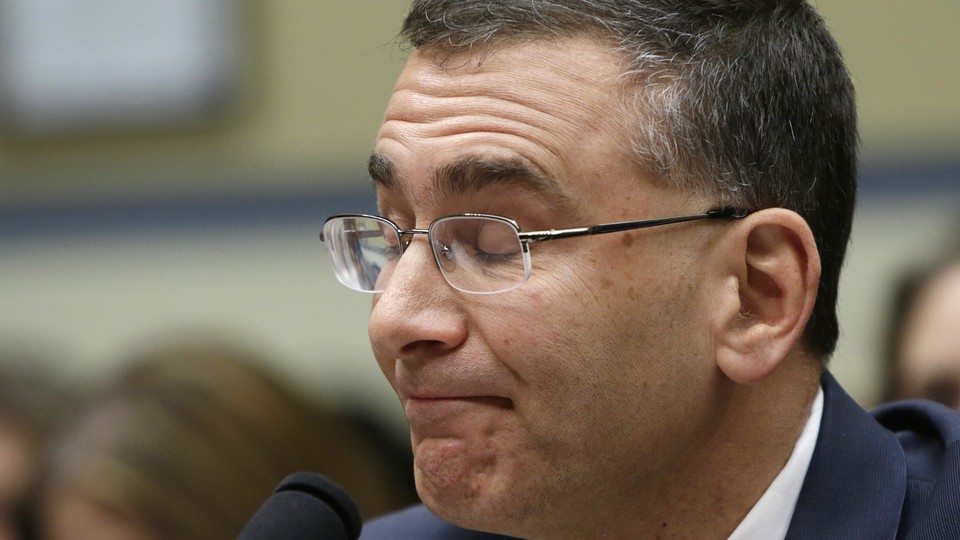 Countless Americans have been humbled under the unforgiving glare of a congressional committee. Few people in recent memory have done the humbling themselves as completely as the economist Jonathan Gruber.
Darrell Issa, the aggressive and camera-hungry outgoing chairman of the House oversight committee, hauled in Gruber before his panel on Tuesday to answer for comments he made in a series of old videos in which he essentially declared the Affordable Care Act—landmark legislation that he helped to craft—to be a grand deception. Citing a lack of transparency and a "tortured" design, the adviser who earned nearly $400,000 from the government for his work on Obamacare said the bill passed Congress in part due to the "stupidity of the American voter."
The comments were catnip for Republicans, who hoped to make Gruber the whistleblower who would finally bring down a law they have been unable to kill legislatively. But Gruber would not cooperate on Tuesday. In a remarkable act of self-flagellation, he used his opening statement to disavow the most damaging of his comments and apologize profusely for his "inexcusable arrogance."
What follows is a small selection of Gruber's regrets:
"In excerpts of these videos I am shown making a series of glib, thoughtless, and sometimes downright insulting comments."
"I would like to begin by apologizing sincerely for the offending comments that I
made. In some cases I made uninformed and glib comments about the political process behind healthcare reform. I am not an expert on politics and my tone implied that I was, which is wrong."
"It is never appropriate to try to make oneself seem more important or smarter by demeaning others. I know better. I knew better. I am embarrassed, and I am sorry."
"Let me be very clear: I do not think that the Affordable Care Act was passed in a non-transparent fashion."
"I behaved badly, and I will have to live with that, but my own inexcusable
arrogance is not a flaw in the Affordable Care Act."
Gruber's initial controversial statements were newsworthy in part because he once had been hailed by the media as "an architect" of Obamacare and by Democrats as a previous adviser to Mitt Romney when the former GOP presidential nominee drafted a similar program as governor of Massachusetts. On Tuesday, he wholeheartedly embraced the Affordable Care Act as "a milestone achievement for our nation."
Gruber's message clearly flummoxed Republicans, who suggested his unvarnished comments on the recently unearthed videos represented a classic example of the Kinsley gaffe: They told the truth. GOP lawmakers badgered him to turn over documents detailing the taxpayer-funded compensation he received for providing economic modeling to the Department of Health and Human Services during the drafting of the healthcare law. As if to link him physically to the Obama administration, Issa seated him next to Marilyn Tavenner,  the official in charge of overseeing the insurance exchanges. "We believe this is a perfect pairing, a pairing of individuals who are responsible for what we know and don't know" about the law, Issa said.
Issa came up with his own tortured reference when questioning Gruber, as he noted, in quite the #humblebrag, that he attended the Kennedy Center Honors on Sunday night and watched as Tom Hanks, who won an Oscar for Forrest Gump, took home a medal. Forrest Gump, Issa said, was "the ultimate...stupid man." The chairman turned to Gruber, the MIT economist, and asked him: "Are you stupid?"
"No, I don't think so," Gruber replied.
Democrats on the committee, rueful that his comments surfaced at such a politically damaging time, did not go much easier on him. "You gave the Republicans a PR gift," Representative Elijah Cummings told him. "Man, you did a good job. You wrapped it up in a bow." Others sought to use the hearing as yet another opportunity to point out the benefits of Obamacare, prompting Gruber and Tavenner to highlights its more positive results. Gruber stuck to his message throughout his testimony and told Republicans demanding documents from him to "take it up with my counsel."
His responses led Representative Tim Walberg to remarked that Gruber was not so incompetent a politician as he had suggested. "You answer questions better than any politician sitting up on this dais," Walberg told him. His frustration became a theme for Republicans in a hearing that dragged on more than three hours. They brought Gruber to Capitol Hill to flog Obamacare. Instead, he just flogged himself.