With Proposed New Ozone Rule, Obama Tees Up Next Environmental Fight
EPA is proposing to lower the smog standard, and environmentalists are determined to make it happen this time.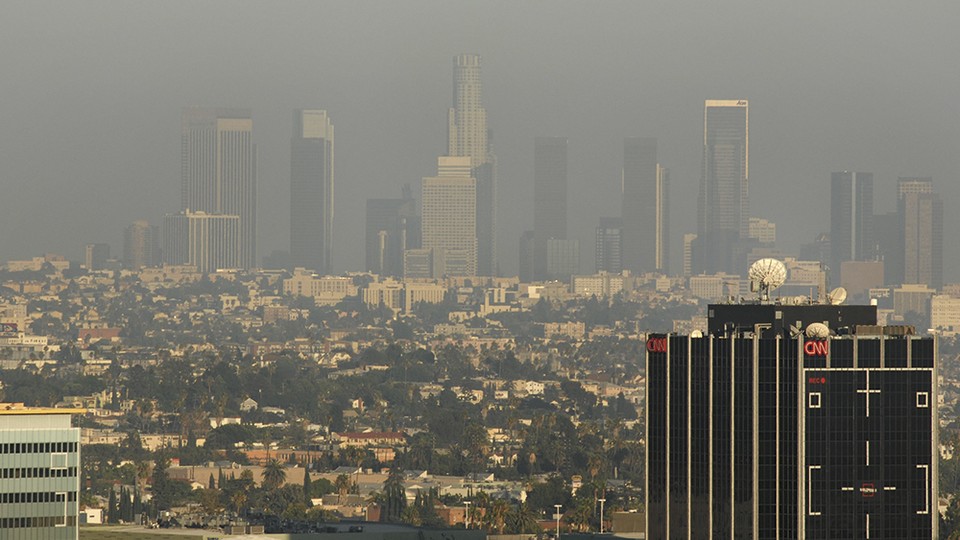 The Environmental Protection Agency is set to propose new regulations Wednesday to limit smog, kicking off the next great environmental power struggle—and setting up another difficult decision for President Obama.
At issue is what is known as the air-quality standard for ground-level ozone, which causes smog when certain pollutants combine in heat.
EPA on Wednesday proposed lowering the existing standard of 75 parts per billion to a range of 65 to 70 ppb. That would make it tighter than the status quo, which EPA's scientists have said is not sufficient to protect public health, but would set a level that is more lax than environmentalists would like to see.
In an editorial for CNN on Wednesday, EPA Administrator Gina McCarthy said that the revised standard would "clean up our air, improve access to crucial air-quality information, and protect those most at risk—our children, our elderly, and people already suffering from lung diseases like asthma."
The proposal also sets off an intense lobbying struggle between industry groups—who say that anything stricter than status quo will be prohibitively expensive—and environmental groups, who were burned once before by the Obama administration on this rule and don't want to see it go away again.
Although the rule comes from the agency, the final decision will require the White House's seal of approval and will almost certainly come with input from Obama.
It's a decision the president has faced before. In 2011, then-EPA Administrator Lisa Jackson oversaw a proposal to lower the standard to 70 ppb, but the White House struck down that proposal late in the process, overruling the agency and setting off a fury among stunned environmental groups. Setting the lower end of the proposal at 65 ppb, rather than the desired 60 ppb, raises the possibility of more trouble, although the agency will take comments on a proposal of 60 ppb that could leave open the option of that moving forward.
But the last time the rule came up, Obama still had to face another election. Now, with the president at the midpoint of his second term and having demonstrated a clear willingness to use executive authority to cement his environmental legacy, green groups are hoping he will side with them.
Don't expect the rule's opponents to surrender, though. Backed by industry groups, Senate Republicans have vowed to target the ozone standard as part of their early energy agenda, likely through legislation that would bar it from being enforced. In a letter sent last week to the Office of Management and Budget, Sens. David Vitter and Jim Inhofe slammed it as "one of the most devastating regulations in a series of over-reaching regulatory actions" and called for a cost-benefit analysis.
EPA estimated that the cost of meeting a 65 ppb standard would be $15 billion in 2025, with a 70 ppb standard costing $3.9 billion. That cost omits California, which is considered separately—for that state, a 65 ppb standard would cost $1.6 billion, while the 70 ppb standard would cost $800 million.
The Wednesday proposal was the result of EPA's scientific review process and reflects what advisers say would be an adequate level for protecting public health. The agency now enters a period of public comment. It is required under court order to issue a final rule by October 2015, although EPA officials have said publicly the final rule won't be out until Nov. 15 of that year.
What is Republicans' strategy to fight the rule?
Along with the potential for blocking spending to enforce the rule, congressional Republicans have directed their early ire at EPA's scientific review process. They've charged that the review boards need to consider cost, even though their Clean Air Act charter requires them to debate the standard only from a health-based perspective. The House has even passed a number of bills specifically targeting the scientific process, though they came too late to affect this actual rule.
Senate Republicans last year included language attacking the ozone rule in a list of requested energy amendments that ultimately did not reach the floor, but Republicans say that's going to come up again.
In the House, Majority Leader Kevin McCarthy has introduced legislation stalling the rule based on some hometown concerns—his district is in California's Central Valley, where topography and economic growth have made it a hotbed for ozone. An aide for the majority leader said he was considering legislation, but the specifics would depend on the EPA proposal.
Why are environmentalists so protective of the standard?
Ozone, a component of smog, has been linked to asthma, respiratory damage, and a host of other health impacts, as well as being a contributor to climate change. EPA's own Clean Air Scientific Advisory Committee, which reviews current literature on pollutants, said the current standard of 75 ppb was insufficient to protect public health and that 60 ppb was the threshold at which vulnerable groups would see protection.
That's also the level at which public-health groups would like to see the conversation begin in order to maximize benefits to the public. The American Lung Association estimates that 45 percent of the people in the U.S. live in areas with unhealthful ozone levels.
"A new standard is not only long overdue, but publicly needed," said Janice Nolen of the ALA in a press call with reporters. "We are protecting public health. That's the goal."
Gina McCarthy's CNN editorial said the revised standard would avert nearly a million asthma attacks, thousands of cases of acute bronchitis, and up to 1 million missed school days and 180,000 missed work days by reducing pollution-related symptoms.
And since smog is formed by hot weather, global warming has meant that the most polluted areas are seeing more smog days (an EPA scientific assessment released in February 2013 also linked ozone and climate change).
A more stringent standard would be an especially big prize because of its rocky history. EPA is required to review the ozone standard and other "criteria pollutants" every five years, but the timeline on ozone has slipped. In Obama's first term, EPA proposed lowering the standard to 70 ppb, but the White House pulled the plug in September 2011. And even though the administration insisted it wasn't a political decision, environmental groups believe the proximity to the 2012 midterms prompted the decision. Green groups sued, prompting a Dec. 1 deadline for this proposal, with finalization required by October 2015.
Given that the decision came just a few years after a George W. Bush administration EPA review set the standard at 75 ppb, which they said at the time was too weak to protect the public, the reversal stung. The good news this time, they say, is that the rule fits with the rest of Obama's climate agenda and they'd expect it to move forward even on the tighter end.
"For a decade now, we've known it's insufficient," said Terry McGuire of the Sierra Club. "For us, this is about people having the right to know if their air is clean or not. And the administration is emboldened to do that."
Why are industry groups so opposed to it?
To meet the new standards, states will have to form plans that limit emissions of ozone-forming pollutants from two major sources: stationary sources such as power plants and factories, and transportation.
For the former, there's concern that the ozone standards will mean even more expensive pollution controls on top of those already installed to meet previous standards. Reducing ozone in part means reducing emissions of nitrogen oxides that are already being reduced by other regulations, including the Clean Power Plan. A study released in July by the National Association of Manufacturers said that a majority of the new reductions would have to come from "unknown controls," since existing technology on nitrogen oxides would eliminate only a third of the needed NOx reductions (that study assumed a 60 ppb standard).
"There are some pretty significant cuts that will have to come largely from manufacturers, so we say let's just make those until we talk about moving the chains," said Ross Eisenberg, vice president of energy and resources policy for NAM. "Short of shutting down, you just run out of options."
EPA's proposal notes that other environmental standards, like the Clean Power Plan and gasoline standards, will help states comply and says that most counties are expected to be in compliance with no new controls, given work that's already being done.
The NAM report estimated the total cost of a 60 ppb standard would be $270 billion a year from 2017 to 2040, including far-ranging economic impacts on employment and energy production. The Congressional Research Service said the NAM report was relying only on the strictest assumptions to generate its estimate; EPA's own 2011 analysis said the cost would be between $19 billion and $90 billion.
Industry groups have said that EPA's best bet is to stick with the current standard of 75 ppb, because states are still working to implement the 2008 standards and other regulations will mean improved air quality. Of course, the ozone standard itself is not a new regulation, but would simply require states and regions to impose attainment plans if they fail to meet the revised levels.
The American Petroleum Institute has also cautioned that much of the country would be plunged into nonattainment status because of naturally occurring, or background, ozone. The lobbying giant has circulated a map saying that 94 percent of the country would be "closed for business," though that map includes wide swaths of the country that are not covered by EPA enforcement and assumes a strict standard coming on line immediately.
EPA's rule would allow for some relief for areas that have high background ozone or high levels drifting in from out of state (for example, the rule would allow for an exclusion during an "exceptional event" like a wildfire that releases an unusual amount of pollution). EPA estimated that at a 70 ppb level would not present attainment problems for most areas even accounting for background ozone.
Transportation cuts are largely made through cleaner gasoline, and EPA's regulations cutting sulfur from gas starting in 2017 are expected to contribute benefits, though states can also make changes to their transportation networks to seek compliance.
What's next?
The ozone rule itself comes on a relatively slow timeline by design—states are still early in the process of meeting the 2008 standard. For the revisions, states will have until 2020 to 2037 to comply, depending on the severity of their ozone problem to begin with (California counties will have the longest timeline).
The new proposal comes just ahead of the end of the comment period for EPA's Clean Power Plan on existing power plants, so this sets off a whole new round of back and forth.
Already the ozone messaging war has begun. The American Lung Association this week distributed a poll that found that 68 percent of voters supported a tighter smog standard. Meanwhile, API released an updated version of its noncompliance map and congressional Republicans were firing off letters and comments on the rule even before its proposal. Inhofe was out with a statement even Tuesday evening, vowing "rigorous oversight" of the rule when he steps in as chairman of the Environment and Public Works Committee.
In short, EPA can expect the lobbying wars to ramp up. In her editorial, McCarthy said she was ready.
"Special-interest critics will try to convince you that pollution standards chase away local jobs and businesses, but, in fact, healthy communities attract new businesses, new investment, and new jobs," she wrote. "Overall, since 1980, ozone pollution has decreased 33% nationwide. Simply put, the United States has never had to choose between a healthy economy and a healthy environment, and we won't start now."