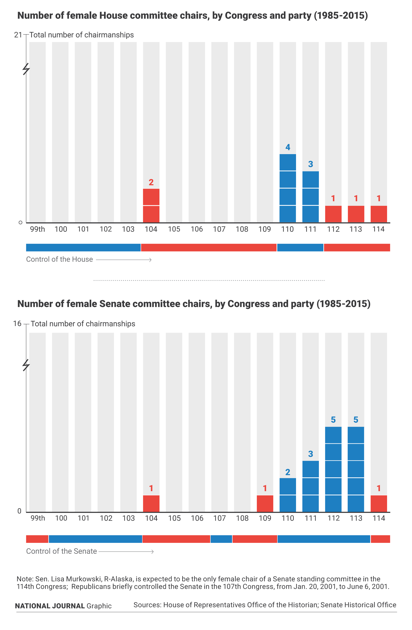 When it comes to the numbers that drive politics, women often have the edge.
They represent a majority of the U.S. population and a majority of registered voters. They turn out at a higher rate than men do, and campaigns have acted accordingly. In races for the White House down to the smallest local office, candidates of both sexes have boosted their efforts to bring female voters into their camp.
Yet women remain a clear minority on Capitol Hill. Only about 20 percent of House and Senate members in the 114th Congress will be women, and the disparity is far more striking when it comes to the lawmakers who play a huge role in guiding legislation "" committee chairs.
In a Congress fully controlled by Republicans, come January women will chair only one standing committee apiece in the House and Senate. As the chart below shows, that total is typical for chambers run by the GOP in recent years.