Timeline of Chris Christie's Nonresponse Responses on Immigration
Over the years, his approach to discussing the issue has shifted from candid to absurd.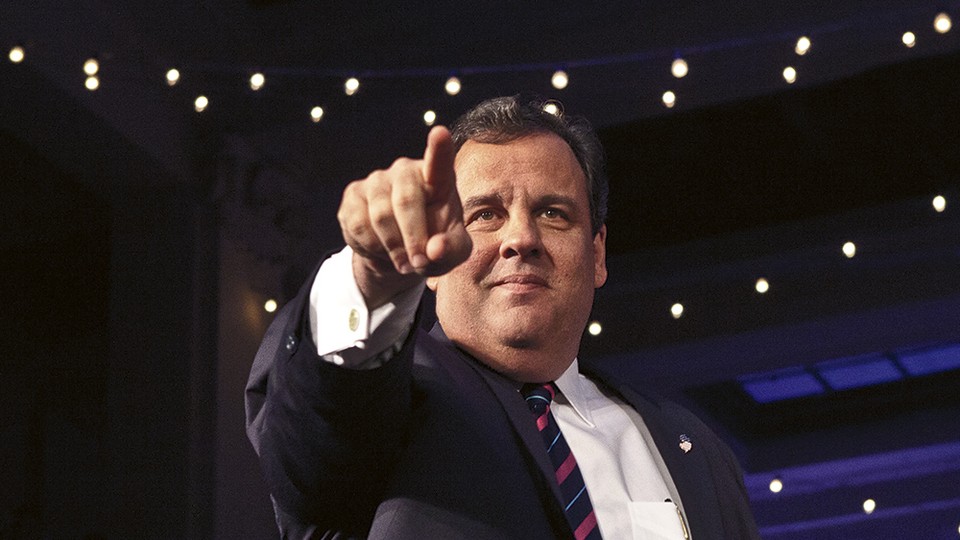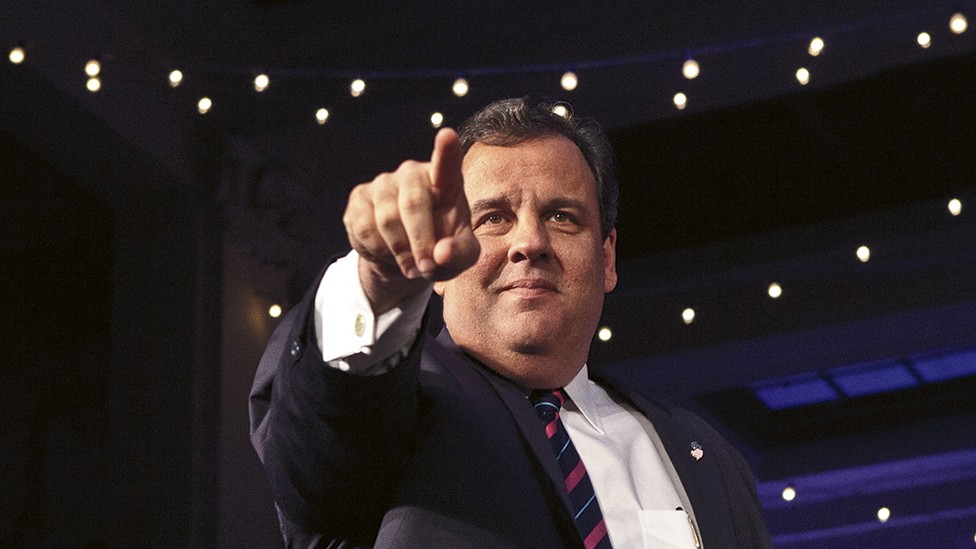 All candidates for elected office have issues they'd rather not talk about. But some have one particular subject that they go to great, great lengths to avoid. For Chris Christie, the governor of New Jersey and a potential 2016 presidential candidate, that issue is immigration.
Over the years, Christie's approach to discussing the issue has evolved from the candid to the absurd, from openly stating his support for a pathway to citizenship to offering blank stares and total silence in response to questions. One time, Christie even fled to a waiting car. More often, he has said that it's not his place to comment on a federal issue—except as it might pertain to New Jersey.
It wasn't always this way. Christie has discussed immigration issues at length in the past, and not only in relation to his own state. At a town-hall-style campaign event in April 2009 during his first gubernatorial run, Christie articulated his opposition to giving children in-state college tuition rates if they were brought to the country illegally, on the grounds that low tuition rates are a benefit earned by taxpayers. "The premise of it is, if you live in this state, if you're here illegally, you're not paying taxes, and so you can't get that benefit," Christie told the crowd. "To me, this isn't as much about them being illegal immigrants as it is about them not paying taxes, and this is common sense."
Christie maintained that position throughout the 2012 presidential elections, even using it to wade into the GOP primary and slam Texas Gov. Rick Perry for supporting in-state tuition for so-called Dreamers in a Republican debate. (Perry famously said, "I don't think you have a heart," of people who didn't share his view.) In a speech at the Reagan library in California in September 2011, Christie responded: "From my perspective, that is not a heartless position. That is a commonsense position."
Christie actually reversed himself and signed a tuition bill in December 2013, right after he was reelected with majority support from Hispanics, according to exit polling. But since his outspokenness on that issue, and especially since his reelection as governor, it's been very hard to pin Christie down on immigration, a hot-button issue among Republican primary voters. Over the past year-plus, he has sometimes gone to great lengths to avoid answering questions about it.
November 2013: After he won reelection, Christie avoided questions about whether he supported a pathway to citizenship in an appearance on ABC's This Week With George Stephanopoulos. Stephanopoulos asked if he still supported a pathway to citizenship, as he had said in his 2010 appearance on the show, but Christie would only say that "nationally, they have to fix a broken system." (Christie had been more expansive just months earlier during his reelection campaign, though he did not endorse or oppose the Senate's reform bill.)
July 2014: In an appearance in Marion, Iowa, with Gov. Terry Branstad, Christie dodged questions about broader reforms, according to a new Christie profile in The New York Times Magazine: "I'm not going to discuss a complicated issue like immigration here in Marion, Iowa."
"I know that you guys want me to focus on immigration, but I am not going to," Christie said, adding that he would only address it "if and when I become a candidate for president of the United States. Until that time, I have no role in the immigration debate except for how it may affect the citizens of New Jersey."
August 2014: During a trip to Mexico, Christie repeated his unwillingness to state a position on immigration reform unless he runs for president. According to CNN, Christie said: "I have no role in the immigration debate, except for how it may affect the individual citizens of New Jersey, which I'll deal with as governor. But I won't have anything to say on immigration unless and until I become a candidate for president of the United States, if that happens, then I will articulate a full position on it. And you guys can pick it apart or praise it or damn it however you like."
New York Times Magazine writer Mark Leibovich later wrote he tried to "pick an argument" on immigration with Christie during his Mexico trip:
" 'We're not talking about it,' he said, shutting me down. How could he expect to avoid it, I asked him, given that we were in Mexico? 'I know it's there,' he said. 'I'm just not talking about it except as it relates to New Jersey.' 'So,' I asked, 'if an undocumented immigrant in New Jersey wanted a path to citizenship, would you support it?'"

"'Fabulous try,' he said, exhaling a deep, disdainful laugh."
September 2014: In an interview with Politico in September, Christie openly admitted there's no upside to him discussing his positions with the media: "Of course. It's a very important national issue."¦ There's no upside to me at this moment, to be candid, to discuss it. I'm not a candidate for president."
October 2014: In late October, Christie campaigned for gubernatorial candidate Doug Ducey in Arizona, who made immigration policy and border security the centerpiece of his campaign. According to New Jersey Advance Media, after an event in Scottsdale, "a newspaper reporter speaking to Christie one on one asked a question about what 'securing the border'—the biggest issue in the campaign—meant to him. Christie looked the reporter in the eye, turned on his heel, and walked out into an awaiting car without a word."
November 2014: During a postelection Nov. 5 appearance on ABC's Good Morning America, Christie advocated against President Obama taking executive action on immigration and encouraged him to "work with the new Republican Congress." He said "the president shouldn't look to go around them. He should look to work with them."
But in a meeting with newly elected House Republicans in D.C. on Nov. 17, Christie declined to discuss immigration. Rep.-elect Carlos Curbelo of Florida told National Review: "He did not go into details on immigration reform. He just said the American people expect it."
After leaving the meeting, Christie "sidestepped questions from reporters," according to CNN, saying "he had a train to catch."
At the annual meeting of the Republican Governors Association in Boca Raton last week, Christie declined to comment on Obama's impending announcement to offer deportation protection to up to 5 million in the country illegally, even though he had advised against using executive action just days before. Said Christie: "Let's wait to see what the president says tomorrow night before we have any kind of reaction to that."
It's not clear how much longer Christie can go on offering nonresponse responses on immigration issues, but if and when he does announce a presidential bid, the one thing that is certain is the expectation for a full-fledged position will be high, and it will be entirely of his own making.