There Won't Be Any Openly Gay Republicans in Congress Next Year. But the GOP Isn't Giving Up.
The only openly gay Republicans running for Congress lost their races. Despite that, the party can still forge a path to welcoming the LGBT community into its fold.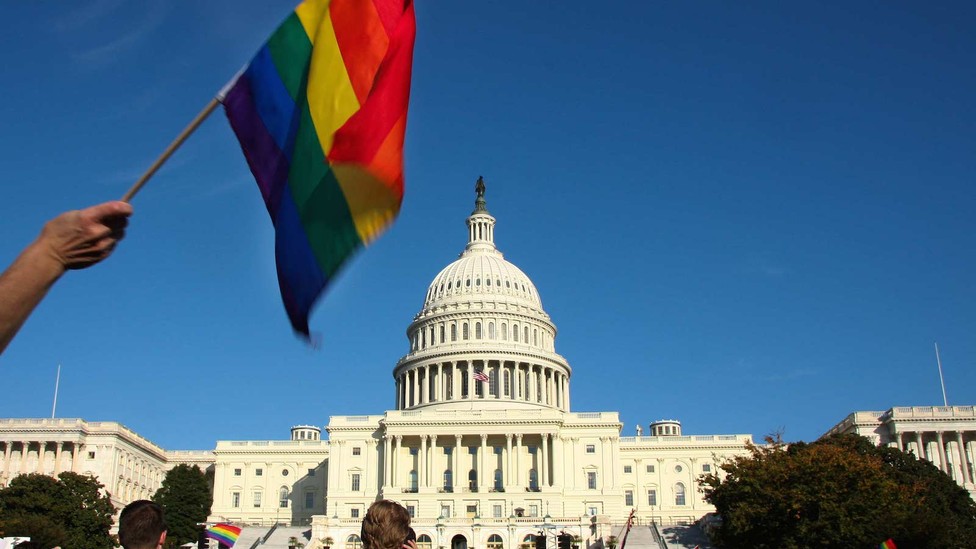 They could have made history.
Richard Tisei, a candidate for an open House seat in northeastern Massachusetts, and Carl DeMaio, the challenger to a Democrat representative in San Diego, could have been the first openly gay Republicans in Congress.
Tisei's hopes were dashed early on election night as his Democratic opponent, an Iraq War veteran 16 years his junior, swept to victory in the blue state, which hasn't sent a Republican to the House in nearly 20 years. On the other side of the country, DeMaio held on in his tight Southern California race until Sunday, when he conceded to Democratic Rep. Scott Peters.
It could be a sign that the Republican Party's much-hyped inclusion efforts are at an impasse, that the social-conservative base rejects these candidates while the party establishment throws its cash behind them. But despite the surface-level optics, 2014 could go down as a net win for Republican gay-rights champions.
It's too early to determine whether either Tisei's or DeMaio's sexual orientation played a role in their losses. The real indicator of change, Republican gay-marriage advocates told National Journal, is the handful of GOP candidates who support same-sex marriage and won their races Tuesday. All five congressional Republicans up for reelection who support gay marriage kept their seats, and two GOP challengers who support it, Florida's Carlos Curbelo and Illinois's Bob Dold, won as well.
"There's no question that having openly LGBT people within the Republican Caucus would be beneficial for the party attracting a broader cross-section of the American electorate," said Jeff Cook-McCormac, a senior adviser at the Republican pro-marriage-equality PAC American Unity. But, Cook-McCormac says, "what's even more important is that candidates who embraced freedom for LGBT Americans were very successful."
Support from the party's establishment shows progress, too. Gregory Angelo, the executive director of the gay-rights group Log Cabin Republicans, said that the establishment's backing of Tisei and DeMaio—House Speaker John Boehner, Senate Minority Leader Mitch McConnell, and National Republican Congressional Committee Chairman Greg Walden all supported the candidates' bids—proves the GOP's commitment to inclusion.
But the party still has divided factions, and tension among them persists. Angelo told National Journal that when he visited San Diego in the weeks leading up to the election, he encountered distinctly homophobic opposition to DeMaio from Republicans there.
"There were people who said that they would not vote for Carl because he was gay," Angelo said. "I would not go so far as to say those people made up the difference that prevented Carl from coming across the finish line in his race, or Richard Tisei from coming across the finish line in the race, but it was certainly something that a candidate who was straight would not have had to deal with."
Ahead of 2016, when what the GOP learned from the 2012 loss will be tried in a national court, it would have been a boon to the party's efforts at diversity to successfully elect a gay lawmaker. And as long as a section of the party opposes both same-sex marriage and LGBT candidates, Republicans will have problems reconciling their electorate. But the GOP's steps toward welcoming the gay community signal a shift in the party's ideology—however incremental.