The Senate Has a Filibuster-Proof Pro-Keystone XL Majority
President Obama's veto may be the last hurdle for measures aimed at guaranteeing the pipeline's approval.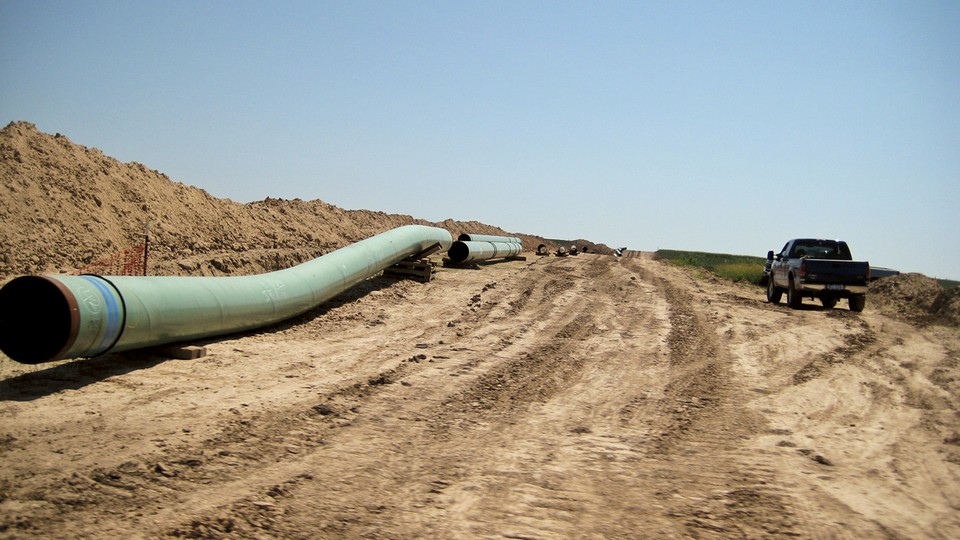 The Keystone XL pipeline won big Tuesday night.
Following an election night that saw anti-Keystone Democrats replaced by pro-Keystone Republicans, the oil-sands pipeline project now appears to have at least 60 supporting votes. That means legislation forcing approval of the long-delayed project may be headed to President Obama. Before the election, at least 57 senators could be counted on to support pro-Keystone legislation, but that was never enough to beat a filibuster from the project's opponents.
Tuesday night's results appear to change that.
Republican Rep. Shelley Moore Capito of West Virginia will replace retiring Sen. Jay Rockefeller, a Democrat who has voted against the pipeline's approval. Republican Rep. Cory Gardner defeated Democratic Sen. Mark Udall of Colorado, who has also previously voted against the project. In Iowa's Senate race, Republican Joni Ernst will take the seat previously occupied by anti-Keystone Democrat Tom Harkin. And in South Dakota, Republican Mike Rounds will take the seat of retiring Democratic Sen. Tim Johnson, who has wavered in his support for legislation that would guarantee the project's approval, saying the decision to approve or deny the project should be left to the administration.
And none of the 57 seats that were held by pro-Keystone lawmakers were surrendered to anti-pipeline newcomers.
Keystone's Senate champions were watching the whip count Tuesday and came away enthused: "This really drives home the overwhelming support we have for Keystone. I think you're going to see us bring up energy legislation right away and Keystone will be one of the first things we pass," said Republican Sen. John Hoeven of North Dakota.
House Republicans have all the votes they need to approve pro-Keystone measures and indeed did so on several occasions last Congress. So in the Congress to come, it appears that—absent a change of heart or unexpected Senate exit from one of the project's supporters—the last hurdle to Keystone legislation is a veto from Obama.
The White House has previously threatened to veto legislation passed by the Republican-controlled House to approve Keystone. In 2013, the president threatened to turn back a House bill that would have green-lit the project—arguing it interfered with what should be an administrative decision—but that measure died in the Senate.
The pipeline's fate has long sat with Obama's State Department, which has authority over the project due to its international ramifications (the pipeline would connect Canadian oil sands with U.S. refiners and consumers). The president has said he will only approve Keystone XL if it does not significantly add to carbon emissions in the atmosphere. A State Department review of the project in January found that it would not, a conclusion touted by the project's supporters but criticized by its opponents.