The Midterm Elections (Spoilers)
From Maine to Louisiana, Vermont to Virginia, third-party candidates changed the course of elections for the Senate and governor's mansions.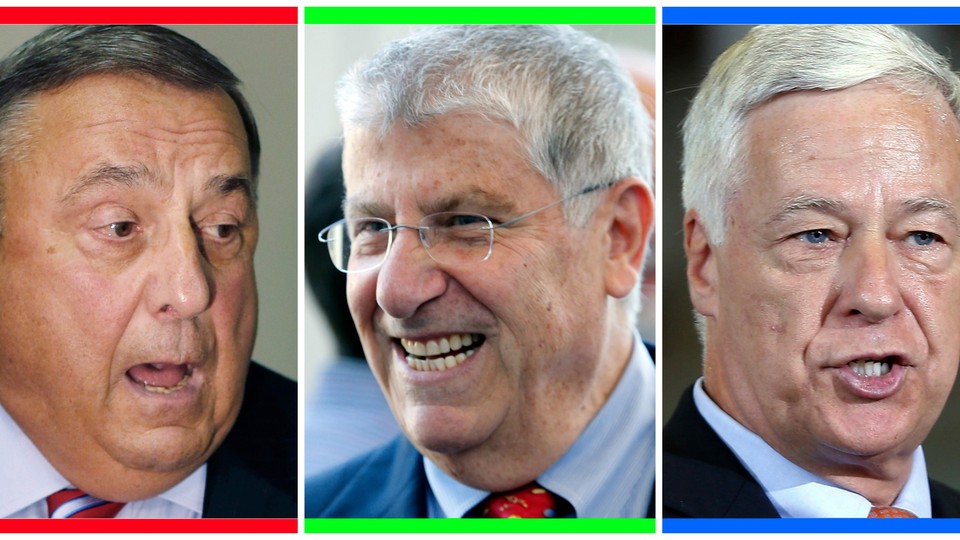 In a hastily scheduled press conference last Wednesday, Maine independent gubernatorial candidate Eliot Cutler made an unusual appeal to voters. He urged any of his supporters who felt "compelled by their fears or by their conscience" to vote for his opponents to, in fact, vote for his opponents. The same day, independent Senator Angus King switched his endorsement from Cutler to Democratic nominee Mike Michaud, since it was becoming clearer that Cutler would not be able to top either Michaud or incumbent Republican Paul LePage—a man who has been called, among other things, "America's most outlandish governor."
On Tuesday, Michaud lost to LePage by less than 5 percent. Cutler, a left-leaning independent, received 8.4 percent of the popular vote in Maine. Though the margins of victory (and loss) were different this time around, this is the second time in a row that a three-party field had produced a "spoiler" candidate in Maine. In 2010, that was Democrat Libby Mitchell: The unpopular LePage edged Cutler by less than 10,000 votes, 37.6 percent to 35.9, while Mitchell finished a distant third, with almost 19 percent of the vote.
Maine is the most obvious example of the so-called "spoiler effect" in Tuesday's election results, but a handful of races—both congressional and gubernatorial—might have ended differently had third-party candidates been absent or withdrawn from the race and released their voters before Election Day. While the most famous spoiler in American history is Ralph Nader in the 2000 presidential election, third-party candidates throwing off races are far more common at the state and local level.
In that way, this year's gubernatorial elections echoed Obama's first midterm cycle in more ways than just Maine. In 2010, third-party candidates received shares of the vote larger than the winner's margin of victory in the Minnesota and Massachusetts gubernatorial races. However, in recent history, third-party candidates seem to perform better when running for governor than when running for Congress. An analysis by Time earlier this week showed that the only time a third-party candidate truly "spoiled" a congressional race in the last five election cycles was in 2008, when Democrat Al Franken beat Republican Senator Norm Coleman by one-tenth of one percent, while Independence Party candidate Dean Barkley garnered more than 15 percent of the vote.
On Tuesday, Dan Feliciano, a Libertarian running in the Vermont governor's race, also received a single-digit—but important—share of the vote. Democrat Peter Shumlin, the sitting governor, got 46.4 percent of the vote; his Republican challenger, Scott Milne ended with 45.3. If Feliciano's 4.4 percent of the vote had gone to Milne, it would have put him solidly ahead of Shumlin. In an interesting constitutional twist, the race isn't over, despite Shumlin's lead. The Vermont state legislature decides a gubernatorial race if no candidate gets a majority of the votes. Lawmakers have chosen the candidate with the most votes in every case since before the Civil War, but with an extra 4.4 percent, that candidate would have been Milne.
In a stunning race in Virginia, Democratic Senator Mark Warner appears to have barely held on to his seat, winning by less than one percent. Things might have ended up differently if not for the candidacy of Libertarian Robert Sarvis, who won 2.45 percent of the vote. If libertarian-leaning Republicans hadn't had Sarvis as an option, GOP candidate Ed Gillespie likely would have been victorious. (It was Sarvis's second chance to play spoiler in one year. He took 6.5 percent of the vote in the 2013 gubernatorial race, in which Democrat Terry McAuliffe beat Republican Ken Cuccinelli by just 2.5 points.)
Like Vermont, Louisiana has a constitutional contingency plan if no candidate wins 50 percent of the votes cast, so its Senate race is already headed for a runoff election in early December. Under the state's "jungle primary" system, Election Day is effectively a nonpartisan primary, so there were two Republicans on the ballot. Incumbent Democratic Senator Mary Landrieu won 42.1 percent, Republican Representative Bill Cassidy won 41 percent, and another Republican, Rob Maness, won 13.8 percent of the vote. Maness's 13 percent would have put Cassidy well over the threshold of victory.
Usually, talking about what might have happened without a third-party candidate is a speculative exercise, and many often argue that their supporters would just stay home on Election Day, rather than cast their vote for a mainstream candidate. The 2000 race was a rare case with evidence to show otherwise. Exit polls showed that 45 percent of Nader voters said they would have voted for Gore, 27 percent would have voted for Bush, and the rest would have stay home. Since Gore lost Florida by fewer than 600 votes, removing Nader would have led to a very different outcome.
In May, when he was polling in the high teens, Maine's Cutler, like Nader and other third-party candidates before him, rejected the spoiler label. He encouraged voters who truly believed that he would be the "best governor" to support him. This is the ideological role that third-party candidates play—voting for them is a rejection of the mainstream, dual-party system, a rejection of a broken Washington or state house, a rejection of bipartisan bickering.
Even six months ago, though, Cutler was prepared for Tuesday's results. He told supporters that, if they woke up on Election Day and thought he couldn't win, to vote for someone else. When he reiterated this appeal last week, apparently many voters listened. But a little more than 8 percent did not.