The Koch Brothers' Next Frontier
Republicans at the state and local levels are greener than the national party, but perhaps not for long.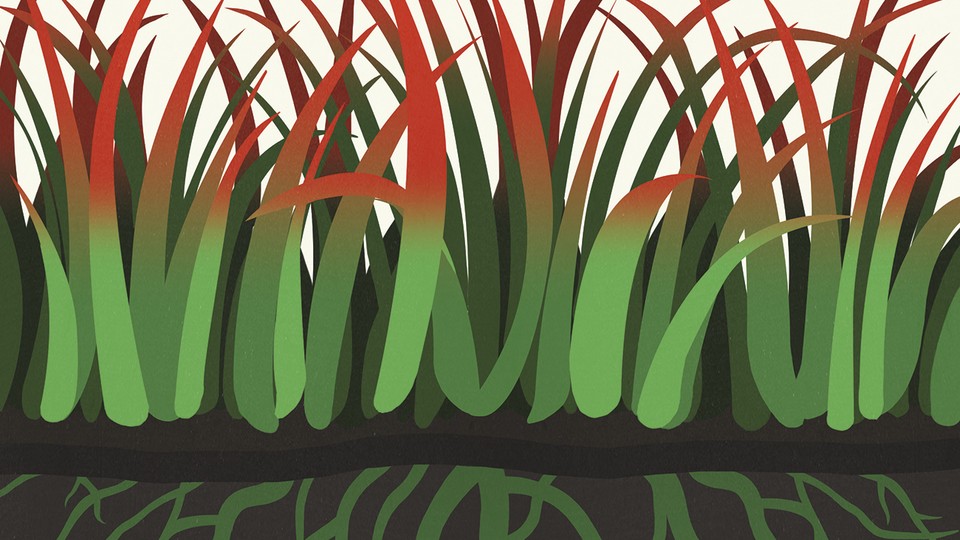 IT WAS SPRING 2014 in Kansas, and conservatives were running riot. Republicans had one of their own in the governor's office and supermajorities in both chambers of the state legislature. After enacting massive tax cuts and putting some of the nation's strongest abortion restrictions on the books, the GOP turned to energy policy. The target: a law demanding that power companies begin buying more energy from wind farms, solar plants, and other renewable-power sources.
Once upon a time, the law had attracted bipartisan support. In fact, it was passed by a Republican-controlled Legislature. But that was a pre-tea-party GOP. A new generation of conservatives now held sway in the state, and a law that told a company what type of power it had to provide—and told consumers what they had to buy—had to go.
The state Senate approved the repeal on March 25, and the next day, the measure came to the House floor. That's when Republican Russ Jennings stepped onto the podium and put his career on the line.
The first-term lawmaker spoke on behalf of the mandate, insisting that the law was creating jobs without burdening Kansans with higher power bills. "There is an underlying, suggested promise that if [this] goes away today, tomorrow our utility bills will go down. It is not true," he told colleagues. "This is nothing more than folks who want to exercise political power."
In a surprise turn, Jennings won the day—by a landslide. The House voted to block repeal, with 44 Republicans joining every Democrat in the chamber to keep the renewable-energy mandate on the books.
In Washington, piping up for a renewable-energy standard would put Jennings in the loneliest of corners of the national GOP. Congressional Republicans would view such a statute as exactly the type of White House-backed, top-down government interference in the free market that they are hoping to erase from federal law. Worse yet, it is a mandate based on a body of climate science that most of them reject.
But in statehouses nationwide—even those where Republicans are running the show—the GOP lacks the lockstep march on energy policy that is coming to define the national party. Certainly, a powerful faction working to undo the green-energy laws has swept through states over the past decade, but as in Kansas, their repeal efforts have repeatedly failed.
Over the past two years, at least 40 bills aimed at weakening or repealing clean-energy mandates have been introduced in legislatures across the country, according to Colorado State University's Center for the New Energy Economy. But not a single state has done away with its renewable-energy standard. Ohio came the closest when the GOP-controlled Legislature voted to freeze a mandate in May; but everywhere else, repeal bills have either been voted down or have died without getting a vote.
And Democrats are not to blame. Repeal is being thwarted by business-focused Republicans who are sticking up for the standards because they believe they create jobs. In Kansas and North Carolina, conservative lawmakers have voted against repeal—while Republicans in Minnesota and Nevada actually cast votes to strengthen clean-energy mandates last year. Taken in sum, the moves are evidence of a Republican brand of environmentalism that survives in the states years after it was snuffed out on Capitol Hill. But the GOP's last green shoots might not last for long.
The rapid change in the national Republican platform was no accident. It was part reaction to President Obama's push for a cap on carbon emissions, part product of climate deniers' ascendance in the party, and part brainchild of the modern GOP's staunch economic anti-interventionists. And at every step, the rightward pull on the party's energy positions was fueled by a group of extremely wealthy and influential power brokers, who blocked a set of federal green-energy supports and fossil-fuel regulations that at one point seemed inevitable.
Now those groups are turning their attention to the party's roots, hoping to unite Republicans against renewable-energy mandates, and in some cases working to oust conservatives who won't fall in line. This summer, those forces came after Jennings.
YEARS BEFORE Russ Jennings ran for a seat in the Kansas Legislature, Charles and David Koch were preparing to turn American politics on its head. The brothers, inheritors of Koch Industries and its $115 billion in annual revenue, decided to pour their wealth into supporting conservative causes. They've since created a sprawling network of political groups, many of which are classified as social-welfare organizations and thus not required to disclose their donors or much of their spending.
The most influential and best known of those groups is Americans for Prosperity, an organization that boasts 34 state chapters and claims 2.5 million activists. AFP wields tremendous might on the national stage, funneling ever-greater sums into House, Senate, and presidential contests. (It is also particularly powerful in Kansas, where Koch Industries is headquartered.)
Energy was among the network's first targets. In 2008, as ascendant Democrats were dreaming of a federal climate bill, the Kochs were mobilizing a countermovement. That spring, AFP activists huddled under umbrellas in the pouring rain outside the U.S. Capitol as the group kicked off a nationwide tour to rally opposition to a national carbon cap. Speakers at the event called global warming "junk science," and warned that the legislation would kill jobs. "Will you promise me that you're going to talk to your elected officials, you're going to talk to your friends, and you're going to stand up and fight with us on this issue?" AFP President Tim Phillips called to the crowd—a question that was answered with cheers of support.
It is easy to see why the Kochs might take a particular interest in energy policy. Koch Industries, which Forbes ranks as America's second-largest privately owned company, oversees thousands of miles of natural-gas and crude-oil pipelines across North America, and it also owns a separate refining and chemical company. The conglomerate's size and scope make the brothers two of the country's wealthiest individuals, worth an estimated $42 billion each.
But under a policy regime aimed at phasing out fossil fuels, the source of that wealth would start to dry up. And so when a newly elected President Obama, along with Democratic majorities in the House and Senate, went to work on climate change in 2009, the Kochs threw their full weight behind defeating the effort.
At one point, climate action appeared all but inevitable. Democrats were putting plans in place for comprehensive legislation, and Republicans were—at the very least—sympathetic. Former House Speaker Newt Gingrich joined then-Speaker Nancy Pelosi on a love seat for a 30-second television commercial demanding that climate change be addressed. Sen. John McCain, who had just won a primary election in Arizona, had been the main Republican sponsor of carbon-cap legislation for several previous sessions.
What happened next, for environmentalists, is a disastrous piece of history: The climate bill squeaked through the House and stalled in the Senate, facing near-unanimous Republican opposition as well as defections from coal- and oil-state Democrats. "Cap-and-trade" became such a slur along the 2010 campaign trail that Joe Manchin—then a soon-to-be Democratic senator from West Virginia—ran an ad in which he shot a copy of the cap-and-trade bill with a hunting rifle. Following Democrats' midterm "shellacking," incoming tea-party candidates—many of whom had won campaigns with AFP's help—turned the federal climate bill into a pipe dream and began to take aim at renewable-energy supports that were already in place.
But amid Capitol Hill's reversal on renewables, another story was playing out in state legislatures. Over the past decade, most states have weighed adopting renewable-energy standards—laws that require utilities to purchase escalating amounts of power from wind turbines, solar panels, and other zero-carbon-emissions sources. Twenty-nine states and the District of Columbia now have mandates in place. Many of those laws passed with bipartisan backing. Republican-controlled legislatures approved standards in Kansas, New Jersey, Ohio, Pennsylvania, and Wisconsin. Republican governors signed clean-energy requirements into law in Connecticut, Hawaii, Iowa, Maryland, Minnesota, New Jersey, Rhode Island, Texas, and Wisconsin. Collectively, the laws have become a leading driver of clean-energy investment in the United States. And they've only been possible because some state-level Republicans were willing to make a green leap that their Washington colleagues were not.
But amid Capitol Hill's reversal on renewables, another story was playing out in state legislatures.
THE KOCH EMPIRE, however, has no intention of letting those state-level policies stand. Bolstered by their victory in Washington's climate debate, the brothers are now training their political machinery on state governments. In Kansas, North Carolina, and elsewhere, AFP is pushing to scrap the renewable mandates it sees as vestiges of a misguided blip in the party's past.
To help, the Koch network has the American Legislative Exchange Council, a conservative advocacy organization that counts more than 2,000 state legislators among its members. ALEC specializes in writing "model legislation," legal text that state lawmakers can copy and paste into bills of their own. Best known among those model bills is "Stand Your Ground," which was adopted in dozens of states and invoked in the defense of George Zimmerman after he fatally shot unarmed teenager Trayvon Martin.
ALEC released a template for legislation to repeal renewable-energy mandates in October of 2012. The Heartland Institute, a conservative think tank that contests the idea that global warming is man-made, took credit for writing the legislation at the time of its release. The bill says that clean-energy standards drive up the cost of doing business and calls the policy "a tax on consumers."
AFP and ALEC are now working in tandem to move repeal forward. In 2013, AFP's North Carolina chapter unveiled a legislative wish list; on it was a request that lawmakers roll back the state's renewable-energy standard. AFP describes the mandate as government meddling in the free market at its worst. "What you have here is a bunch of goody-goody liberals who want your money to put up solar panels because they want to tell you how to live," says Dallas Woodhouse, who was AFP's North Carolina state director at the time of the repeal push. For AFP, the renewable-energy standards smack of crony capitalism as well. "This is the crack cocaine of subsidies. It's like when people get hooked on drugs and they can't get off," Woodhouse says. The organization also views the standards as a de facto tax that hits poor families the hardest. As Woodhouse tells it: "You have people who are struggling to get by, and now because of this, their electricity rates are going to go through the roof."
AFP found a legislative champion for the North Carolina repeal push in Mike Hager, the Republican majority whip in the state House. Just over a month after the group called for a rollback of the mandate, Hager introduced a repeal measure. Then the coalition dialed up its lobbying. AFP put pressure on lawmakers to commit to backing the legislation, in part by launching a website urging North Carolina residents to contact their representatives in support of the bill. But the measure did not gain much traction inside the Statehouse. After realizing he did not have the votes for an outright repeal, Hager put forward a watered-down draft intended to freeze the mandate and then phase it out over time.
Ruth Samuelson helped defeat a bill intended to roll back North Carolina's renewable-energy mandate. On the day Hager brought his bill to a vote in a committee he chaired, Woodhouse was in the North Carolina Capitol to remind Republicans what AFP wanted. "They needed to know they would be held accountable for that vote," Woodhouse recalls. But something happened in Raleigh that doesn't happen in Washington. Despite the Koch money and ground game, Republicans joined Democrats to kill the bill.
Chief among them was Ruth Samuelson, the House Republican Conference leader, who would be hard-pressed to find a home in the national party. Samuelson's conservative bona fides are strong in most arenas: She has introduced legislation restricting access to abortion, and she championed a controversial voter-ID law that made its way through the House. She's also hardly a marginal member of her party; she is a close ally of state House Speaker and U.S. Sen.-elect Thom Tillis.
But Samuelson backs the state's renewable-energy mandate, insisting that renewables are popular in her district—which stretches across the city of Charlotte—and that the support for solar power has benefited the state economy. So she went to work persuading other like-minded conservatives to vote against Hager's bill, and in the end, she won.
The defeat stung. For AFP, it still does. "Why do you have to go and bring up one of the worst times of my life?" Woodhouse says when I ask about the vote. "Yeah, I was surprised. I was mad as hell."
IF WOODHOUSE WAS SHOCKED then, he shouldn't be now. AFP and ALEC have been denied satisfaction all over America. In Kansas, Russ Jennings thwarted the spring push to repeal the state's standard. In 2014 alone, efforts to repeal or weaken renewable-energy mandates also failed to advance in Arizona, Colorado, Maine, Missouri, Pennsylvania, Rhode Island, and Washington.
The coalition's only major success so far this year was in Ohio, where—with just a minimal advocacy push—a bill to freeze the state's mandate won passage. Koch-backed groups gave their blessing to the measure before it was signed into law in June. But AFP was absent from the lobbying effort that secured the legislation's passage, largely because the organization had chosen to focus its attention on Kansas and North Carolina, where it looked as if repeal had a better chance. Then, this spring, to the surprise of political onlookers in the state, Ohio-based utility FirstEnergy muscled a freeze bill through the Legislature.
Why hasn't AFP had greater success in the states? It's not that these Republicans are more liberal than lawmakers in Washington. Jennings won the endorsement of the NRA in his reelection race, and he adamantly opposes federal regulations to curb carbon pollution from power plants. Samuelson has backed legislation that would compel women seeking an abortion to listen to the heartbeat of the fetus before undergoing the procedure.
But state legislators—by definition—are more local in their focus, and that puts them face-to-face with renewable-energy projects in their districts. In many parts of the country, red states included, wind and solar energy are already big business. They're not ExxonMobil or Koch Industries big, but they have lobbying muscle and business interests of their own, and that's enough to make state lawmakers think twice before going against them, even if that means standing against AFP.
Take Tim Moore, a Republican state representative in North Carolina and the chairman of the state's powerful House Rules Committee. Moore usually sides with the most conservative members of the Republican leadership, but his district is home to a $27 million plant that manufactures parts for solar farms, so Moore sided with Samuelson to help defeat the rollback of the state mandate last year. "It was based off local issues back home," he says when asked to explain his vote. "I would have had a difficult time talking to a CEO ... [and saying] I'm going to vote to eliminate this program that justified their investment."
Jennings, environmentalists' favorite Republican in Kansas, isn't all idealism either: Wind energy has brought $7 billion of investment to the state, with much of that capital flowing into rural areas in the west. Wind turbines dot the southeast corner of Jennings's district, part of an array that generates enough energy to power 65,000 homes. Ancillary rewards of the clean-power boom are also apparent: a rail- and truck-delivery line built to transport wind turbines employs some of Jennings's constituents. The wind industry also keeps Jennings in mind: Just over one-fifth of all the direct campaign contributions he took in between July and October came from businesses or individuals with a stake in the industry, including clean-energy supplier NextEra Energy. Of the total $20,725 in contributions that Jennings reported from that period, $4,175 came from donors connected to the industry.
Viewed as a slice of the nation's economy, renewable energy's share remains small, a fraction of what oil, gas, and coal contribute. And while the Senate is filled with lawmakers who hail from "oil states" or "coal states," there's no state yet where renewable energy holds similar sway. But in the state legislative districts where it's produced, renewable energy is a big enough player to wield considerable clout.
In many parts of the country, wind and solar are already big business.
AMERICANS FOR PROSPERITY isn't throwing in the towel. The Koch empire, fresh from spending $100 million on the 2014 congressional midterm elections to help deliver the Senate into the hands of Republicans eager to unwind climate rules, is now pledging another run at the states' renewable-energy standards. Special attention will be paid to Kansas and North Carolina, according to AFP's national issues campaign manager, Christine Harbin Hanson. She says the group also plans to ramp up its repeal efforts across the United States next year. And this time, when state legislators weigh whether to buck the empire, they'll have seen how the Koch network goes after Republicans who cross them.
Like Jennings. After his vote against repeal, the Koch network targeted Jennings's seat by funding a Republican primary challenger. Koch Industries and the Koch-backed Kansas Chamber of Commerce PAC wrote checks for his conservative opponent, Stan Rice. AFP and the state Chamber PAC tried to paint Jennings as a liberal. "Tell Russ Jennings that Kansas needs smaller and smarter government, not big spending like Washington," one AFP mailer read. "Russ Jennings' liberal agenda will cost us jobs. Say NO to the Obama/Sebelius agenda. Say NO to Russ Jennings," read another mailer, paid for by the Kansas Chamber PAC.
AFP also ran radio and television attack ads against the state representative in his district. One started with an image of the U.S. Capitol building splitting in half. "Obamacare has been a disaster," a narrator's voice states. "So why would Representative Russ Jennings vote against a bill intended to prevent Obamacare from expanding and imposing a $1.1 billion cost on Kansans? Why would our representative side with Obama?" A photo of Jennings is shown side by side with an image of the president, as a reddish-orange hue envelops the screen and dollar bills with wings flutter away.
AFP is not required to disclose the amount of money it poured into attacks against pro-mandate Republicans during the Kansas primary. But Jennings, as well as five others who were targeted, say the effort was significant. According to records filed with the Kansas Governmental Ethics Commission, the Kansas Chamber PAC spent at least $32,000 on campaign contributions, along with mailers and radio and television ads, to back the conservative challengers. That's a pittance at the federal level, but those dollars stretch further in state races. Records also indicate that between January and July, Koch Industries gave the state Chamber PAC $75,000, nearly half of the business group's total fundraising haul during that time.
But the attacks didn't work. Jennings won his primary with 65 percent of the vote, and he waltzed through the general election earlier this month. Five other Republicans who voted to keep the clean-energy mandate in place and were targeted by Koch-backed groups also survived the challenge.
Jennings went into the election with nearly three times the amount of money on hand as his conservative primary challenger. He raised $27,525 ahead of the primary, while his opponent took in just $9,430. Jennings attributes his success in part to what he describes as the aggressiveness of AFP's counterattack—a messaging blitz that he says turned voters off.
AFP doesn't see it that way. "All we did was get our issues out there. We're trying to educate voters about what's important," says the group's Kansas state director, Jeff Glendening.
AFP set out to send a message to Republicans that those who failed to oppose clean-energy mandates would be held accountable when primary season rolled around. Jennings and other Republicans targeted by the group say that message was received. But despite more than two years of efforts led by AFP, both the mandates and the candidates who back them are safe. What worked in Washington has not worked in the states—even those in which AFP has had great success in other policy arenas. For now at least, the Republican Party's state and local green shoots remain in place. They're faint, and they're sparse, but they're resilient.