The Gospel of Rudy Giuliani
Why is no one talking about American-on-American crime?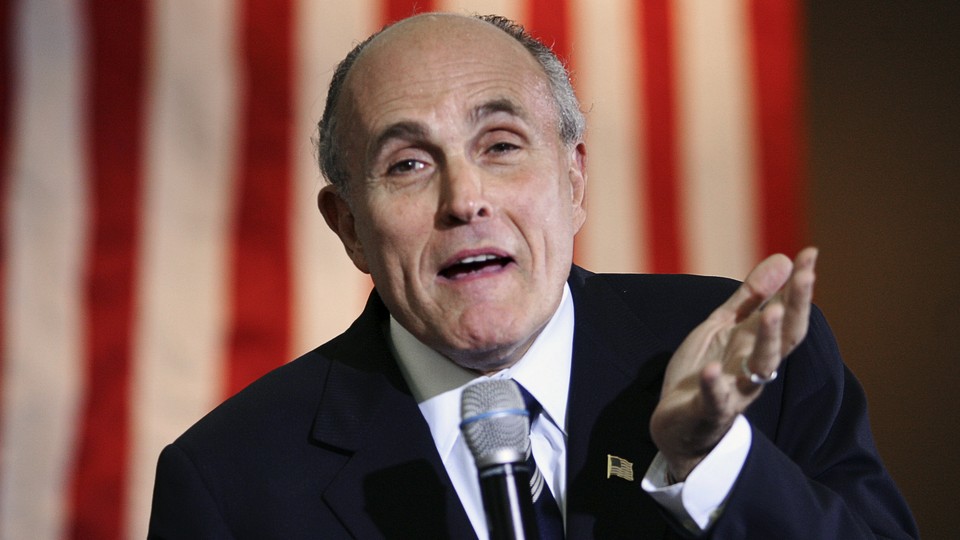 On Sunday, former New York Mayor Rudy Giuliani went on Meet the Press to discuss the killing of Michael Brown. Giuliani offered the kind of candor and tough talk that almost made him president:
The fact is that I find it very disappointing that you're not discussing the fact that 93 percent of blacks in America are killed by other blacks. We are talking about the significant exception here [in the Brown case]. I'd like to see the attention paid to that that you are paying to this.
Yes. It's almost as if killers tend to murder people who live near them. Moreover, it seems that people actually hold officers operating under the color of law to a different standard. This is an incredible set of insights, which taken together offer a revelation so profound, so far-reaching, that it must not be wasted on our shiftless minority populations. The Gospel of Rudy Giuliani must sally forth across the land and challenge a culture that accepts neighborly violence and differing standards of death.
For nearly 15 years, our politicians have told us that murder perpetrated by Islamic terrorists represented an existential threat to the country. From al-Qaeda to ISIS, we are told that radical Islam is a killer that will drive us all into the sea. In fact, however, the most prolific killer of Americans hides behind a cloak of sensitivity and political correctness. The time has now come for some tough talk: The American people have one of the highest murder rates in the industrialized world. Almost all of these people are killed by other Americans. War hustlers and Bin Laden pimps love to go around screaming, but 9/11! Three thousand people died on 9/11. Nearly 15,000 Americans were killed in 2012. Americans perpetrate roughly five 9/11s against other Americans every year. By the end of this week, more Americans will be killed by other Americans than were ever killed by ISIS.
Why are our politicians ignoring this plague of American-on-American crime? Why are American leaders not protesting the cult of death that fills the graveyards of America? Who will bravely challenge the culture of failure that says that Americans should only be outraged when Muslims kill Americans? Who will challenge the American pathology that says that a boy who walks unarmed is acting French?
I demand a TSA checkpoint at every shopping mall to shield Americans against Americans. I demand drones to kill Americans before they kill other Americans. I demand that American leaders stop pretending that American morgues and American cemeteries are full of young men because of jihadis. The evidence is clear—American-on-American violence is a silent killer that only Americans can stop. American criminality is now so rampant that it must always be the only topic of any conversation. Let us not speak of any act of international terrorism until American terrorism has been wholly vanquished.
I realize that uttering these hard truths will find me ostracized from an America where my brave stand and incredible courage will not be appreciated. But this great truth, this high principle, must be spoken in every corner of our country. To limit the Gospel of Giuliani to black people would imply that we regard them as separate category of humanity, fit to be judged by a separate standard. And we wouldn't want that.