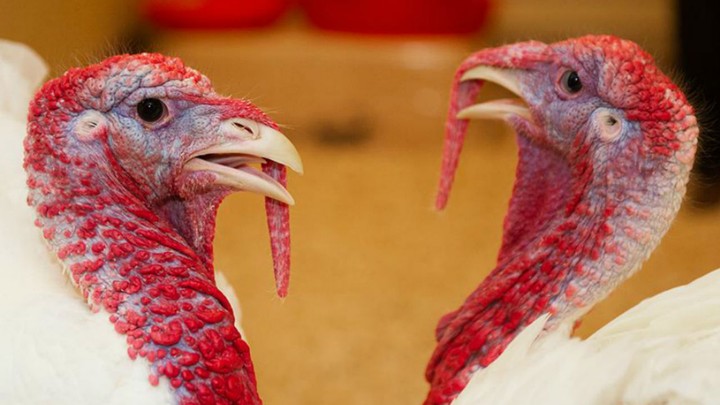 The Willard InterContinental Hotel has seen a number of important guests in its 164-year history. Charles Dickens. Martin Luther King, Jr. Almost every American president. And this week, two oversized white broad-breasted turkeys.
The turkeys were at the swanky Washington hotel for the White House's annual presidential turkey pardon, which spares two birds—the National Thanksgiving Turkey and an alternate—from becoming dinner. The White House has named the birds Mac and Cheese, and President Obama will pardon both on Wednesday for crimes they have not committed.
National Journal visited this year's pair in their room at the Willard—yes, they had their own room—on Tuesday before the big ceremony. The luxurious third-floor room, which costs upwards of $350 a night, looked as it would to any other guest. There was a widescreen TV, a mini fridge, views of downtown Washington. And then there was the small entryway covered in a thick layer of wood shavings.
The male turkeys, known as toms, come from Cooper Farms in Fort Recovery, Ohio. Each year, the task of providing the National Thanksgiving Turkey falls to the chair of the National Turkey Federation. This year, it's Gary Cooper. "It's definitely a perk," Gary said, who also stayed at the Willard. In 1996, his brother Jim delivered two turkeys to President Bill Clinton. "It's quite an honor." Gary's son Cole Cooper, who works for the family business, raised the turkeys in a custom-built, 16-by-20 foot red barn in his backyard.
The birds made the 9-hour drive from Ohio to Washington in a white Dodge Caravan on Monday. "I got them here, these are my babies, they're healthy," said Cole, looking at them admiringly. Inside the room, paid for by the National Turkey Federation, the birds were panting, which Cole said they did to cool themselves. The birds waddled slowly around the room, bobbing their heads. They puffed out their feathers and made small grunting noises.
Cole, who was staying in an adjoining room, said the turkeys' gobbling at their television kept him up as he tried to sleep Monday night. "I think CNN was on," he said. CNN aired coverage well past midnight of a much more serious news story: protests in Ferguson, Mo., following a grand jury decision to not indict a white officer in the shooting of an unarmed black man.
Last year, the White House made much ado about its turkey voting contest, which appeared a day before the pardon and included audio clips of the birds' gobbling. But this Thanksgiving, which falls during a tough news week for the administration, there was little social-media fanfare.
This year's birds, at about 50 pounds each, are technically in violation of Willard hotel policy requiring all pets to weigh no more than 40 pounds. Before they were dubbed Mac and Cheese, the turkeys were nicknamed Virgil and Homer, the first and middle names of Gary's father, who established Cooper Farms in 1938.
The Coopers began with 66 birds, hatched in early July. By last week, Cole had narrowed the presidential flock down to about 15—the ones with the best plumage and walks. One night, he said in an interview last week, "two of my biggest birds in there come walking up to me and they were just in full strut, so they were puffed up and trying to show their colors to me, and they naturally kind of picked themselves."
The presidential flock was exposed to different noises as they grew to prepare them for the crowds and cameras during Wednesday's pardon. They've heard everything from the hum of lawnmowers and electric fans to AC/DC, Rihanna and Lady Gaga. And a lot of Kenny Chesney. Here's a video of the flock gobbling along to "American Kids."
Willard hotel manager James Ryan said he hasn't received any complaints about the turkeys, whose gobbling can be heard at the end of the hall. The Willard, where presidential turkeys first stayed in 2008, will give the room a deep clean after the turkeys check out, complete with a shampoo for the carpet.
Farmers have been delivering hand-picked turkeys to the White House since Ulysses S. Grant was president. Those went into the oven, of course. Presidents have been sparing the birds on and off since then, including during the Lincoln, Kennedy, and Nixon administrations. The official pardon began with George H.W. Bush in 1989.
The annual pardon can be a divisive—or pointless—affair. For some, it's a reminder of the the millions of other turkeys whose lives are not spared at Thanksgiving dinners across the country. For others, it's an insult to the humans who don't get pardoned, particularly during the Obama administration. For turkey farmers like the Coopers, however, the ceremony is a point of pride. "It's kind of the pinnacle of the turkey industry to get to this point," Cole said.
After the presidential pardon, the 21-week-old turkeys will join Caramel, last year's alternate, in Morven Park in Leesburg, Va., to live out their lives, which will not be very long. Commercially bred turkeys are raised to weigh more than double than they would in the wild, and the extra weight takes a toll on their internal organs. Popcorn, the 2013 National Thanksgiving Turkey, died in July; the birds of 2012 are dead.
So, what happens to the rest of the presidential flock? Cole plans to keep them as pets. "In essence, they all kind of get pardoned. They all don't get eaten, let's put it that way," he said. Then, he added, "There might be a couple of them that might get eaten."
We want to hear what you think about this article. Submit a letter to the editor or write to letters@theatlantic.com.