Republicans Pledged to End Gridlock. Did They Mean It?
Eager to prove they're not "the party of no," the GOP may finally be willing to compromise with Obama. That's what they said to get elected, anyway.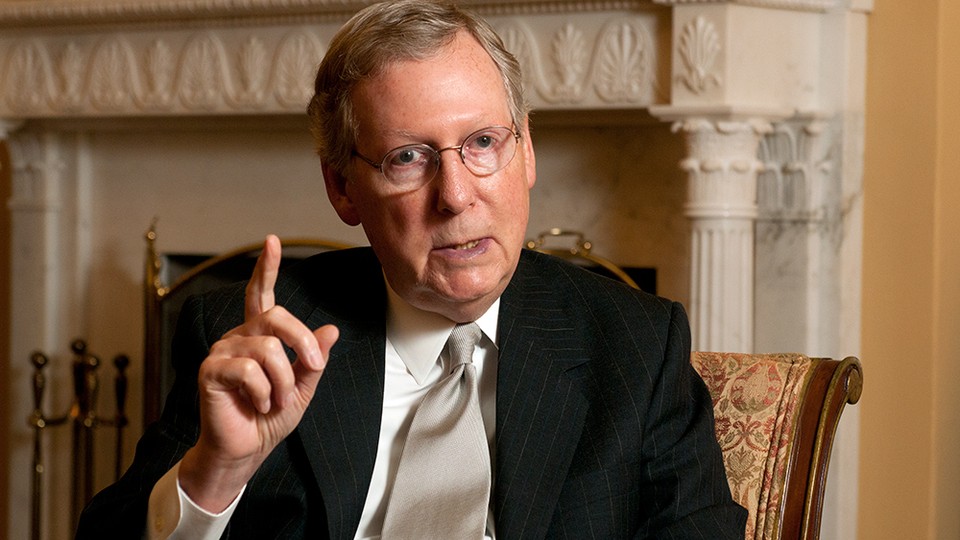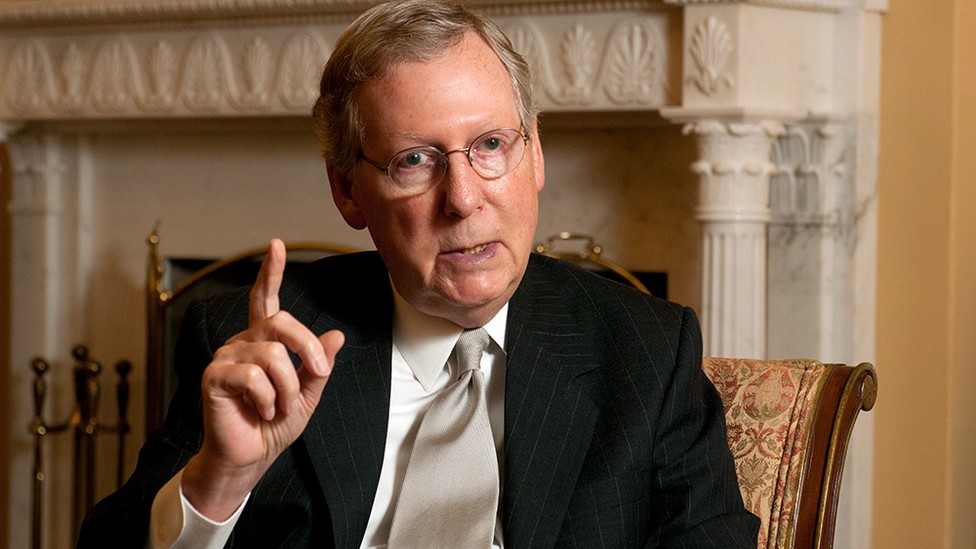 In his victory speech last night, Mitch McConnell made an appeal to help solve congressional gridlock, saying, "We do have an obligation to work together on issues where we can agree. I think we have a duty to do that."
It's a sentiment that many of the Republicans who emerged victorious Tuesday night stressed in the days leading up to the election. And the consensus, as demonstrated by the electorate last night, was that it worked. It's an interesting new persona for the GOP and for McConnell, in particular, who's become almost synonymous in left-learning circles with letting ideology and self-preservation get ahead of good governance.
And yet, he's also known as the quintessential Washington deal-maker, at least when deal-making is what looks to be politically (and personally) expedient. As my colleague Molly Ball recently pointed out, there's something oxymoronic about McConnell's new persona and the GOP's election message more broadly: "Republicans say that if they win Tuesday, they'll stop gridlock and stop Obama's agenda," she wrote. "That's a lie: They know they can't do both." You can't get much done in Washington without the president's signature, she notes, and he's not going anywhere for two years.
McConnell and his fellow Republicans, however, see no discrepancy there, and keep hammering home a message of compromise. "A new Republican majority wouldn't mean we'd be able to get everything you want from Washington," McConnell said in his closing pitch ahead of the midterm election. "But it would mean we'd be able to bring the current legislative gridlock to a merciful end."
He even got specific about what issues he'd be open to working with President Obama on, such as comprehensive tax reform and trade agreements. "I think our first obligation is to see if we can find things that we agree on and that we can make progress for the country on," he told ABC News on Monday.
And the optimistic rhetoric doesn't end with him.
Take Colorado's Cory Gardner, for instance, who easily beat Democratic incumbent Mark Udall in what was decidedly one of Democrats' hardest losses of the night. In an interview just days before the election, Gardner said a governing philosophy of his is to be "firm in my principle but flexible on the details," and he underscored his party's lack of mandate. "So Republicans have to realize that this isn't some kind of—what's the word I'm looking for—a mandate, or whatever, for Republicans," he told New York Magazine's Marin Cogan. "It's a mandate against dysfunction."
Sen. John Barrasso of Wyoming talked details, vowing to work with Obama specifically to increase trade with international allies. "The next time the president calls on Congress to approve Trade Promotion Authority legislation," he wrote in a recent editorial, "he'll hear a resounding 'yes' from the new majority party." Sen. Rob Portman ticked off a Republican laundry list including the Keystone XL pipeline—something liberals have long suspected Obama might be willing to sign off on—with some sort of energy-efficiency legislation thrown in for Dems. "I think there is common ground here," he concluded.
In the House, Republican Charles Boustany has said a GOP Senate takeover "markedly improves" the prospect of passing Trade Promotion Authority laws, promising to work with the president to get it done. Rep. Paul Ryan listed the Transatlantic Trade and Investment Partnership and the Trans-Pacific Partnership as specific opportunities for cooperation.
House Majority Leader Kevin McCarthy, for his part, vowed to steer clear of "cliffs" and standoffs. "'My belief is, you have one chance to make a first impression," he told Politico's Jake Sherman. "From the very first day after the election, we should be laying out to the American public what the expectations are. Why make two different agendas?"
Even Sen. Rand Paul, perhaps the most buzzed-about potential Republican presidential contender, got in on the anti-gridlock game, skillfully blaming Senate Democrats for past congressional stalemates. "People are tired of nothing getting done," he said recently on NBC. ""¦ the gridlock in Washington has largely been from the Democrats who haven't allowed any legislation to come forward in the Senate. So I think if we win, you will see legislation passed."
One of the ironies of last night's pointed Republican victory is while Democratic candidates did much worse than the pollsters predicted, liberal ballot measures fared surprisingly well. In Washington, D.C. and Oregon, voters legalized marijuana. In Arkansas, Illinois, and Nebraska they raised the minimum wage. As Ezra Klein put it in his list of election takeaways, voters are "angry with Democrats but they don't agree with Republicans on very much."
Republicans seem to have understood this better than Democrats. The party has spent years erecting roadblocks in Congress and shunting off big pieces of legislation ahead of the midterms, hoping it would enhance their power. Good news for them: It worked this year. But it is also likely the reason that Congress had the lowest approval rating in a midterm election year this fall since Gallup first started measuring in 1974.
With Republicans in control of both chambers, they'll have to take responsibility for that inertia now. And if "the party of no" label still fits come 2016, that's going to be a problem. Or, if they're going to take a page out of Gardner's philosophy book and be "firm in principles" but "flexible on the details," there's no time like the present to prove it.