Republicans Are Showing Serious Swagger Ahead of Election Day
Republicans aren't playing the expectation game. They are boldly optimistic with two days to go.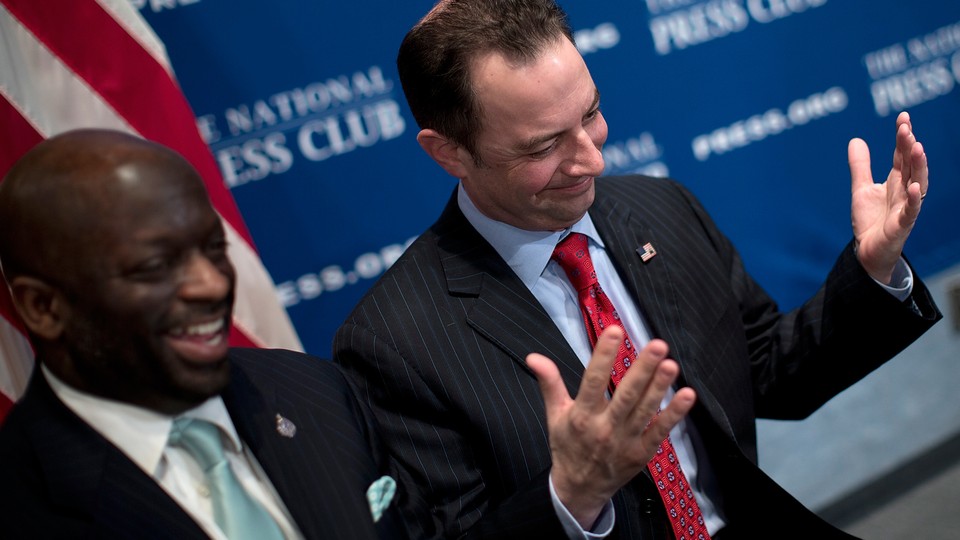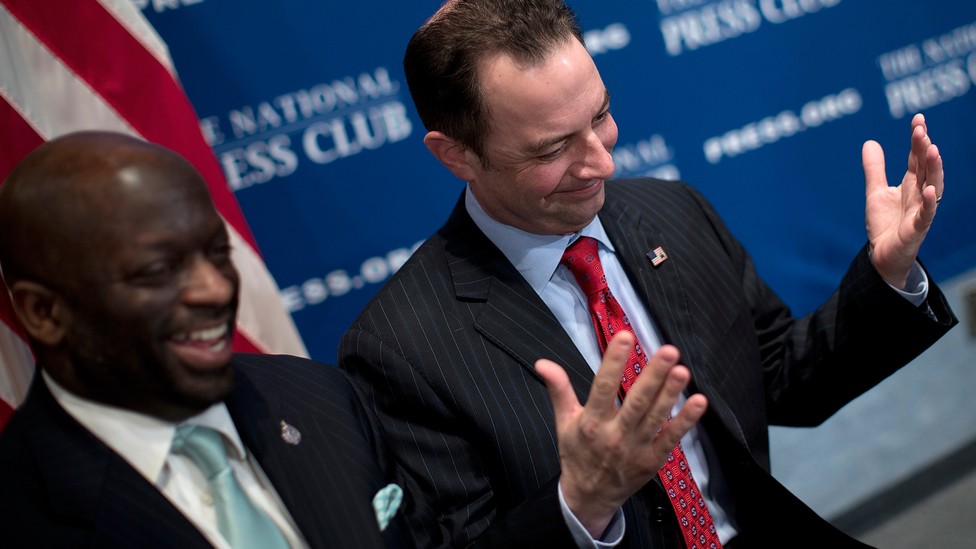 Republicans aren't tempering expectations ahead of Election Day. They're bracing for a GOP Senate takeover.
"Their message isn't working and our ground game is whipping their ground game," National Republican Committee Chairman Reince Priebus said during a Sunday appearance on ABC's This Week. "If you look at Colorado we are up up by 105,000 votes right now. Cory Gardner is tied with women with Mark Udall. We are winning Hispanic voters in Colorado. We are whipping them in Arkansas. We are at dead-even on early votes right now in Iowa."
Priebus added that the GOP was "obviously" winning in Montana, West Virginia, and South Dakota.
"I have not even talked about Alaska, Louisiana," he said. "We are going to see what is going to happen in North Carolina and New Hampshire."
In the game of expectations, it's typical for parties to remain cautiously optimistic before a major election even when everything looks to be going their way. Republicans, however, are nearly gloating.
They have good reason to be so confident. With just two days before the election, most pundits and pollsters predict Republicans win the Senate. The Washington Post's forecasting model puts the GOP's chances of a takeover at 94 percent. And in Iowa, where Senate Majority Leader Harry Reid has said the entire future of the Senate rests, Republican candidate Joni Ernst is up by 7 points.
Democrats, meanwhile, stayed away from citing many specific races Sunday. Democratic National Committee Chairwoman Debbie Wasserman Schultz told This Week that she was confident Democrats could hold their ground in North Carolina and New Hampshire; races there are close, but they have nearly always leaned in Democrats' favor. She also said she still believed the Democratic economic message of increasing the minimum wage and ensuring equal pay for women was still an effective message. Overall, she is putting her faith in the Democratic turnout machine making the difference in tight races.
"I think we are going to hold the Senate. We have a ground game that I know Reince would take ours over theirs any day of the week," Wasserman Schultz said.
In a sign of just how confident Republicans are heading into Election Day, when asked if it would be a "failure" for the RNC if Democrats managed to run away with the election in the final hours of the campaign, Priebus stood his ground.
"I think we have to take the Senate," Priebus said. "I would be very disappointed."