Trashing the Party? Rand Paul Laments the GOP's 'Broken' Brand
The Republican senator appeared on three Sunday talk shows to explain—and double down on—his recent anti-party positions.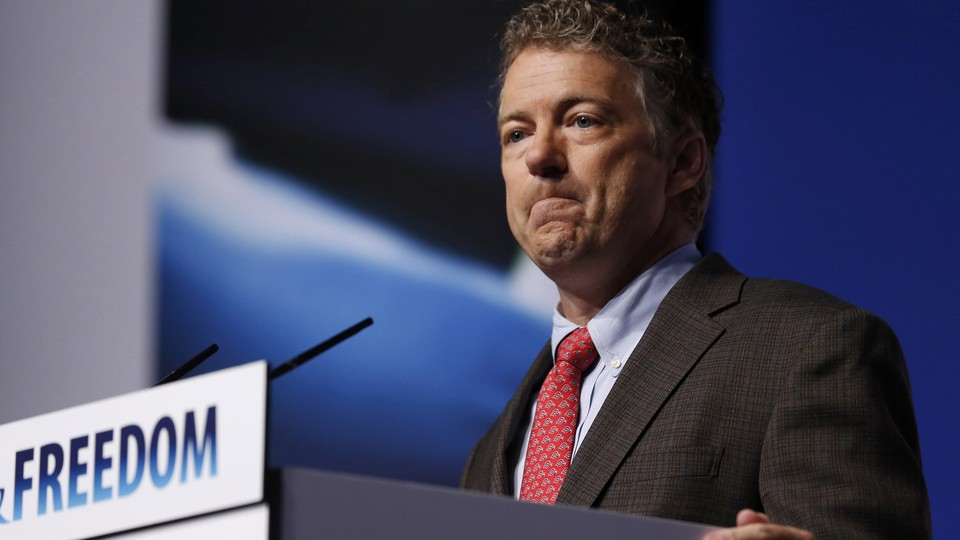 Just days after saying that the Republican brand "sucks," Rand Paul went on three Sunday talk shows to double down on his criticism of the GOP. The things the (Republican) senator from Kentucky criticized his party for: "dumb" voter ID laws, a "broken" party brand, and a "wall" between it and African-Americans. These are messages, of course, that a party-line member of the GOP probably would not have transmitted just days before contentious midterm elections—elections through which Republicans could narrowly take the Senate.
On NBC's Meet the Press, Paul, who is not up for re-election this cycle, said the Republicans' fixation on voter ID laws is "dumb" because it alienates the very people the GOP has said it needs to attract: youth, minorities, and poor Americans.
"It doesn't mean that I think it's unreasonable," Paul said of the laws that Republicans claim are necessary to prevent voter fraud. "I just think it's a dumb idea for Republicans to emphasize this and say, 'This is how we are going to win the elections.'"
Those comments echo ones he made in May. "Everybody's gone completely crazy on this voter ID thing," Paul warned in an interview with The New York Times. "I think it's wrong for Republicans to go too crazy on this issue because it's offending people."
On CBS's Face the Nation on Sunday, Paul also criticized the GOP for failing to attract African-American voters. "Our brand is broken," said Paul. "I don't think what we stand for is bad," he added. The problem is that "we have a wall, or a barrier, between us and African-American voters."
This was a gentler way of repeating what Paul said on Thursday, when he drew attention for saying the Republican Party brand "sucks"—particularly in its efforts to attract black voters. "It's perception," Paul explained. "Republicans have to get beyond this perception that they don't want African-Americans to vote."
Paul told CNN's Candy Crowley on Sunday that his strong statements weren't driven by a 2016 presidential run (although he said his position would help in that endeavor, should he enter the race). "I want the Republican party to be bigger and more successful because I think our philosophy will help the country more," he said.
For his part, Republican National Committee Chairman Reince Priebus attempted to soften Paul's recent comments, saying that he agreed with many of the senator's views, but that the party has made great strides since the beating Republicans took in 2012.
As Priebus said on ABC's This Week, "Rand Paul is saying what I've been saying, which is we have spent way too long as a national party showing up at the end, and we've got to do better."