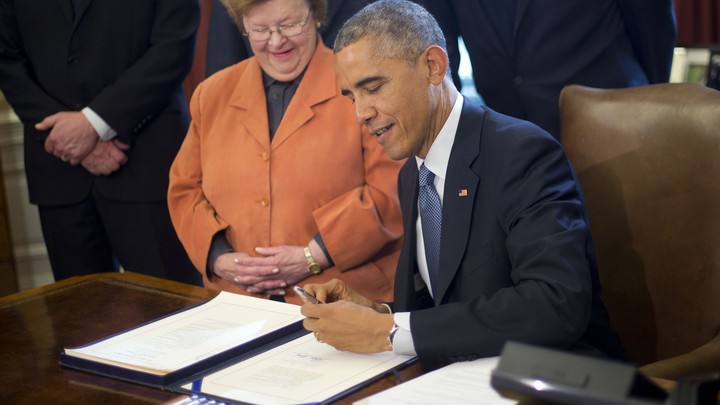 Ending what seemed like an eternity of suspense, President Obama will announce the executive action he's taking on immigration in a prime-time White House address on Thursday night.
Republicans have already delivered their response to a plan expected to circumvent Congress and shield up to five million undocumented immigrants from deportation: A spokesman for Speaker John Boehner called the president "Emperor Obama," and party leaders are planning to attack the executive order through legal challenges and legislative maneuvers.
But how will the public react? Obama is planning an aggressive rollout that, in addition to the rare evening speech, will include a campaign-style rally in Las Vegas at the same high school where he announced his principles for immigration reform nearly two years ago. He'll chastise Congress for its inaction, and he'll cite the precedents of Presidents Ronald Reagan and George H.W. Bush, who each gave undocumented immigrants a reprieve with less of a backlash from the opposition party. The image will be that of a "liberated" Obama, unbowed by his party's electoral losses and his lame-duck status, intent on making the most of his final years in office.
"Everyone agrees that our immigration system is broken," Obama said Wednesday in a Facebook post announcing his upcoming announcement. "Unfortunately, Washington has allowed the problem to fester for too long. So what I'm going to be laying out is the things that I can do with my lawful authority as president to make the system work better, even as I continue to work with Congress and encourage them to get a bipartisan, comprehensive bill that can solve the entire problem."
An NBC/Wall Street Journal poll released on Wednesday suggested public support for the substance of the president's plan, but not the process. A clear majority of respondents, 57 percent, backed a path to citizenship for undocumented immigrants, and that number rose to 72 percent when they told that immigrants would have to pay a fine and undergo a background check. Yet nearly half of respondents, 48 percent, opposed Obama's intention to act unilaterally on the issue, compared to 38 percent who supported it.
Democratic advocates for immigration reform are eagerly awaiting the details of Obama's order, which reportedly will make work permits available to millions but would not make them eligible for health benefits under the Affordable Care Act. The program is modeled on the "deferred action" plan for children of undocumented immigrants—the so-called Dreamers—that Obama announced in 2012, but it reportedly might not cover their parents.
In the short term, Republicans have said executive action would "poison the well" with their new majority and ruin the chances for legislation while Obama is president. (The president has replied that his orders would go away if Congress actually passes a bill.) But the prospects under the new Senate leadership on Capitol Hill were dim to begin with, making the fight for public opinion on such a polarizing issue even more important in the context of the 2016 presidential election. That's another reason why Obama is traveling to Nevada, a battleground state that is home to a large Hispanic population and is likely to feature both a marquee Senate and presidential race in two years. The sales job will begin there, and Obama has to hope he'll have more success persuading the public on immigration than he did with Congress.
We want to hear what you think about this article. Submit a letter to the editor or write to letters@theatlantic.com.