Mitch McConnell, on the Brink
The Kentucky Republican is poised to take control of a new Senate majority Tuesday, but he remains remote and inscrutable.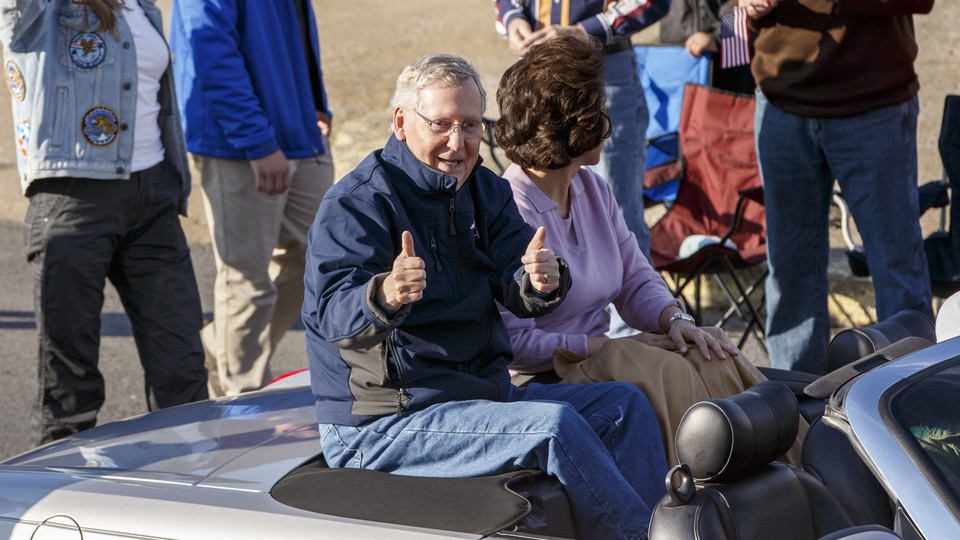 MADISONVILLE, Ky.—"Well, we expect to win," Mitch McConnell said, his jowly face set in its usual chelonian glare. McConnell, the Senate minority leader, was standing in the parking lot of a Hertz Rent-a-Car office in this Western Kentucky coal-and-tobacco town, having just participated in its Veterans Day parade with his wife, former Labor Secretary Elaine Chao.
Surrounded by a gaggle of cameras, McConnell reeled off campaign talking points about the glorious world that lay just over the horizon, where Republicans have taken the Senate majority and the Obama agenda has been stopped in its tracks. But, he was asked, what about for him personally—what would it mean to him to be majority leader?
McConnell paused slightly, overtaken by a rare and barely perceptible shyness. "Look, I—I think we ought to wait until we see what happens Tuesday night," he said.
On the eve of this year's midterm election, the 72-year-old McConnell's longtime dream of leading the Senate—what began as the improbable ambition of an awkward, polio-crippled boy from the wrong party, and has since suffered numerous setbacks and false starts—seems finally on the verge of being realized. Of the 10 Senate races that have been considered competitive, including McConnell's own, Republicans lead in the polls in seven, according to RealClearPolitics' polling averages. They must win five of the 10 to take the Senate. (This assumes the GOP also wins three Democrat-held seats in Montana, South Dakota, and West Virginia, as they are all but certain to do. Two of the 10, Georgia and Louisiana, may be decided in runoffs in the coming months.)
Yet McConnell remains a remote and inscrutable figure. He rode in the parade in a silver Thunderbird convertible, sitting alongside Chao atop the back seat in jeans and a windbreaker with his campaign's "Team Mitch" logo. McConnell has the forced, frozen smile of a man whose face naturally settles into a frown; even when he smiles with his mouth open, his teeth do not show, making him look as if he had forgotten his dentures. Chao occasionally chatted with the driver or passersby, but McConnell simply sat, and smiled, and waved or gave a thumbs-up, head swiveling slowly from side to side as if on a timer. Behind the Thunderbird, McConnell's Democratic opponent, Alison Lundergan Grimes, strode down Main Street with a crowd of supporters chanting, "Hey, hey, ho, ho! Mitch McConnell's got to go!"
At the side of the parade route, I struck up a conversation with Shawn and Elaine Vanlue, who had driven in from the nearby town of Nebo. He is a 46-year-old disabled Air Force veteran; she is 50 and works for a local hospital. They both despise President Obama—in Shawn's words, "the whole thing started out with a lie, trying to say he's not a Muslim." Elaine said she would vote for the candidate who most supported "Kentucky coal, our gun rights, and our veterans."
I thought I had them pegged for McConnell voters. (One McConnell bumper sticker reads, succinctly, "COAL. GUNS. FREEDOM.") But then Shawn began to complain that, for all his years in Washington and power amassed, McConnell didn't seem to be helping the people he knew. "Kmart done left, Sears done left. What's he doing to bring jobs to the community?" he said. Elaine agreed: "We need to bring in some new people," she said. "I'm leaning more to Alison this year."
McConnell is not a politician known for his passionate convictions, said Al Cross, a University of Kentucky journalism professor who has followed McConnell's career for three decades. "His politics are largely a bloodless politics," Cross told me. "He's just very good at the game .... He's played every possible angle. He takes nothing for granted. He knows his own vulnerabilities and weaknesses better than anyone—that's one reason he's been able to survive. There's not a lot of love for Mitch McConnell, but there's a great deal of respect and some amount of fear."
McConnell has won eight elections and lost none, starting as a county executive in the 1970s when Republicans were a small minority in Kentucky. He has steadily built the party into his personal machine—the state GOP headquarters in Frankfort is housed in the Mitch McConnell Building—and Republicans now constitute seven of the state's eight federal representatives, though Democrats still hold the governorship and legislature. Earlier this year, he complained to The New York Times that he doesn't get enough credit for his political mastery: "It makes you feel a little bit like Rodney Dangerfield sometimes; 8-and-0 is 8-and-0."
In the Senate, where McConnell has led his party since 2007, liberals revile him for the strategy of near-total opposition to Obama he undertook following the 2008 election. As McConnell told The Atlantic's Joshua Green in 2011, he counseled his caucus not to work with the popular, newly elected president in order to deny Obama's policies—including some that Republicans had previously supported, such as an individual health-care mandate or a cap-and-trade approach to carbon regulation—the cachet of bipartisanship. (Obama, for his part, chafes at the way this strategy has helped make his own leadership appear deficient. At the 2013 White House Correspondents' Dinner, the president joked that his critics fault him for not wooing Congress by, for instance, taking McConnell out for a drink. "Really?" Obama asked. "Why don't you get a drink with Mitch McConnell?")
McConnell's strategy helped Republicans win in a massive wave in 2010: When the Obama backlash arose, they were not implicated in anything the president had done. But it backfired in 2012, when Obama, despite his own waning popularity, successfully pilloried the GOP as a "party of no" without ideas of its own. And in both elections, Republicans came tantalizingly close but failed to capture the Senate majority, thanks largely to their own candidates' mistakes.
As much as liberals despise McConnell as an obstructionist, conservatives detest him for being too willing to compromise. On three crucial occasions—the expiration of the Bush tax cuts in 2010, the debt-ceiling fight of 2011, and the fiscal-cliff deal of 2013—McConnell worked with Vice President Joe Biden to stave off national economic collapse. As The New Republic's Alec MacGillis recounts in a new book on McConnell, he began his career as a pro-union, pro-choice moderate, but he has followed and enabled his party's steady shift to the right. Many on the left and right alike suspect that, beyond winning at any cost, he has no firm convictions of his own. His defenders say he is simply a pragmatist.
In McConnell's own hard-fought reelection fight this year, this accusation has been one of the most resonant attacks leveled by Grimes, the 35-year-old Kentucky secretary of state. "He just wants to get a bigger office—I want you to get a bigger paycheck," she likes to say. In a Louisville union hall over the weekend, where the Democratic faithful had gathered for a chili supper, Grimes stressed repeatedly that McConnell's 30 years in Washington were enough. "The only person Washington is working for is Mitch McConnell!" she said, before leading a rousing call-and-response of "Let me hear you say yes!"
A polished speaker, with an aggressive, folksy delivery and a natural charisma, Grimes managed to keep the race close for much of the year, but victory now appears to be out of reach—a series of recent polls have her losing by an average of more than 7 percentage points. She has been drowned in attack ads—more than $50 million worth—and tripped up by her own missteps, most famously when she refused to say whether she voted for Obama in 2012.
In the campaign's final days, Grimes was campaigning relentlessly—23 stops across the state in three days, compared to 11 for McConnell—and in an interview after her speech at the chili supper, she pointed to her supporters' enthusiasm as evidence she could still win. "The energy is there. This is what will bring this race home," she said. "The people of this state are ready to say, '30 years is long enough.'"
Grimes's supporters are animated by an anti-McConnell passion that is bracing in its intensity. They have "Ditch Mitch" bumper stickers and "Welcome to the Retire-Mitch Party" T-shirts and "Challenge Mitch" signs. Amusingly, Grimes's speech began with about 10 minutes consisting exclusively of McConnell-bashing before she announced, "Mitch McConnell wants you to think this election is about him." Where McConnell's campaign team seems, like their candidate, to be composed of bloodless tacticians, Grimes's is a sometimes messy assemblage of fired-up troops.
"Mitch McConnell has been the same cold-hearted, power-hungry politician for the entire 46 years I've known him," Kentucky's lone Democratic congressman, John Yarmuth, told the union crowd. "He's like a windmill—whichever way the wind blows, he goes. He doesn't have any core values. He just wants to be something. He doesn't want to do anything."
After the speeches, I caught up with Yarmuth, a gray-haired former newspaperman and unabashed progressive who represents the Louisville area. "No, I'm not very nice to Mitch," he sighed. "Margaret Mead once said that the only thing worth doing is to add to the sum of accurate information in the world, and Mitch doesn't do a lot of that, especially when it comes to the Affordable Care Act." McConnell has styled himself an ardent opponent of Obamacare while trying to dodge the question of what would happen to Kentucky's popular and successful health-care exchange if the law were repealed.
"That's why I've been so strident, I guess," Yarmuth continued. Though he was adamant that Grimes could still win, I asked him the question on many people's minds as the election neared: What would happen if McConnell prevailed and became majority leader? That's when Yarmuth said something that surprised me.
"If he were to become majority leader, I think he actually will try to make things better," Yarmuth said. "He will begin to think about his legacy, and he will not want the history books to write how he has been for the last 30 years." Yarmuth's argument was, ironically, an extension of the cravenness he saw in McConnell: Possessing no firm beliefs of his own, McConnell would now, Yarmuth posited, see political advantage in working with Obama to put achievements to his own name. If he finally achieved his life's ambition, a politician driven by political expediency might finally find it in his interest to work for the greater good.