Lynch's Attorney General Nomination Slipping to 2015
Obama's Justice Dept. pick will likely be taken up by the GOP-controlled Senate next year.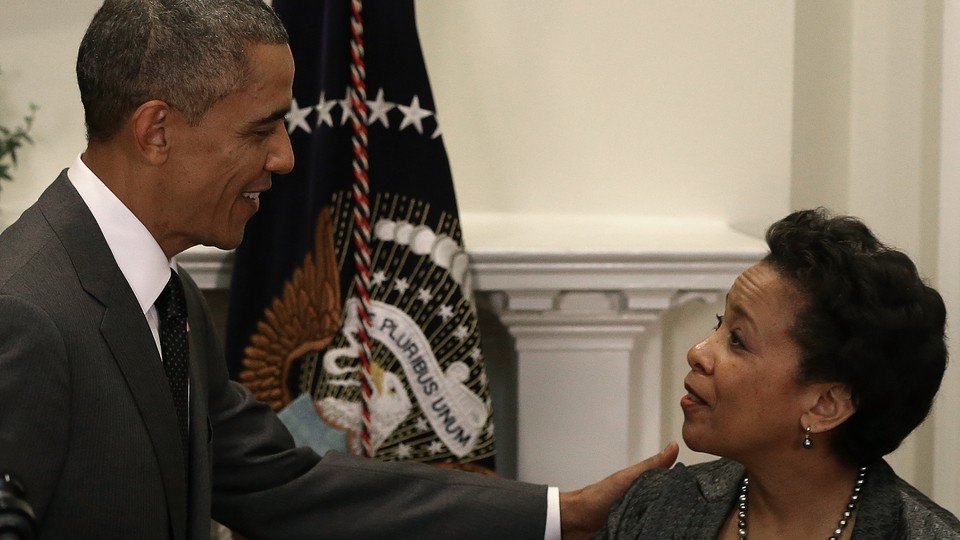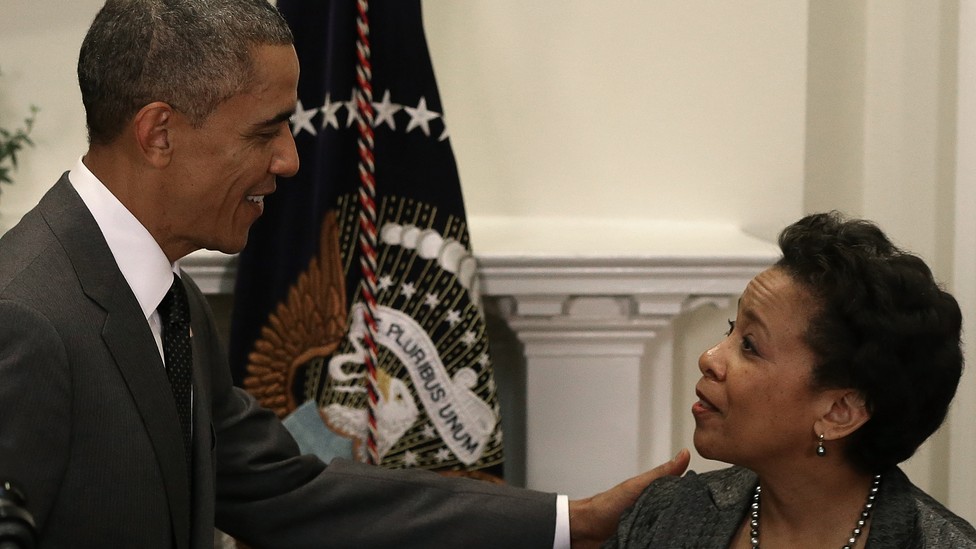 With only a handful of legislative days left before Congress calls it quits for the holiday season, it appears increasingly likely that Democratic Leader Harry Reid will cede the Senate majority to Republicans without confirming a new attorney general, leaving Eric Holder with the job he quit almost two months ago until at least January.
The process to confirm a new attorney general, which typically takes weeks, has barely begun as members of the Senate have turned their focus to the Keystone pipeline, a bill to curb the National Security Agency's powers, and dozens of lower-level administration nominees.
Given the time line, Reid told reportersTuesday that it is his "personal feeling" that the nomination of U.S. Attorney Loretta Lynch to succeed Holder will have to wait until 2015, after Republicans have taken control of the Senate. The White House, Reid said, has told him, "don't be pushing that."
Senate Judiciary Committee Chairman Patrick Leahy of Vermont still has not said explicitly whether confirming Lynch will be possible in the lame-duck session, but he said Tuesday that his committee hasn't even received Lynch's paperwork and thus has not been able to begin the process of considering her nomination -- much less scheduling a hearing. "We can't really start talking about it until we get the nomination [paperwork]," Leahy said.
It was unclear Tuesday why the White House had not yet sent over the full paperwork relating to Lynch's nomination. But Leahy has another top priority in this lame-duck session: Passing his USA FREEDOM Act, to curb the NSA's powers in intelligence-gathering. After a long, difficult push, Leahy's bill was scheduled to come to the floor for consideration later Tuesday.
Instead, Lynch will face the Judiciary panel in the next Congress after Republicans have seated their new majority and Sen. Chuck Grassley has taken the committee's gavel.
Several Republican members, both on the conservative end of the party spectrum and in leadership, have said that the Lynch nomination will serve as an appropriate time to question the administration's policy on immigration -- particularly if Preisdent Obama follows through on his promise to issue an executive order curbing deportations by the end of 2014.
"It's going to poison the well," Senate Republican Whip John Cornyn said, when asked if the executive order could hurt Lynch's chances of being confirmed. "If the president's not going to cooperate with us, it makes it much harder for members of Congress to cooperate with him on everything from nominations to legislation."
But Sen. John Thune, who serves as chairman of the Senate Republican Conference, said Tuesday that while he expects Lynch will be grilled "about the legality and the constitutionality of that [executive] action," he does not expect Republicans to derail her nomination over the issue.
"I mean, we have to have an attorney general," Thune said. "Now, I don't think there's any sense of urgency. Eric Holder hasn't said he's going anywhere, I think he's said he's going to stay around, so it's not like the position is vacant. "¦ Like I said, we'll give her fair consideration, she'll get asked hard questions. But I don't think there's going to be any retaliation [for the executive action] or any discussion of that. That's not something that's come up in any conversation I've been a part of."
Thune also pointed out that Lynch has been confirmed by the Senate multiple times before, albeit for lower-level judicial positions. And, what's more, Republicans aren't exactly itching to keep Holder in place as attorney general.
"There are some on our side who are not big Eric Holder fans, to say the least," he said, laughing. "I don't think there's going to be any attempt to try and slow-walk anything "¦ and we'll get that transition under way."