Latino Voters' Wrenching Choice
Abandoned by Democrats and shunned by Republicans, many Hispanics don't see why they should vote this year. In Colorado, they could decide the election.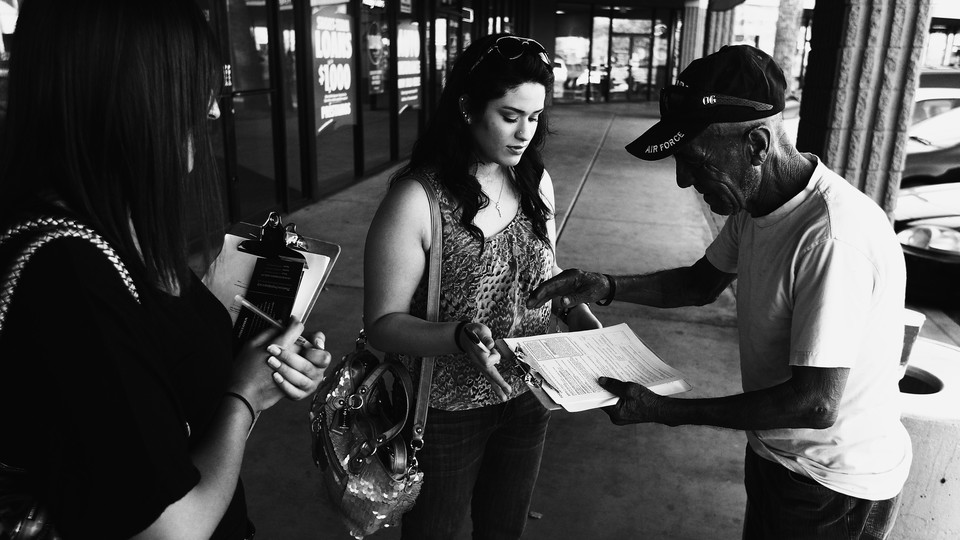 DENVER—Christian Avila was getting ready to give a pep talk, but first, he had an announcement for his team of election canvassers: "I do have pepper spray—raise your hand if you need it," he said. "The only rule is, don't spray me."
The team of 10 canvassers—eight mostly young Latinos, plus a couple of hippieish white kids from a conservation group—laughed nervously. Then it was time to do the clap: "Si. Se. Pue. De," they began, clapping on each syllable, slowly at first, then faster and faster until the chant blurred together and the clapping dissolved into furious applause.
"We're sending a strong message—not just to Colorado, but to the nation," Avila, an organizer for Mi Familia Vota, told the group before they set out with iPods programmed with a canvassing app. "If people want to stay in office, they have to take Latinos into consideration."
But do they? Ever since President Obama decided, in September, to put off using his executive power to halt deportations of undocumented immigrants—a move widely viewed as a political maneuver, and seen by immigrant activists as a betrayal—Latino voters have faced a wrenching choice. Abandoned by Democrats and shunned by Republicans (many of whom have exploited anti-immigrant sentiment as an election-year wedge), should they stay home to punish the politicians who disregarded them? Or should they show up and vote for Democrats anyway, rewarding the undeserving in order to demonstrate their electoral clout?
One hardline activist group, Presente Action, is calling on its members to vote against the Democratic incumbents in North Carolina, Arkansas, Louisiana, and New Hampshire—the senators believed to have leaned on Obama to delay to help their reelection chances. "This was not an easy step for us ... but we believe it is necessary if we are ever going to see politicians of any party approach the Latino constituency as one to be catered to, not spat on," said the group's executive director, Arturo Carmona.
But most advocacy organizations have taken the opposite tack. "As a movement, we definitely have been wrestling with this," said Patty Kupfer, Denver-based managing director of America's Voice. "But politicians are only going to take us seriously to the degree that we turn out and flex our muscle. It's only by continuing to build that power that we're going to be able to hold politicians accountable."
Colorado, the only contested state in this year's Senate races with a significant Latino electorate, is ground zero for their efforts. The red-state senators Obama hoped to save by veering away from the hot-button immigration issue on the eve of a midterm election may not be much helped by it, while the one senator executive action might have helped politically, by energizing a key constituency, has fallen behind in the polls: Colorado Democrat Mark Udall, who faces Republican Representative Cory Gardner.
Udall insists that the polls are wrong and that he still can win on Tuesday. If that's the case, Hispanic voters could be the reason why. Pollsters who aren't Latino-vote specialists have a track record of undercounting and misjudging this rapidly growing segment of the electorate, which has voted in unexpected numbers in recent years. "Usually pollsters are underestimating two things," said Matt Barreto, co-founder of the Latino Decisions polling firm. "They're underestimating the share of Latino voters by 2 or 3 percentage points, and they're underestimating the Democratic vote share among Latinos." That's because mainstream pollsters often poll only in English, missing the Spanish-speaking voters who tend to be more Democratic-leaning.
In 2010, Colorado Senator Michael Bennet (the brother of The Atlantic's editor in chief and co-president, James Bennet) lagged in almost every pre-election poll, but won on Election Day. According to Latino Decisions, Latinos made up 10 percent of the electorate, and Bennet won 80 percent of them—higher proportions, in both cases, than most pollsters had predicted. That same year, higher-than-expected Hispanic turnout helped Senate Majority Leader Harry Reid win a surprise reelection victory in Nevada. Similarly, in 2012, Obama led in the polls in Colorado by less than 2 percentage points, but ended up winning the state by more than 5 points.
This year, however, Latino Decisions' polls have found Hispanic voters markedly less enthusiastic about voting and frustrated with both parties. (One survey last month found Latinos less motivated to support Democrats than 2012 by an 11-point margin.) America's Voice, Mi Familia Vota, and other groups have teamed up to target about 45,000 immigration-minded voters in Colorado who usually cast ballots in presidential years but not in midterms. They hope to save Udall—and preserve their clout as a community. But it isn't easy: Again and again, the canvassers are finding voters who say they're undecided or unmotivated. As 19-year-old Oleydis Alvarado and I walk the streets of this West Denver neighborhood, where a mercado on the corner displays a Peyton Manning piñata, we repeatedly encounter this sentiment. (The pepper spray, Alvarado tells me, is in response to an incident the week before where a man followed and exposed himself to a young female canvasser.)
"This year, I'm voting for no one," Jose Hernandez Pina announces when we arrive at his door. A 65-year-old with a salt-and-pepper mustache, he kicks a fat chihuahua back into the house—"Go! Get inside!"—and tells me he's had enough with politicians. "We vote for Obama to do something better, but he does nothing," Hernandez Pina says. "Our people, they give the politicians their position, and they don't do nothing for the things we need."
Udall needs strong turnout among Hispanics to win, but some activists question whether he's done enough to cater to this segment of the electorate. When Obama announced his executive-action delay, Udall immediately put out a statement expressing disappointment with the decision. His campaign touts endorsements from more than 100 Colorado Latino leaders and says he's given more than 30 interviews to Spanish-language media and aired $1 million worth of Spanish-language TV and radio ads.
Gardner, meanwhile, has tried to strike a softer tone on immigration by insisting he supports "immigration reform," but when pressed, he says that means a combination of border security and a guest-worker program. He doesn't commit to supporting legalization for the undocumented, and as for the most controversial aspect of reform—a path to citizenship—he told me he believed it was not "a universal demand." Gardner also has voted to defund Obama's DACA program of temporary amnesty for young undocumented immigrants.
Still, Gardner's rhetoric on the issue is not as harsh as past Colorado Republicans, and advocates say Udall has not pressed the immigration issue as hard as Bennet did four years ago. His Spanish ads haven't been about immigration, for example, Kupfer said. "There's more [the Udall campaign] could be doing to make sure voters understand the difference between the candidates on the issues," she told me. "At the doors, we're seeing a lot of undecideds, and there shouldn't be that many undecideds at this point."
For the canvassers, turning out the Latino vote is a part-time job—most work about 30 hours a week, for low pay—but it's also personal. Alvarado, a soft-spoken teen with a knack for getting voting commitments, is working to finish high school, but she can't vote; she's a legal permanent resident. Others, including Avila, the organizer, are "Dreamers," undocumented immigrants brought to the country at a young age by their parents.
"This may seem like tedious work," Avila told the canvassers before they set out. "But every door you knock is helping somebody else. I can't vote—you're voting for me and for the other Dreamers across the country." It was a cold, rainy day, but the canvassers were undaunted. The question was whether their targets would get the message.