It's Down to Three for the DNC
Will Democrats pick their next presidential nominee in Brooklyn, Philadelphia, or Columbus?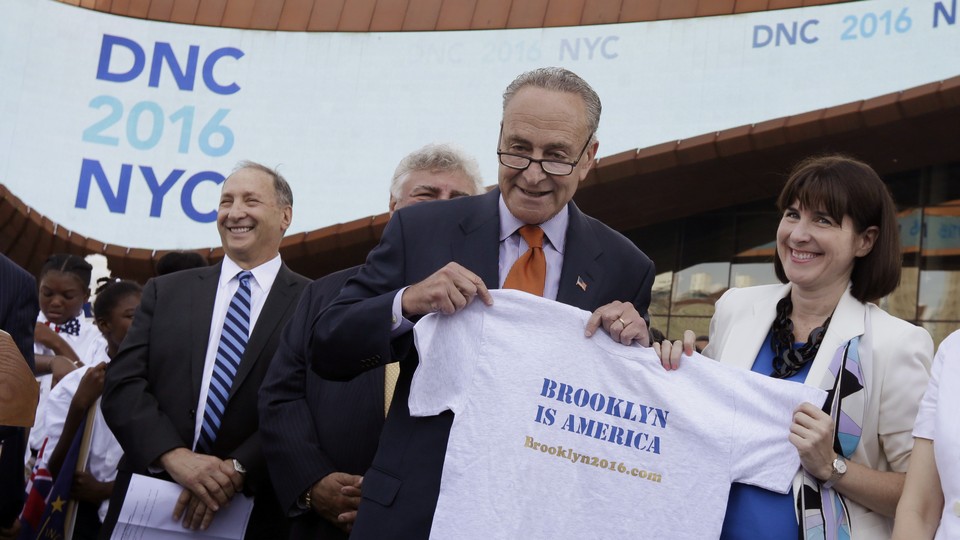 Democrats will converge on one of three northern cities to nominate their candidate to replace President Obama in 2016: New York, Philadelphia, or Columbus.
In an announcement on Monday, the Democratic National Committee said it had narrowed its list of finalists and eliminated the summer cauldron of Phoenix and a long-shot bid from Birmingham, Alabama. The DNC is taking much longer than its GOP counterpart to decide, as the Republican National Committee declared in July than its 2016 nominating convention would be in Cleveland.
A convention in New York would be held for the first time in Brooklyn, while a Democratic pick of Columbus would mean both parties would be descending on the crucial swing state of Ohio. Philadelphia is an old standby for nominating conventions, having hosted them seven times in the last century-and-a-half.
Both conventions are likely to occur earlier than in the recent past. Republicans are choosing between late June and mid-July for their confab, while the DNC said Monday it was choosing among the weeks of July 18, July 25, and August 22 for its convention. The parties have met to crown their candidates during the two weeks around Labor Day during the last few presidential campaigns, but officials have complained that the late dates condense the general election too much because of restriction on campaign spending.
Here's a closer look at the finalists:
New York
The Big Apple's bid is really about Brooklyn: Instead of Manhattan's Madison Square Garden, city officials are offering up the much newer Barclays Center and a chance to highlight the renaissance of a borough that was once the nation's third-largest city. Ubiquitous in pop culture (and The New York Times), Brooklyn has come to epitomize a generation of young hipsters and the gentrification—for better or worse—of urban America. Yet Republicans would probably welcome the Brooklyn choice as an opportunity to deepen their criticism of Democrats as champions of a liberal elite out of touch with the vast middle of the country. Beyond the borough's youth appeal, Democrats would highlight its history as one of the country's first immigrant melting pots, a message that would dovetail with its push to turn out Hispanic voters. And of course, a New York convention could become a home-state coronation for former Senator Hillary Clinton, the prohibitive favorite for the Democratic nomination.
Philadelphia
Philly will always resonate as the birthplace of America, but its chief selling point as a convention host is its reliability. Republicans nominated George W. Bush there in 2000, and officials frequently tout the city's 30,000 hotel rooms and their expertise at pulling off large events. As for the politics of Pennsylvania, it is not a true swing state like Ohio, but it's always more competitive than the reliably Democratic New York. Picking Philadelphia would be a tacit acknowledgement that the Electoral College factor of a convention site tends to be overstated. Take 2012 for example, when Republicans lost Florida despite nominating Mitt Romney in Tampa, while Democrats lost North Carolina after holding their convention in Charlotte.
Columbus
Ohio's capital may trail Philadelphia and New York in size and history, but it does not take kindly to the suggestion that it is boring: Our suggestion at The Wire that Columbus lacked distinctive features prompted a personal letter from Mayor Michael Coleman, who pointed out that his city was among the fastest growing in the Midwest and had been honored "as one of the smartest cities in the world and as one of the top cities in the nation to raise a family."
Yet in his official campaign for the bid, Coleman is sticking to the main reason Democrats would choose their next presidential nominee in Columbus. "Ohio is the most sought after swing state," Coleman said in a statement Monday. "Our city is a top contender because Columbus is walkable, affordable, and holds great electoral value." It's hard to imagine the two major party candidates spending more time in Ohio than Barack Obama, Mitt Romney, and John McCain did in 2008 and 2012, but with conventions in Cleveland and Columbus in 2016, the rest of the country might as well take the election off.