Introducing the Softer Side Of Chris Christie
The New Jersey governor may be looking to change up his image in the lead up to a possible presidential run.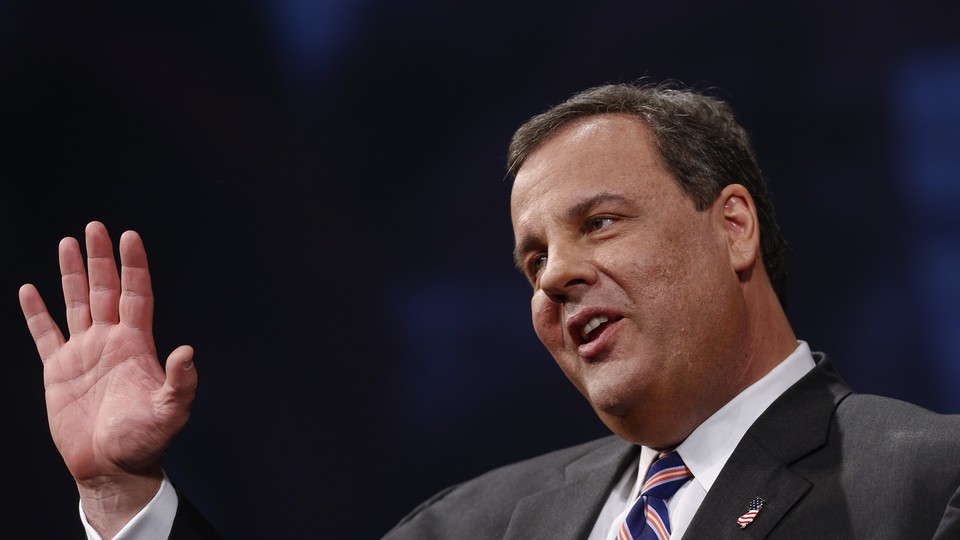 From "Sit down and shut up!" to "Are you stupid?" to "Your rear end's gonna get thrown in jail, idiot!," Chris Christie's made his share of bullying cracks for critics to pounce on.
The New Jersey governor's brash, tell-'em-like-it-is leadership style skyrocketed him to popularity in the state, where he won his first term in 2009. In a state that gave America multiple pop-culture iterations of impudence, including The Sopranos and Jersey Shore, voters relished Christie's full-blown, self-branded "authenticity." But after "Bridgegate," the controversy that linked a top Christie staffer with the devious closure of several lanes on the George Washington Bridge, people wondered if his signature style really made him a bully. As he makes the case for 2016, his full-throttle brazenness has given the national audience pause.
In a wide-ranging New York Times Magazine profile, Christie seems to try and counteract, if not dispel, his bullying image. He found out his mother had breast cancer, he told reporter Mark Leibovich, just as he was starting college at the University of Delaware. And he recalled time spent at his grandmother's house watching Meet the Press.
"I think because the women in my life have been the predominant influence, that it makes me that much more comfortable with my own emotions," Christie said. "I think, in general, women are better at that."
Anger, or violent annoyance, is certainly something the governor doesn't shy away from. But Christie also laid bare his feelings about his oldest daughter going off to college, revealing a heartfelt anecdote about the "five- or six-page" letter he left her with after dropping her off at Notre Dame containing what "I wanted to say to her but couldn't because I knew I would cry."
Presidential contenders don't have to be nice. They do, however, have to be likable""or at least likable enough to drink a Bud Light with. In 2012, voters deemed President Obama to be more likable than Mitt Romney by a double-digit margin. Among undecided voters in the run-up to the 2004 election, 57 percent said they'd rather have a beer with President George W. Bush than challenger John Kerry. In the last six elections, in fact, the candidates considered most likable won the presidency.
For Christie to be a serious 2016 contender, he needs to put more emphasis on his softer side: By showing he isn't actually the jerk that his off-the-cuff comments make him appear in the eyes of his critics, he'll be able to prove he can run a viable campaign. Revealing his fatherly concern, and how the women in his life have influenced him, is a good place to start.