In Loretta Lynch, Obama Hopes to Find a Less Polarizing Attorney General
Lynch, the U.S. attorney for the Eastern District of New York, will replace Eric Holder. If she can get confirmed by the Senate, that is.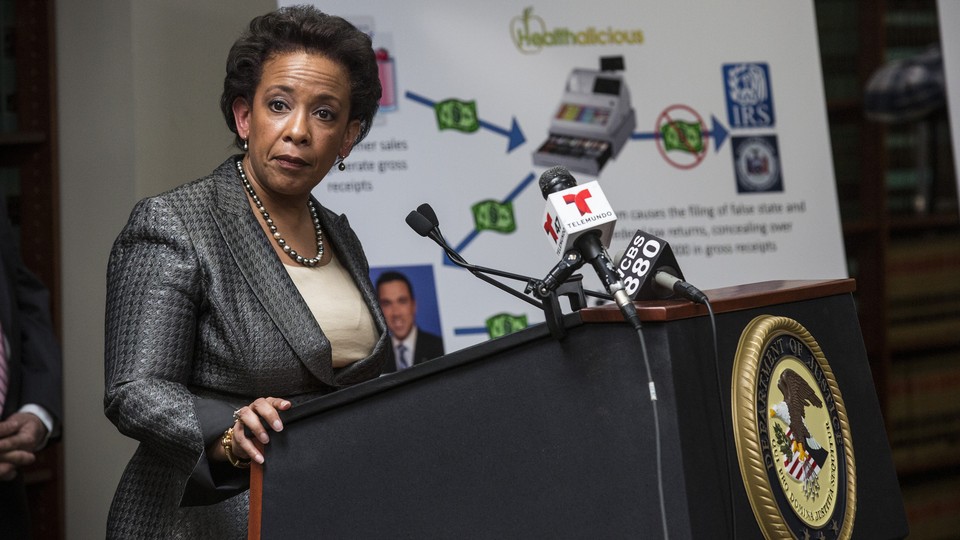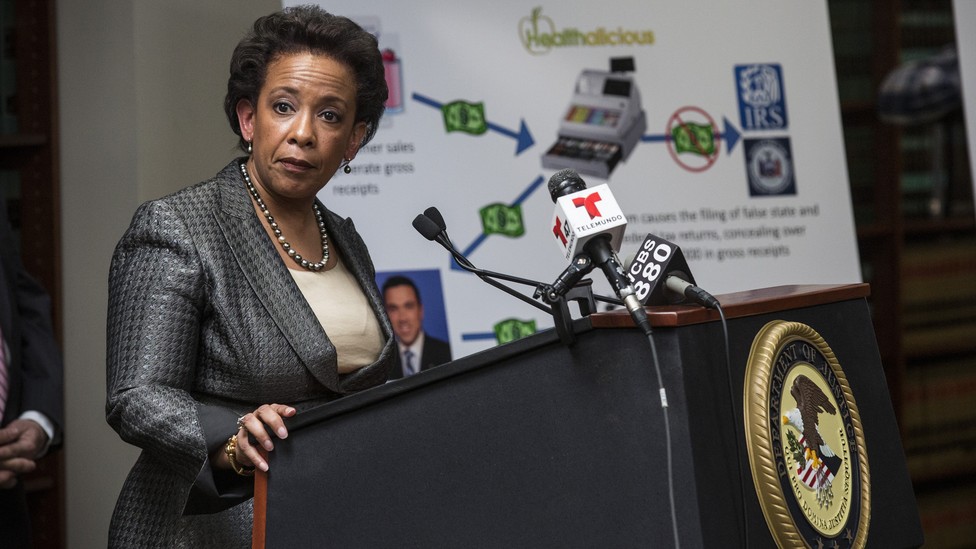 On Saturday, President Obama appointed Loretta Lynch to succeed Eric Holder as attorney general. Lynch is the U.S. attorney for the Eastern District of New York. If confirmed, she would be the first female African-American attorney general.
CNN broke the news of Lynch's appointment on Friday, but White House press secretary Josh Earnest refused to confirm the news at a press briefing, saying a final decision had not been made. In September, Holder announced he would step down once a successor is confirmed by the Senate.
Lynch, 55, is currently the U.S. attorney in Brooklyn and a fairly low-profile choice. She is known as a workhorse, averse to holding big press conferences or amassing media attention.
Lynch's name was not among those immediately floated after Holder announced his resignation last month. The top contenders included Labor Secretary Thomas Perez and Solicitor General Donald Verrilli. Both have close ties to the president, and a nomination of either would have likely set off Republican opposition.
The New York Times reported Friday that it was Democratic Sen. Chuck Schumer who recommended Lynch as an attorney general candidate.
Lynch led the investigation of Republican Rep. Michael Grimm of New York, indicting him on wire fraud and perjury. She also aided a Justice Department investigation of Citigroup mortgage securities, which resulted in the bank paying a $7 billion settlement in July.
In Lynch, Obama may hope to find a less polarizing figure. On Saturday, the president was quick to note that during her tenure as a U.S. attorney, Lynch has brought charges against public officials "in both parties." That comment may have been a subtle rebuke of Republicans' criticism of the Justice Department under Holder, who has suffered blows from the Right over Operation Fast and Furious and an Internal Revenue Service scandal.
She has served under Obama and President Clinton, and won a high-profile case in 2000 against New York police officers who viciously assaulted immigrant Abner Louima.
"It's pretty hard to be more qualified for this job than Loretta," Obama said. "Loretta doesn't look to make headlines. She looks to make a difference."
Obama's appointment of Lynch adds another item to an already packed lame-duck session. If the confirmation gets sidelined in the current Congress, it will pass to the incoming Republican Congress, which could potentially derail the nomination. At least one lawmaker says that leaving the decision up to the next Congress is the right way to go. "Democrat senators who just lost their seats shouldn't confirm new attorney general," Sen. Ted Cruz, R-Texas, tweeted on Friday. "Should be vetted by new Congress."
In the announcement on Saturday, Obama called on the Senate to confirm Lynch "without delay," but it is unclear how Republicans will view Lynch's nomination. In 2010, Lynch was easily confirmed to her current post on a voice vote. Her nomination could give the Obama administration a chance to reset its relationship with some Capitol Hill Republicans.
"The DOJ is the only Cabinet department named for an ideal. And this is actually appropriate, because our work is both aspirational and grounded in gritty reality," Lynch said. "I will wake up every morning with the protection of the American people my first thought."
"I have had the good fortune of working closely with Loretta on a range of important issues over the years," Holder said in a statement on Saturday. "I am confident that Loretta will lead the Department of Justice with integrity, honor, and distinction. I congratulate her, once again, on her appointment. And I wish her the best of luck."
This story has been updated with new information.