In Kansas, Both Parties Scramble to Turn Out Supporters
Pat Roberts hadn't run a competitive race until this year. Greg Orman is an independent without support from either party. How will they get out the vote?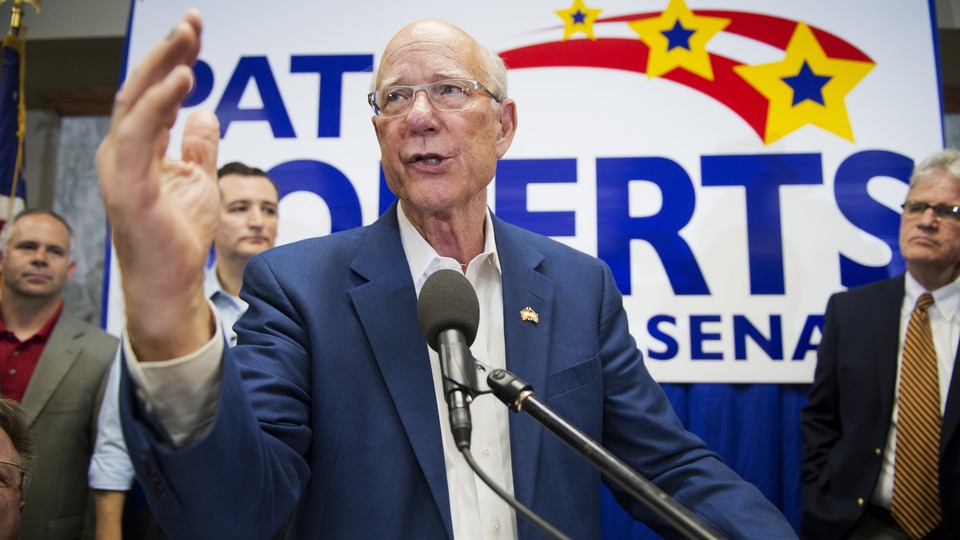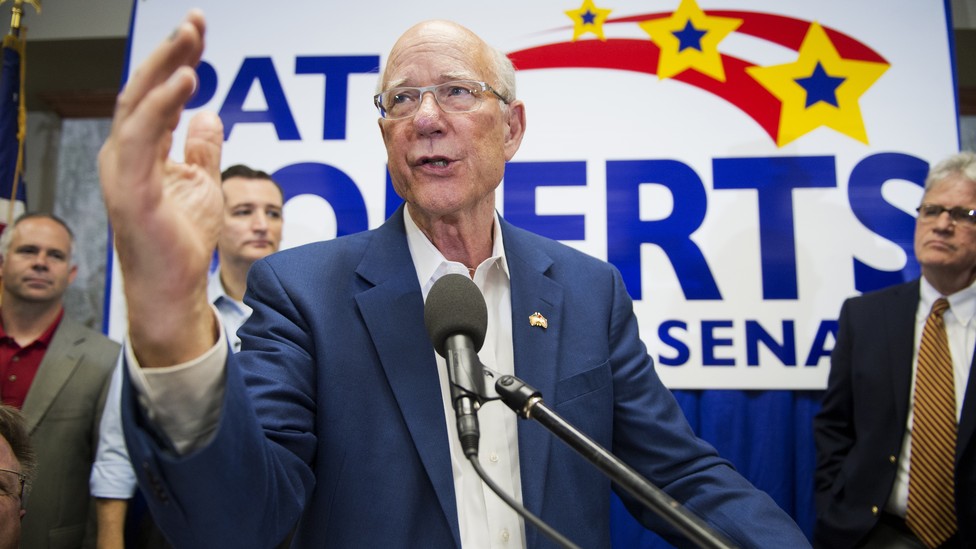 OVERLAND PARK, Kan.—In most competitive Senate races on the 2014 map, both parties have been meticulously preparing their field and ground-game operations since the start of the year, putting plans in place so they were ready for the final stretch this fall.
Not so in Kansas, which has in so many ways scrambled the calculus of every other 2014 campaign. Call it the ground-game-in-a-box race: The campaign pits Pat Roberts, the GOP senator who wasn't preparing for a competitive race and has had to pull together an operation almost from scratch this fall, against independent Greg Orman, who found himself under the national spotlight without any sort of party apparatus or infrastructure to back him up.
With polling showing a close contest, both sides acknowledge that turnout operations really could end up tipping the scales. But because of the strange politics of a Republican-versus-independent race, even that is complicated: Nobody knows quite who's going to turn out, whom they'll vote for if they do, or how much that's affected by other races on the ballot.
Kansas is not a state that's generally been known for its top-notch ground-game operations. Political and field talent in the state has been "the equivalent of AA or AAA in baseball—it's minor league. Until now," said Wint Winter, a former GOP state senator who's opposing Republican Gov. Sam Brownback. "The money that's come in on both the Senate race and governor's race [means] campaigns could afford major league talent. Now the level of the ground game and talent is greater than it's ever been."
For Roberts, the surprisingly competitive nature of the race meant building up a ground operation that was practically nonexistent: Before late August, his staff wasn't expecting to put much effort into a general-election campaign in ruby-red Kansas. Back in early October, the Washington Examiner reported that, until then, Roberts's campaign office was so low-tech that it didn't even have its own phone or Internet service—a fact that operatives in Kansas acknowledge is true.
"They didn't have an operation, but they really didn't need it until the whole ballot shuffle happened—so they had to start from scratch," said Travis Smith, a GOP consultant who worked with Roberts's campaign during the primary. "If you don't think you need it, if you don't think you're really going to have a race, then why invest in it? It costs a lot of money, it's a lot of staff, it's a lot of time energy and resources."
Once it became clear that this race was close, seasoned GOP operatives Chris LaCivita and Corry Bliss came in to replace Roberts's existing staff. Their presence on the ground has been coupled with staff and money from both the Republican National Committee and the National Republican Senatorial Committee. The RNC has put in half a million dollars for ground-game operations, including mail, data and targeting efforts, and staff on the ground.
"This is one of the benefits of having the Senate race be so close: The RNC and NRSC came in, have some staff here on the ground, and probably quadrupled the data effort," said Clay Barker, the executive director of the state GOP, noting that in the final two weeks of the campaign, volunteers were making more than 25,000 calls per day. The party's goal for the final three weeks is to knock on 150,000 doors, a big number considering overall turnout in Kansas is likely to be about 850,000 voters.
Each GOP campaign here, whether it's congressional candidates like GOP Rep. Kevin Yoder or Roberts and Brownback, has its own operation—some more organized than others—but all work in concert with the state Republican Party. All the GOP campaigns have data-sharing agreements so they can combine efforts and get up-to-date voter ID information in real time.
On Saturday, for example, Yoder's office organized a pancake breakfast and canvassing effort in Johnson County, the state's most populous county and closest thing Kansas has to a "swing" area. Although Yoder's team put it together, volunteers for all the statewide and local campaigns joined in and distributed materials for the whole Republican ticket.
Meanwhile, Orman, as an independent, lacks the existing party infrastructure that major-party candidates typically benefit from. It's of added importance since he's being pegged by Roberts and his allies as an ally of President Obama and Senate Majority Leader Harry Reid. As the race becomes more nationalized, Orman has been keeping his distance from Kansas's Democratic Party.
With its comparatively smaller resources, Orman's campaign is betting on the fact that both major parties will turn out voters from their party—some of whom, they believe, will vote for Orman—and has focused largely on reaching and turning out independents.
The campaign has three field offices: one in Shawnee, a suburb of Kansas City; another in Wichita, in the southern part of the state; and one in Manhattan, which is west of Topeka. That effort, which Orman's campaign says includes more than a dozen paid field staffers and 800 volunteers, has involved more phone-banking than in-person canvassing and door-to-door efforts, since the campaign's target voters are spread across the state.
Still, Orman will likely benefit from the state Democratic Party's operations: Voters who plan to vote against Brownback and for Democrat Paul Davis are likely to also cast their ballots against Roberts and for Orman.
Kansas Democrats identified early in Brownback's term that he could be vulnerable this fall, and quickly put together a team that would update the party's operations and make them more data-driven. In summer 2012, the Kansas Democrats started working with Clarity Campaign Labs, a D.C.-based analytics firm that helped put together models for the governor's race to identify and turn out key voters. The party now has six field offices across the state.
While that operation obviously doesn't include Orman, the people who are voting against Brownback are, observers believe, most likely going to vote against Roberts, too.
"There is not a coordination "¦ that said, it's a reasonably safe assumption that to anyone could read the public polls, where they're pulling their support from," said Tom Bonier of Clarity, who's working with the state Democratic Party. "Field efforts conducted by Democrats in Kansas, if they are successful, will boost Orman's chances."
There's also the AFL-CIO, which announced last month that it would add Orman to the field program it already had in place for Davis. Orman's campaign has not been in touch with the union at all about its field operations, and it's not clear what the scope of their efforts look like.
Usually, early vote totals paint a picture of each party's strength: Democratic voters usually vote for Democrats and Republican voters usually vote Republican. In Kansas, though, where there's no Democrat on the ballot, that's not at all assured—and even in the governor's race, some moderate Republicans have abandoned Brownback for Davis, the Democrat.
As of now, early-voting turnout is slightly down from this point in 2010. The Kansas GOP anticipates that, based on their models, about 87 or 88 percent of the Republican voters who've cast ballots thus far are likely Roberts and Brownback voters. If that number holds true, it would be a positive sign for Roberts, whose campaign has said he needs to get 75 to 80 percent of the Republican vote.
Orman's campaign notes that independent voters don't typically vote early, so they're banking on a strong Election Day turnout among their voters to put Orman over the top.