How Tech Is Getting College Students to Turn Out for Election Day
This hasn't been the most exciting election season. But a mobile and online push is helping get college kids out to polls.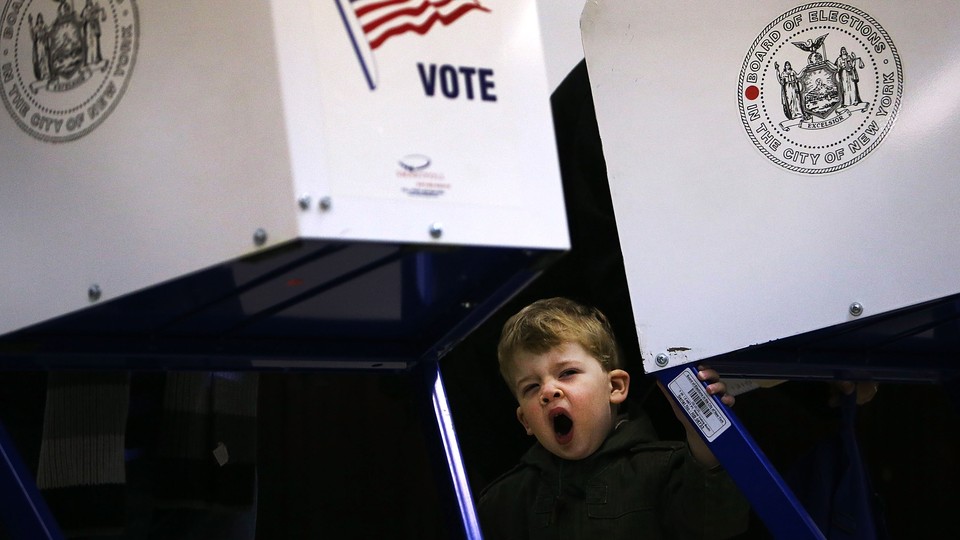 On Tuesday morning, MacKenzie Bills's cell phone will buzz, alerting her to a text. The message, a simple reminder, will direct the Simpson College junior to a polling place in Indianola, Iowa, just across the street from campus: Go vote.
The text isn't from her parents, or a particularly civically engaged friend. TurboVote, a digital, nonpartisan service that streamlines voter registration for college students, sends personalized texts to the 80,000 co-eds who have registered and requested them. More than 200 colleges, including Ohio State and Stanford, have purchased access to the platform, which is free for students.
"The purpose is to make it as painless as possible for students to register to vote," said David Klement, executive director of the Institute for Strategic Policy Solutions at Florida's St. Petersburg College. "Knowing how many young people are tech-savvy and do everything on their cell phones or computers, it's an electronic platform."
In a year where midterm races have lacked much excitement, colleges have found creative ways to engage students in the voting process through technology they already use.
Bills, who is studying political science and international relations, needs no reminder to vote. The founder and president of Simpson Votes, a campus club that promotes civic engagement, she took advantage of Iowa's early voting last month. But the digital nudge, she said, makes all the difference for her busy peers—especially in a state where the outcome of a tight Senate race could swing control of Congress.
"Being a college student means we're being pulled a million different directions," Bills said. "That extra reminder is what will get us to the polls."
In Georgia, despite energy from another high-stakes Senate matchup, University of North Georgia history professor Renee Bricker said it's difficult to rouse students to vote.
"The midterm is always harder to get people excited about," said Bricker, who coordinates the TurboVote program at UNG. "It's like going to church just on Christmas and Easter. The presidential election every four years is easy to get people excited about, but the midterms are a little harder."
That holds true across the country. Compared with the 2012 presidential election, where 45 percent of eligible 18-to-29-year-olds voted, the last midterm elections, in 2010, saw a youth turnout rate of only 24 percent, according to the Center for Information and Research on Civic Learning and Engagement.
Administrators on UNG's campus in Dahlonega have tried a number of tactics to engage students in the election, with hits and misses. While QR codes linking to the UNG TurboVote site were deemed excessive, simple pop-up windows—activated whenever a student logged into the university's server—were incredibly successful, albeit annoying after a while, Bricker said. The popups allowed students to register on the spot, as well as sign up for text and email reminders to vote.
Social media, too, has helped engage Facebook- and Twitter-addicted college students in state elections. Bills has been promoting the hashtags #SimpsonVotes and #IVoted in a grassroots effort at Simpson since early voting started in September. Facebook posts and tweets flaunt civic engagement throughout social networks, encouraging voting among friend groups in a form of positive peer pressure.
Simply voting, however, isn't the only endgame: Once students get to the polls, they need to be educated about their decisions. To help students make informed choices, Bills sends out fact sheets on candidates via Twitter and email, and TurboVote's Election Day memos include ballot previews with links to candidates' websites.
For self-starters who are just forgetful or busy, TurboVote's digital reminders come in handy. But other students may need more of a push. When that comes from someone they trust, Sam Novey, TurboVote's director of partnerships, told National Journal, it has a much more meaningful impact.
On National Voter Registration Day, in September, an email from UNG's provost encouraging students to register to vote resulted in more than 200 TurboVote sign-ups. And when John Boyer, a popular geography professor at Virginia Tech, emailed his students the link to the school's TurboVote page, 600 students signed up in two days.
Novey said that, logistically, it was only possible for Boyer to have that influence with help from technology. It worked so well, though, because students respect him.
"Technology like TurboVote is designed to empower leaders in campuses and communities everywhere to share voting with their peers and with their students," Novey said. "By taking care of a lot of the details, it empowers folks to do what they're uniquely situated to do, which is use their relationships and their passion and their commitment to democracy to mobilize those around them to get to the polls."
Digital platforms complement college voter outreach well, especially in a stale election. Ultimately, though, it will take more passion and stronger relationships to truly amp up college turnout.