Historic Number of Governors Could Lose in 2014
And the impact will be felt in state policy—and maybe even future presidential elections—for years to come.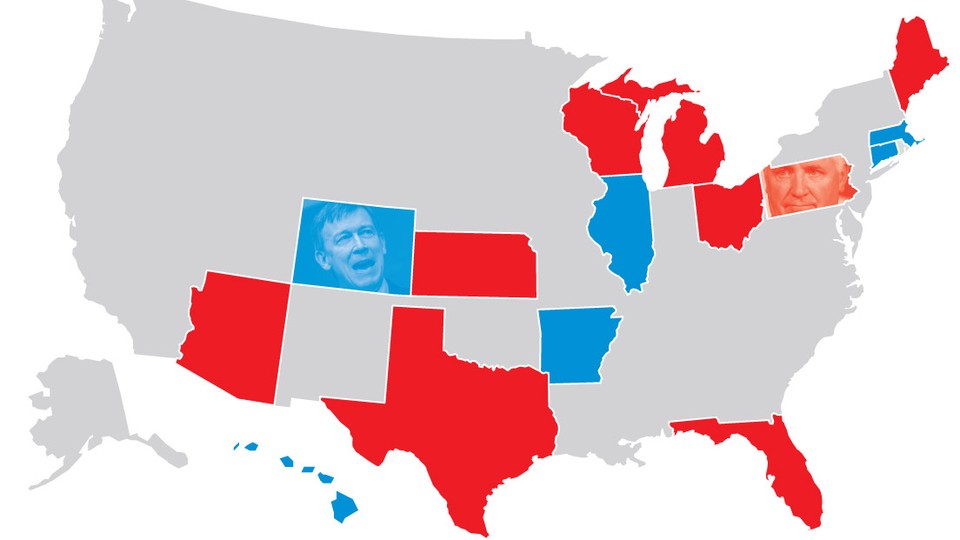 While the landscape of 2014 Senate races looks like it might tilt entirely in one direction at the end, this year's set of gubernatorial contests has only gotten more chaotic throughout the year. There is unprecedented uncertainty surrounding the key races and the potential for a record number of incumbents to lose their seats.
Out of 36 governor's races on the ballot this year, around a dozen are too close to call heading into Election Day.
Averages of the public polls show 11 sets of gubernatorial hopefuls within 4 percentage points and another six within 10 percentage points. By another measure, eight contests look like they could be won or lost by less than 2 points, a feat not seen in any election cycle since at least 1900.
(RELATED: The Gubernatorial Races to Watch on Election Night)
What's more, this instability isn't just in open-seat races, which tend to be more unpredictable. A record 11 incumbents are in danger of losing their seats, not including Hawaii Gov. Neil Abercrombie, who already went down in defeat by losing his August primary.
That means this year could break or tie the previous record for losses by incumbent governors—11, set in 1962. In 2010, by contrast, just two incumbents were unseated, though that year's midterms featured significantly more open races.
So what's behind this potentially record-breaking instability? There are four broad reasons that explain the upheaval:
2014 could mark an ideological course correction for some states after the big GOP wave of 2010.
The Republican wave of 2010 pushed a handful of GOP governors to victory in blue states won twice by President Obama, including Florida, Maine, Michigan, Pennsylvania, and Wisconsin. Two governors in particular, Maine Gov. Paul LePage and Florida Gov. Rick Scott, won by exceedingly close margins. Democratic wins in any of these states wouldn't so much be a coup as a course correction after a simply brutal showing for the party in 2010.
One big consequence of Tuesday's elections could also be the return of divided government, and not just in Washington. Since 2010, Congress has been mired in gridlock, but state legislatures have not. Thirty-six states, a historic number, are currently under single-party control, and unlike in Washington, that's given legislators the flexibility to pursue policy agendas that have proven controversial at times, particularly in purple states where voters tend to be unforgiving of veers too far to the left or right.
From Democrats' package of new gun laws in Colorado and their troubled implementation of Obamacare in Maryland to Republicans' moves to curtail union powers in Michigan and Wisconsin and make education cuts in Pennsylvania, governors across the country have gotten a lot done with little input from the other party in the last few years, sparking close reelection races for many of them.
Local issues are separating races from the national environment.
Whether it's a National Guard scandal in Alaska or general dissatisfaction with state government in Hawaii, even deep-red or blue states aren't immune from this year's gubernatorial instability. Some of the biggest issues in the purple states have been local ones, too, from the fate of a convicted murderer on death row in Colorado or the rigid polarization over Wisconsin's state budgets and Gov. Scott Walker (the only potential 2016 presidential candidate who's in danger of losing Tuesday), each state has its own story to tell, and those stories will shape the outcome of many races.
This is particularly evident in contests that threaten to buck the traditional partisan lean of their state—like Massachusetts or Kansas. In the latter, a fraying local GOP coalition could spell the end of Gov. Sam Brownback's tenure despite the friendly nationwide environment for Republicans, while in Massachusetts, Democrats are relearning, after eight years under Gov. Deval Patrick, that nothing is automatic even in a state that tilts heavily Democratic in national elections.
The state of the economy is still up for debate.
The economy has been central in state-level contests, but the impact has been uneven. The economy has improved in every state since 2010, but voters not feeling those positive jobs numbers—whether due to continued unemployment or wage stagnation—could still vote out governors who took office four years ago.
An unmet job-growth pledge in Wisconsin and stubbornly high unemployment in Georgia have led to rocky races for Republican incumbents, while Democratic tax increases passed when voters were still feeling squeezed in Connecticut, Illinois, and Maryland have led to close races in three quite blue states. No governor has been exempt from criticism over the handling of the economic recovery. In voters' minds, despite measurable progress, the state of the economy is still up for debate, and neither party can claim the upper hand systematically.
Voters are unhappy with both parties and lack faith in government.
This is just as true in state contests as it is in congressional races, and it has helped contribute to the unprecedented degree of uncertainty surrounding this year's elections. There's a widespread sense that neither party can solve problems, particularly economic ones, and voters thus don't seem particularly enthusiastic about returning anyone to power.
Independent and Libertarian candidates stand to benefit most from this dissatisfaction, and although it probably won't be enough for them to win outright, it could be enough to play spoiler in a few races. Key candidates to watch are independents Mufi Hannemann in Hawaii and Eliot Cutler in Maine, and Libertarian candidate Adrian Wyllie in Florida, who have all drawn significant vote shares in preelection polling. In Alaska, independent Bill Walker is the main opponent facing GOP Gov. Sean Parnell, and he could pull off a win there.
Interestingly, despite the historic number of competitive races, there could have been more. Three Republican governors in blue or swing states managed to avoid tough races entirely and are on track to walk to reelection: Nevada Gov. Brian Sandoval, New Mexico Gov. Susana Martinez, and Ohio Gov. John Kasich, all of whom are sure to get increased national attention after strong showings on Tuesday.
Even without including those states, though, there will be plenty to keep track of Tuesday. From Maine to Alaska, the gubernatorial landscape has been full of activity across the country this year.
CORRECTION: A previous version of this story misstated the number of states under single-party control.