Here's What's Next for the Keystone Pipeline
Republicans plan to approve the long-stalled oil-sands project next year—and will do whatever they can to get the White House on board.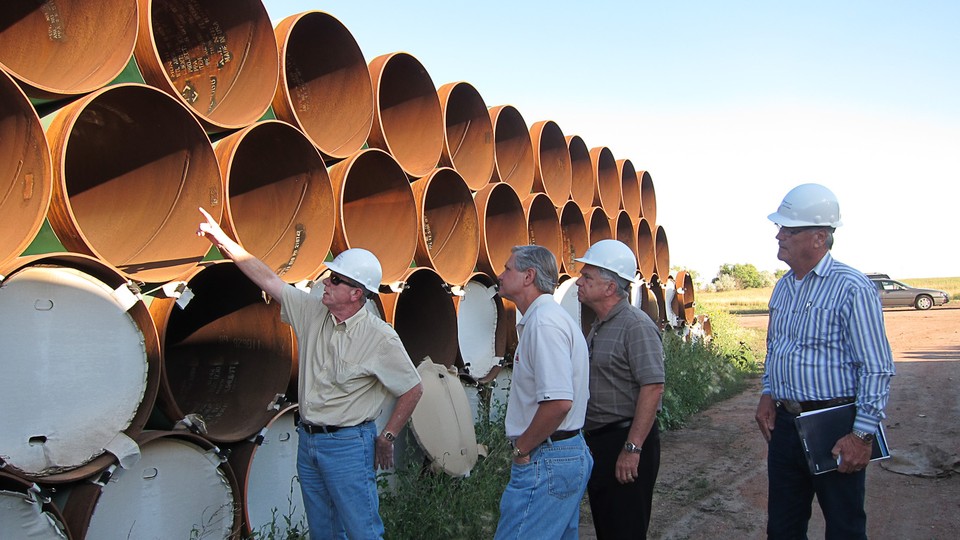 Keystone XL suffered a defeat on Tuesday, but the fight to pass the oil-sands pipeline is far from over.
The narrow Senate rejection of a bill mandating federal approval of the pipeline offered a preview of much larger political battles that loom next year, when the GOP fully controls Congress and wields enough votes to force the president to confront the long-stalled project.
Within minutes after Tuesday's 59-41 vote on Keystone legislation, where 60 votes were needed to advance the bill, Senate Republican leadership pledged swift passage next year of the pro-pipeline measure.
"This will be an early item on the agenda in the next Congress and I'm very confident we will be able to get it to succeed," soon-to-be Senate Majority Leader Mitch McConnell said at a press conference at the Capitol after the vote.
Pipeline backers fell just short of the votes needed to pass a pro-Keystone bill sponsored by Republican Sen. John Hoeven of North Dakota and Democratic Sen. Mary Landrieu of Louisiana on Tuesday.
But when the Senate lands in the hands of Republicans at the start of next year, the upper chamber appears to have a filibuster-proof majority in favor of the project. That has not been lost on Republicans. "We had 59 votes today but if you look at the new Congress "¦ you can see that we'll be well over 60," Hoeven told reporters in the Capitol.
The White House has strongly suggested that President Obama would veto Keystone legislation but stopped short of an explicit threat in the run-up to the Senate vote. Obama in recent days has also made critical comments about the pipeline.
Republicans won't be content to merely pass a pro-Keystone bill—they plan to do everything in their power to ensure that the president green-lights the pipeline. Hoeven said he believes a GOP-controlled Senate may be able to marshall the 67 votes needed to override a presidential veto of the pipeline, if it comes to that.
The North Dakota senator said he is counting on "yes" votes from a slate of pro-Keystone Republicans who were voted into office in the midterm elections earlier this month. But Hoeven added he has also been talking to Democratic senators who are currently on the fence but who he believes may be persuaded to vote in favor of the pipeline next year.
"Getting to that magic number is a possibility," Hoeven said.
In the event that they end up short of 67 votes, Republicans say they are mulling ways to persuade the president to pass the pipeline.
For now it looks likely that Republicans would attach a measure to approve the project to either a broader energy package that could win more bipartisan support or a must-pass spending bill.
Hoeven said, however, that the GOP would not go so far as to spark a government shutdown in a bid to pass the pipeline. He also indicated that Republicans would be open to striking a bargain with the White House.
When asked whether he would consider some sort of a trade with the president to pass Keystone in exchange for a deal to protect the administration's rules on carbon emissions—policies that ascendent Republicans will try to thwart—Hoeven said he would keep all options on the table.
"We'll be open to ideas," Hoeven said, noting however that he would want to be "careful" on the specifics of what a bargain might look like given his opposition to what he called the administration's regulatory overreach. But Hoeven left the door open to a deal: "As I said we'll be bipartisan and we'll certainly consider the option."
One analyst isn't ruling out White House approval of the project even without Congress forcing its hand. In a brief note Tuesday, the energy consulting firm ClearView Energy Partners said it's possible that Obama will try and get in front of next year's fight. Right now the administration has frozen the State Department-led interagency review of Keystone while the Nebraska Supreme Court weighs a decision about a state pipeline siting law.
"Should the Nebraska supreme court rule before the 114th Congress convenes in January, we still think President Obama could move the project ahead without waiting to be pushed, preserving his Executive Branch prerogative and potentially offering the GOP an olive branch or, alternatively, stealing an early session legislative victory from the Republicans," ClearView said.
Environmentalists, meanwhile, are bracing for new fights after the narrow defeat on the bill Tuesday. This week, lobbyists for major environmental groups like the Sierra Club and the League of Conservation Voters were visible in the Capitol as they worked to prevent 60 votes from materializing. After the vote, they quickly renewed pressure on the White House to reject Keystone and LCV called the project out of step with Obama's climate agenda.
"In the last week alone, President Obama announced a game-changing climate change agreement with China, committed $3 billion to the Green Climate Fund, and raised his strongest concerns to date about Keystone XL ... we believe that President Obama will remain consistent with that approach by rejecting Keystone XL," said Tiernan Sittenfeld, the group's senior vice president of government affairs.
Still, one environmentalist said there will still be green movement pressure on Congress too, even though election night brought several new Keystone supporters to the Senate. "It's certainly going to be an uphill battle, but we're going to continue to work to stop it," said Heather Taylor-Miesle, head of the Natural Resources Council Defense Action Fund.
The nation's most powerful business and industry lobbying groups on Tuesday pledged renewed efforts to force approval of the pipeline in the next Congress.
"Keystone XL is not going away, the president will have to deal with it, if not now then next year. We will work with the new Congress to focus on getting this important jobs project approved," said American Petroleum Institute President Jack Gerard.
---
Jason Plautz contributed to this article