The Gay Republicans Who Missed Out on Their Party's Big Win
Despite its broad win last week, the GOP couldn't get Carl DeMaio or Richard Tisei elected to Congress.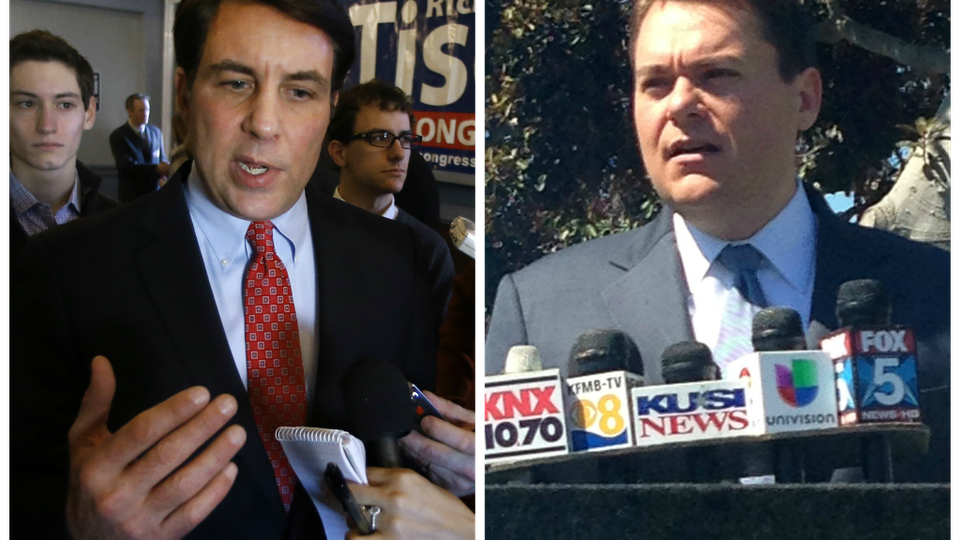 The midterm sweep that propelled Republicans into the Senate majority and yielded gains in House and gubernatorial races across the country failed to make history in one key respect: The GOP could not elect its first-ever openly gay member of Congress.
Carl DeMaio conceded his race to Representative Scott Peters in California on Sunday night, determining that there were not enough uncounted ballots for him to make up a gap of nearly 5,000 votes. With Richard Tisei's loss in a Massachusetts district north of Boston, both gay GOP candidates fell short in their bids for the House. (A third gay Republican congressional hopeful, Dan Innis, lost in a New Hampshire primary in September.)
DeMaio's narrow defeat was particularly stinging for the Log Cabin Republicans, whose executive director, Gregory Angelo, spent the last week of the campaign volunteering for the former San Diego city councilman and mayoral candidate. Allegations of sexual misconduct against DeMaio by two former staffers dominated headlines in the closing days of what Angelo called "the dirtiest, filthiest type of campaign that I have ever witnessed."
"I do wonder how significant those 11th hour smears were," Angelo said in a phone interview on Monday, referring to the claims that DeMaio exposed himself to multiple staffers in separate incidents. "Allegations such as these certainly do play into stereotypes that people have of gay individuals."
Yet allegations of inappropriate sexual behavior are hardly unique to gay candidates, and Angelo would not attribute DeMaio's loss to homophobia, saying he seeks to "avoid perpetuating a culture of victimhood" in gay people. Tisei's campaign in Massachusetts's sixth district was a much more conventional campaign, and he lost in part because the scandal-tarred Democrat that he nearly defeated in 2012, Representative John Tierney, lost in a primary this year before Tisei could have a rematch. Tisei instead faced Seth Moulton, an Iraq War veteran without Tierney's baggage, and the Democratic district reverted to form.
Despite the losses, Angelo claimed significant progress for the GOP in 2014. "The contribution that Mr. DeMaio and Mr. Tisei made just by running and running extremely competitive races is a game-changer in itself," he said. He also cited the strong support that both candidates received from House Republican leaders, who backed them financially and with district visits. It shows, Angelo said, "how far the Republican Party has come in just a span of a handful of years."
Still, the GOP will have to wait at least two more years to have an openly gay elected official on the federal level, and Angelo said it was clear from the Log Cabin's experiences on the ground that even in liberal Massachusetts and Southern California, there remains "some portion of the electorate" that won't vote for a gay candidate. "There still is homophobia that may not be alive and well," he said, "but is certainly alive."