For Returning GOP Leaders, New Governing Challenges
Incoming freshman class includes vulnerable moderates and devout conservatives, with competing priorities.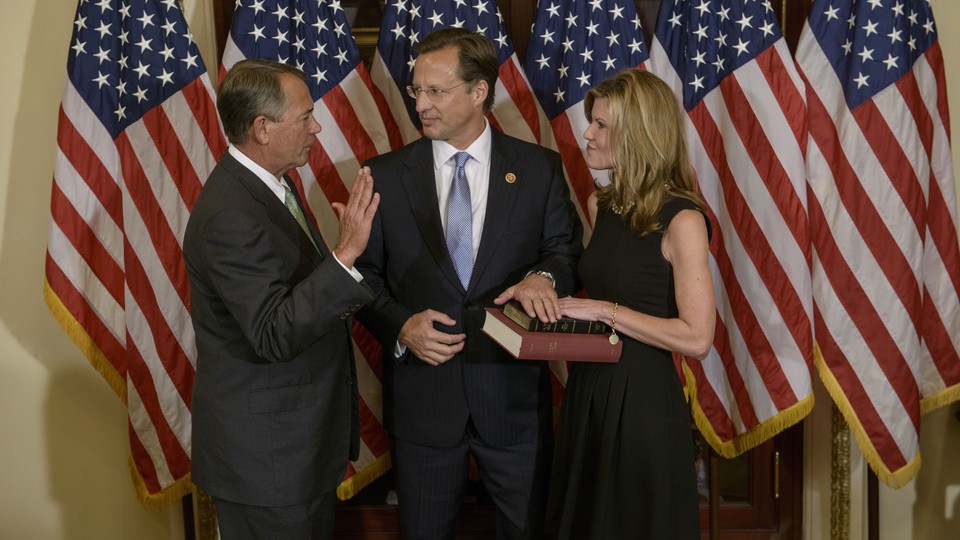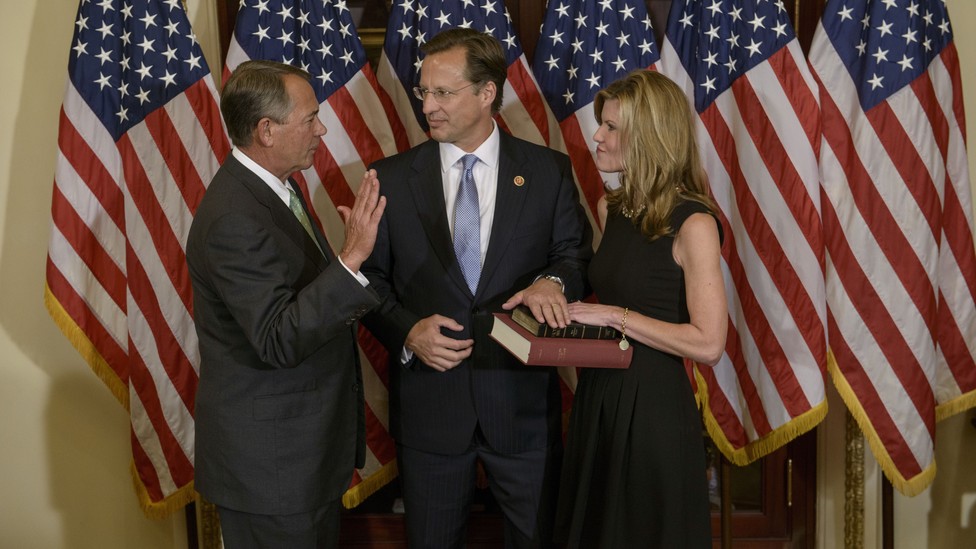 Firmly reelected by their conference and seemingly united among themselves, House Speaker John Boehner and his Republican leadership team now turn to governing in the 114th Congress, a task made easier, they say, by their largest majority in decades.
Yet the new-look majority will bring new governing challenges. Having simultaneously swept the Deep South while making gains in the Northeast and along the Pacific Coast, leaders will have to appease their entrenched base while also protecting the electoral interests of their swing-district newcomers.
Where that legislative middle road lies—if there is one—remains to be seen. But leaders are confident they have more room for error because of the expanded majority.
"It's better for counting purposes to have a larger majority," said Rep. Patrick McHenry, the chief deputy whip, who also headed House Republicans' candidate recruitment. "This is the broadest freshman class and the most diverse freshman class we've had."
Those soon-to-be freshmen swarmed into Washington, D.C., this week, giddy upon their election and preaching the mantra of common ground. But even the collective high of their first week in the capital cannot obscure a fundamental split in how deep-red-state and blue- and purple-state Republicans must represent their constituents.
"I have pledged to New Hampshire to get things accomplished," said Rep. Frank Guinta, who was elected in 2010, defeated the next cycle, and reelected to his old seat last week. "Look, there's going to be different perspectives and different points of view, and that's welcomed. But you've got to find a way to get to a solution-based governing approach, and I think members from red states get that we have to govern, we have a responsibility to do that."
As a counterpoint, in as many as a dozen seats already safely held by Republicans, retiring or defeated GOP moderates are about to be replaced by more-conservative members. Among the new conservative congressmen are Reps. Barry Loudermilk and Jody Hice of Georgia, as well as Gary Palmer of Alabama and Dave Brat, who unseated former Majority Leader Eric Cantor in Virginia.
"There are numerous movement conservatives in the new class," one GOP chief of staff said. "If leadership thinks it'll be easier to pass nonconservative things, not only are they mistaken, they are already selling out the mandate upon which so many new House members and senators were elected."
Self-identified movement conservatives already serving in the House are heartened by what they see as backups in the fight to drive the party right. Rep. John Fleming, cochair of an antiabortion group, the Values Action Team, said his group met Thursday to consider how to pass antiabortion measures in the next Congress, particularly by attaching amendments to appropriations bills. They also want to act decisively against President Obama's policies on health care and immigration.
"There's going to continue to be a tension between conservatives who really want to push the pedal down, start forcing things to happen, [and moderates]," Fleming said. "The weight is moving to more conservative members, more conservative policies. So that dynamic, that tension will be there, but I think we're going to start winning more of these arguments."
But that is just the kind of legislation that could—and in the past has—gotten moderate Republicans into electoral trouble. Keeping the Right happy and the center-Right in office will not be easy. And some in the Republican Party have come to the opposite conclusion after the election, seeing more moderates coming to the conference—and perhaps to Boehner's rescue.
Several House members have said keeping these gains outside of red states will help the long-term sustainability of a House Republican majority. And they believe even archconservatives will realize that Boehner and fellow leaders would then need to protect and boost the prospects of those potentially vulnerable members in 2016, a presidential year when Democratic turnout is likely to be higher.
The survival of such new members will depend on more efforts at bipartisanship and legislative accomplishment, some Republicans say.
Swing-district members "are going to mean a lot to our conference," said Rep. Charlie Dent, one of three cochairs of the Tuesday Group of centrist House Republicans, which gathered on Thursday. Beyond how Boehner can keep control of his conference, Dent said, the bigger issue should be how "we will govern as a center-right party" in a way that will build the GOP beyond where it is now.
Members swept into office in New York, New Hampshire, and Maine won narrowly and will likely have to vote judiciously to be reelected. And the next freshman class will in fact include more moderate members—if not old-fashioned Rockefeller Republicans. Many of those owe their allegiance to current party leadership, and leadership could take their interests into account in return.
"I think there's enough moderates coming in to balance out the Liberty Caucus," suggested one senior House GOP aide, naming the Republican Study Committee, a splinter group made up of the most ardent right-wing voices.
That kind of balance, some lawmakers feel, is something that has been lacking the last few years.
"We have the majority party in Congress. With that comes a sense of responsibility, so I think some of the people who may have in the past wanted to go off on their own and take an overly hard line will realize that responsibility," said Rep. Peter King, who has gone to battle with conservatives in his party over the last several Congresses. "It's not going to be easy "¦ but I think it's going to be better than it was the last few years."