Elevating Elizabeth Warren
Top Senate Democrats are giving the popular progressive firebrand a seat at the leadership table. Are they trying to co-opt her?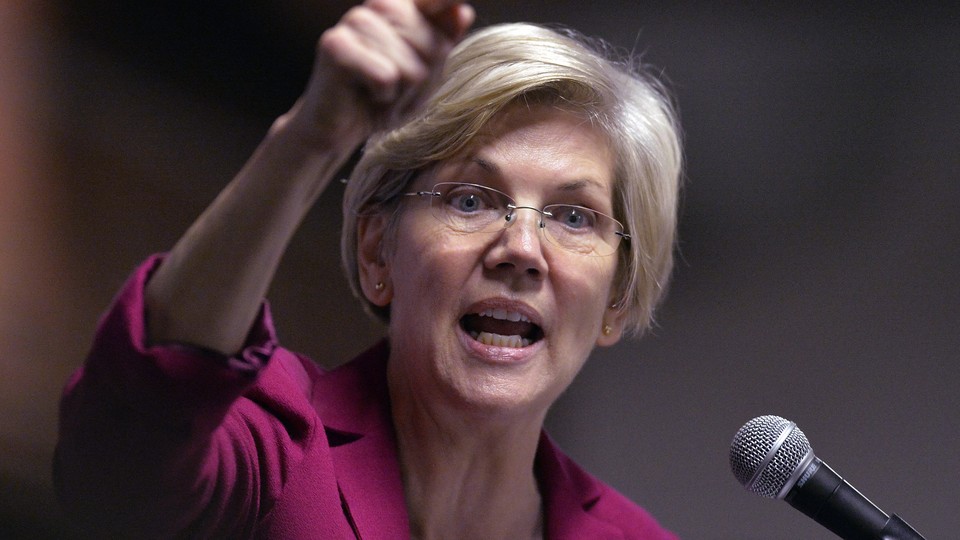 The news that Senate Democrats are adding Elizabeth Warren to their leadership team raises an important question about the trajectory of the party's most popular figure not named Hillary Clinton: Will she be co-opted by the establishment?
It's a query that naturally comes up every time a politician who has made their mark as an outsider joins the official hierarchy in Washington. Warren's brand relies on her popularity with liberals who believe the Democratic Party of Obama, Clinton, and another Senate leader, Charles Schumer of New York, is no less a patron of Wall Street than is the GOP. Two years after her election in Massachusetts, Warren is not nearly the nuisance to leadership that Senator Ted Cruz has been for Republicans, but she is known for speaking—and voting—her mind. Whether her appointment as a "strategic policy advisor" to the Democratic leadership changes that approach or not will be closely-watched in the coming months.
For her part, Warren betrayed no hint of hesitation in joining Reid's team. "I believe in what the Democrats are fighting for," she told reporters. "Wall Street is doing well, CEOs are bringing in millions more, and families all across this country are struggling. We have to make this government work for the American people, and that's what we are here to fight for." In a separate email to her supporters, she said her ascension would mean "a seat at the table for all of us." Senate Majority Leader Harry Reid, who was reelected on Thursday to serve as party chief in the minority of the next session, anticipated that question as he introduced Warren to a throng of reporters in the Capitol after a soul-searching caucus meeting that lasted nearly four hours. "What do you expect her to do?" Reid asked, repeating a question he said was shouted at him earlier in the day. "I expect her to be Elizabeth Warren."
It remains to be seen whether Warren's new role will be more than symbolic. With the exception of the top spot and a couple of other specific jobs, there's not a whole lot that members of congressional leadership do besides sit in meetings and help the party hash out policy and strategy. And there's an argument to be made that Warren is getting short shrift, being given a nominal post at the bottom of the ladder while Reid and other leaders win reelection despite presiding over the loss of at least eight seats and the majority. (Recall Warren's experience with the Consumer Financial Protection Bureau, when President Obama named her to build the agency she championed, but wouldn't let her actually run it.)
For the moment, Warren's progressive fans are ecstatic over her promotion, symbolic or not. "There's really not much of a downside. We're pretty psyched," said Adam Green, co-founder of the Progressive Change Campaign Committee, which led a Draft Warren for Senate effort in 2012. Green argued that Warren's elevation was a sign that her liberal agenda was winning the battle for the future of the Democratic Party. "It's a huge imperative for progressives and a political imperative for Democrats to remold the party in Elizabeth Warren's image," he said.
The Ready for Warren group, which is mounting an uphill effort to persuade her to run for president in 2016, also registered its approval on Twitter and Facebook.
As for whether Warren would have to become a saleswoman for policies she may not support, Green said he was unconcerned. "Elizabeth Warren has kept it real since entering the Senate," he said. Added influence, even in the unpopular halls of official Washington, remains important. "The whole point of pressuring from the outside is to change what happens on the inside," Green said.