Change Comes to Veterans Affairs
Secretary Robert McDonald marks the annual holiday by restructuring the embattled agency, but Republicans aren't impressed.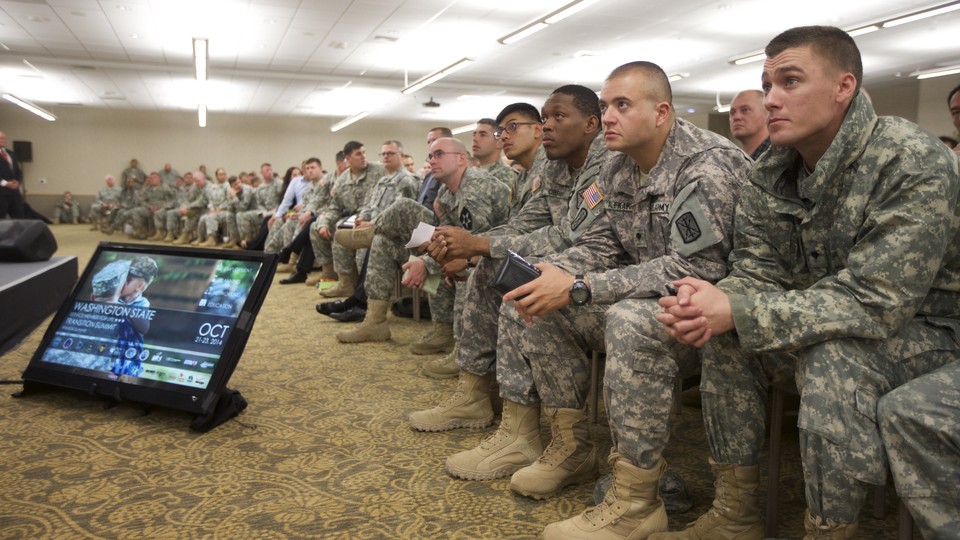 Veterans Day is a lightly-observed midweek holiday that is often overlooked amid the other annual celebrations of the military. But the new secretary of Veterans Affairs, Robert McDonald, is moving to restore some substance to the commemoration this year.
Three-and-a-half months on the job, McDonald on Monday announced the first steps of a major reorganization of the much-maligned department, with the changes centered around his goal of focusing on the VA's core customer: Veterans. McDonald, a former chairman of Procter & Gamble who served as a captain in the army, took over an agency in July that was plagued by reports of preventable deaths at VA healthcare facilities and months-long lines for veterans seeking care. In a note to employees, he announced the creation of a new customer service organization led by a "chief customer service officer" who would report directly to him, along with a veterans advisory council and other initiatives aimed at streamlining the bureaucracy of a department that serves 22 million U.S. veterans.
"Please keep in mind that this is a long-term process, and we are just beginning to plan how this will all unfold," McDonald cautioned. He said the department would launch a new website on Tuesday—Veterans Day—to solicit new ideas from employees.
Monday's announcement follows a Sunday profile of McDonald on 60 Minutes that presented him as the classic turnaround expert. Hesitant to follow McDonald's orders to call him by his first name, his underlings in Washington instead refer to him as "Secretary Bob." He is shown making personal recruiting calls to woo doctors to join the VA. He tells Scott Pelley he was "incensed" at an inspector general's report confirming that 93 department medical facilities kept phony wait lists that masked the months it actually took veterans to be seen by a doctor. And he was quick to disclose that as many as 1,000 VA employees could be fired. At the end of the segment, McDonalds' eyes well with tears as he describes his personal commitment, as an army veteran himself, to those he serves.
It was an effective appearance, but neither his televised promises nor his announcement Monday did much to impress Republicans, who want him to move faster to exercise his authority under legislation Congress passed over the summer to terminate senior executives who failed in their jobs. "New plans, initiatives, and organizational structures are all well and good, but they will not produce their intended results until VA rids itself of the employees who have shaken veterans' trust in the system," said Representative Jeff Miller of Florida, chairman of the House Veterans Affairs Committee. "So far VA hasn't done that—as evidenced by the fact that the majority of those who caused the VA scandal are still on the department payroll."