Democrats' Original Sin: Picking Healthcare Over the Economy
The story of the party's defeat begins early in Obama's first term, when Congress focused on climate change and Obamacare rather than jobs.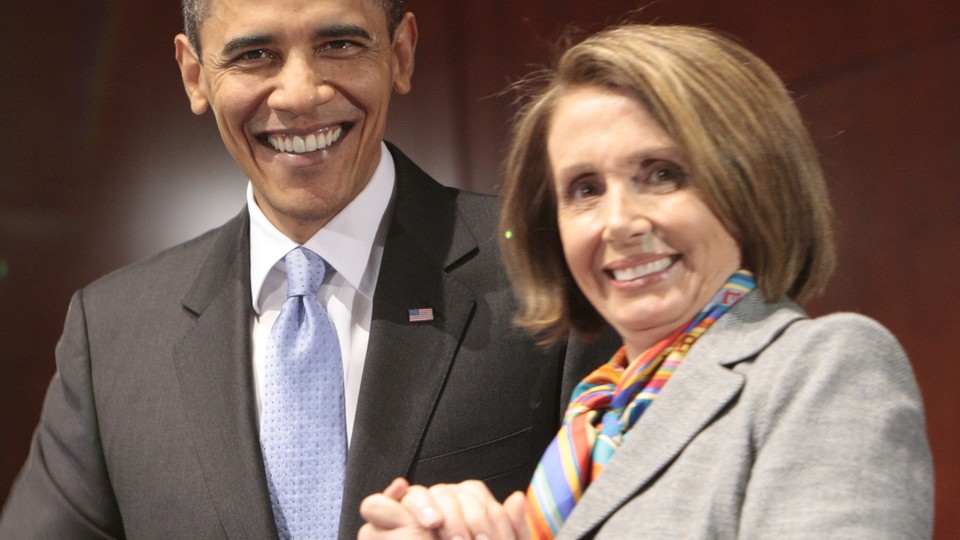 Democrats are now sifting through the rubble of what was their party on election night, examining losses—and even near losses—that seemed fairly inconceivable just a couple of weeks ago.  Such epically bad nights rarely have a single cause, and this one was no different. But some factors weighed more heavily than others.
No truer words were ever spoken then when President Obama told a Northwestern University audience last month, "I am not on the ballot this fall. Michelle's pretty happy about that. But make no mistake, these policies are on the ballot, every single one of them." Civics and political-science textbooks have long told us that midterm elections are usually a referendum on the incumbent president and his party. Yet every time a midterm election comes up, there seems to be a certain amount of denial that occurs, though wishful thinking is probably a more accurate term. The "out" party wants a nationalized election, while the "in" party expresses complete confidence that it can effectively "localize" the elections instead.
However, to the extent that elections are about any single issue, far more often than not that issue is the economy. Although some Democrats were content to recite the improvement in the unemployment rate—which has dropped below 6 percent—and how many consecutive months the economy has created 200,000 or more jobs, in reality this election was not about the unemployment rate per se or what any economist says about how the economy is doing. Rather, it was about how Americans feel the economy is doing. The fact is that most Americans do not believe the economy is doing better. Specifically, they do not think their personal economy has yet recovered.
Seventy-eight percent of voters said they were either "very" or "somewhat" worried about the direction of the economy for the next year in the National Election Pool exit poll for ABC, AP, CBS, CNN, Fox, and NBC. Only 21 percent said they were "not too worried" or "not at all worried" about it. Only 29 percent of those polled said they thought the state of the economy was either "excellent" or "good," while 70 percent said either "not so good" or "poor." Just 32 percent felt that the economy is "getting better," the same percentage said it was "getting worse." Thirty-four percent of those polled said the economy was staying about the same. Only 28 percent of respondents said their family's financial situation is better now than it was two years ago; 25 percent said worse, and 45 percent said about the same. Just 32 percent said they thought the U.S economic system is fair to most Americans, compared to 63 percent who say it favors the wealthy. Finally, and most devastating, just 22 percent said that life for the next generation will be better than it is today. More than twice as many—48 percent—said it will be worse, while 27 percent said it will be about the same. As has been reported often, real median family income is no higher today than it was in 2000.
Obama, congressional Democrats, and members of the Democratic Party outside of Washington are paying dearly for having simply checked the box on an economic-stimulus package in early 2009 and then quickly moving on to climate change. They passed a cap-and-trade bill through the House—making most Democratic House members walk that plank in favor of the bill—before it became painfully obvious, in about five minutes, that the bill had no chance in the Senate.
In mid-summer 2009, polls universally showed that Americans wanted the president, along with the overwhelmingly Democratic Congress, to focus on the economy and job creation. Instead, in its infinite wisdom, Congress chose to focus almost exclusively and obsessively on healthcare reform. Although this was a worthy objective, the effort would likely have been better spent in a time when people weren't so worried about their economic well-being. This horrific choice, to focus on the Affordable Care Act rather than the economy, besides costing Democrats their House majority—not to mention platoons of Democratic governors and state legislators who would have been handy in drawing the congressional redistricting maps the next year—created scar tissue that remains to this day.
Americans resent the policy choices that Obama and congressional Democrats made early on. Voters saw little action that would have turned the economy around and created jobs for many working- and middle-class Americans. Their struggle continues to this day, and it cost Democrats their Senate majority last week.
Choices have consequences, and elections have consequences. The decisions of 2009 and 2010 just keep on having consequences for Democrats.
Speaking directly to Republicans: Enjoy the big victory, but remember, your brand is still badly damaged. In Fox News's final pre-election survey, the national poll showed that while the Democratic Party had a net negative of 10 points in voter favorability—42 percent favorable, 52 percent unfavorable—the Republican Party was upside-down by 16 points—38 percent favorable, 54 percent unfavorable. The national exit poll showed a net negative of 12 points in favorability for each party. So, for the GOP, election night came with both good and bad news. The bad news being that even with this big win, Americans still do not like the GOP. The good news for Republicans, this time around, is that this election was not about you.