Democratic Statehouses Turn Red
Yes, Republicans won the Senate, but it may be their gubernatorial victories that hurt President Obama's party the most.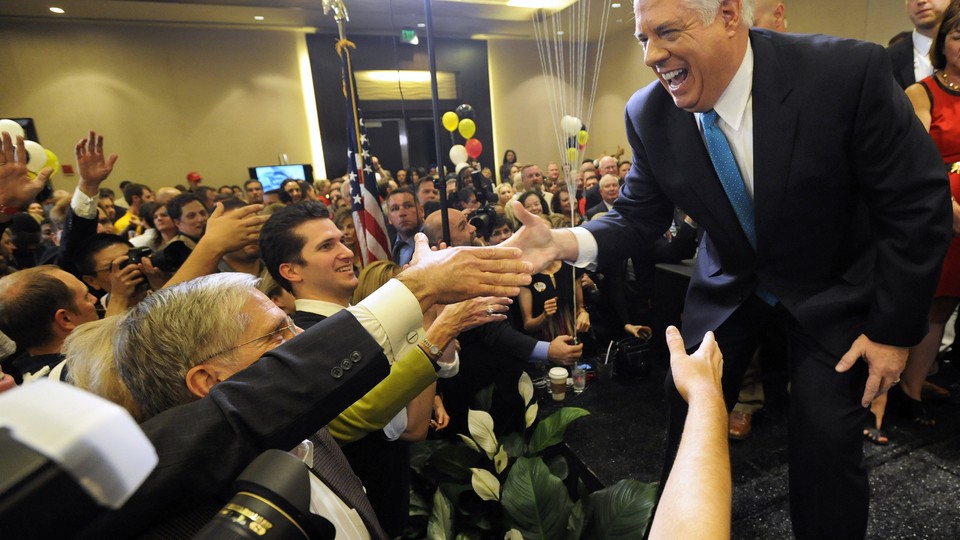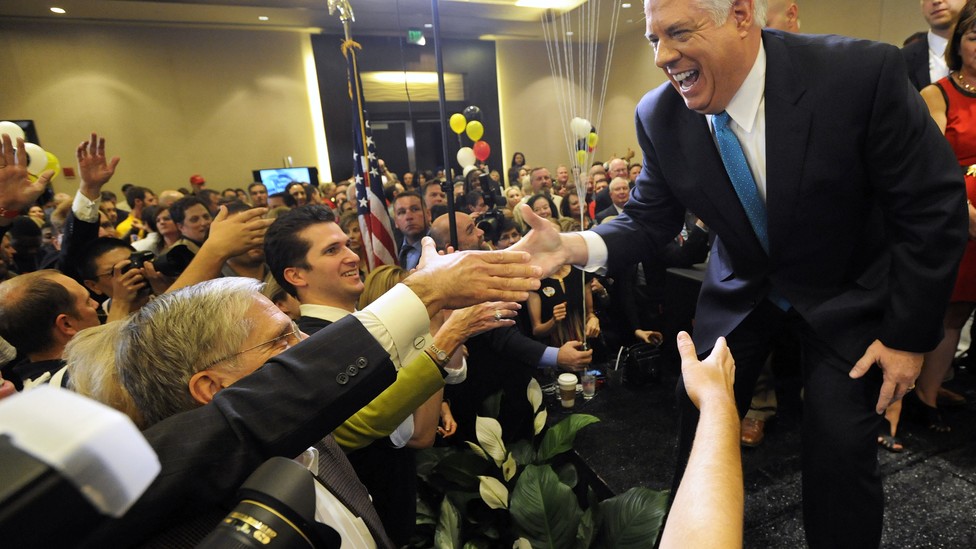 Democrats long knew that Republicans would likely muscle them out of the Senate majority and strengthen their hold on the House last night. But the party's losses on Tuesday may have been felt most deeply in state capitals, where GOP candidates captured governors' races in Democratic strongholds and turned aside challengers in a pair of key swing states.
The biggest stunner came in heavily Democratic Maryland, where Republican businessman Larry Hogan defeated Anthony Brown, the lieutenant governor, by nine points. Hogan's win stains the legacy of outgoing Governor Martin O'Malley, a presidential aspirant, and it came despite an aggressive late push by national Democratic leaders including President Obama and the Clintons.
Republicans also took the governor's mansion in dark blue Massachusetts and in Obama's home state of Illinois, where another GOP executive, Bruce Rauner, toppled incumbent Pat Quinn. In the Bay State, Democrat Martha Coakley lost her second winnable statewide race in five years, falling to Charlie Baker, a healthcare executive who won on his second try. (Coakley had memorably fumbled a special election for the Senate against Scott Brown in 2010.)
Democrats did manage to bring home a significant trophy of their own on Tuesday night, but it was one that both parties knew was coming. In Pennsylvania, the unpopular GOP Governor Tom Corbett lost to Democrat Tom Wolf, although even Wolf's 10-point margin was not the landslide that polls had once predicted there. Democrats also appeared to narrowly hold off GOP gubernatorial challengers in Connecticut, Rhode Island, and New Hampshire. In Vermont, Governor Peter Shumlin, a Democrat, will need the state legislature to sign off on his apparent victory because he failed to garner more than 50 percent of the vote.
Republicans beat back competitive Democrats in Wisconsin, Florida, and Maine. Scott Walker's win over Mary Burke in Wisconsin was his third gubernatorial victory in the last four years, and it keeps his presidential hopes alive. Florida's Rick Scott held off former Governor Charlie Crist, who had aligned himself closely with Obama following his odd journey from Republican to independent to Democrat in recent years. And in Maine, Governor Paul LePage won re-election and prevented Democratic Representative Michael Michaud from becoming the nation's first openly gay governor. With Republicans winning in purple and even blue states, it was no surprise that Governor Nathan Deal dispatched Jason Carter, the grandson of Jimmy Carter, in Georgia and that Asa Hutchinson defeated former Democratic Representative Mike Ross in Arkansas. In Kansas, Governor Sam Brownback secured a second term even after his experiment in conservative governance sunk both his approval rating and the state's credit rating.
For Democrats, the losses were more bitter for the fact that they had viewed the governor's races as a potential bright spot in what was expected to be a difficult night. But they could also have more real-world impact for constituents than the turnover of the Senate in an already-gridlocked Washington. Governors have had an easier time enacting their agendas than presidents in recent years, and the implementation of Obama's healthcare law–in which several Republican governors refused the Medicaid expansion–demonstrated the sway that state lawmakers can have even over federal policy.
So as Obama turns to his legacy in his final two years in office, he will clearly miss Harry Reid's alliance atop the Senate. But he may rue the statehouse losses even more.