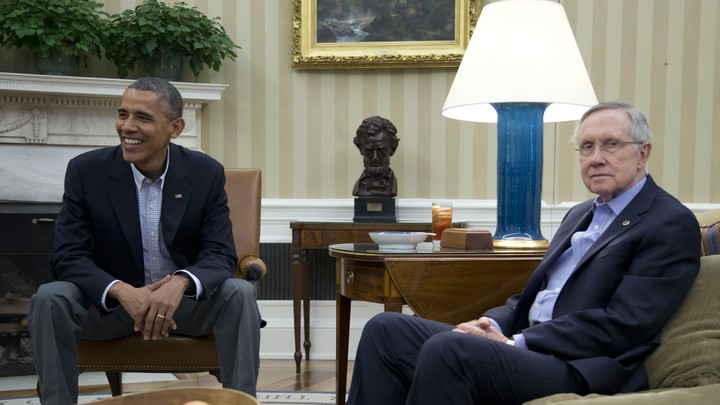 First comes the dispiriting electoral defeat, then comes the circular firing squad.
It's a time-honored tradition in Washington, but the backbiting escalated quickly on Tuesday night as Democrats watched Republicans capture their Senate majority in decisive fashion. The blame went to the White House, as it usually does, in a lengthy Washington Post retelling of the Democrats' failed bid to keep the Senate.
But what makes this year's infighting unique is that it did not come in the Beltway ritual of anonymous quotes, but in on-the-record criticism of President Obama's operation from the top aide to outgoing Senate Majority Leader Harry Reid. David Krone, Reid's chief of staff, told reporters Philip Rucker and Robert Costa that Senate Democrats were "beating our heads against the wall" and "never going to get on the same page" with a White House that he described as unwilling to do what it took to defeat the Republicans.
That Obama was unpopular and unlikely to be in a position to publicly help vulnerable Democratic incumbents was a given. The principal complaint was over money, as Obama aides balked at requests from the Democratic Senatorial Campaign Committee to transfer millions from accounts the president controlled and for Obama to aggressively raise money for Senate super PACs. "I don't think that the political team at the White House truly was up to speed and up to par doing what needed to get done," Krone said.
It's worth noting that Krone has clashed with Obama before. As Bob Woodward reported in his book The Price of Politics, Krone stood up to the president in an dramatic Oval Office meeting in 2011 at the height of the negotiations over averting a catastrophic default on the debt. Obama apologized to him then, but Krone's comments to the Post highlight the persistent tensions that have undermined the president's standing among congressional Democrats.
The Obama-Reid relationship is one of the most fascinating in Washington. The Senate leader, famously a former boxer, has served as the president's shield in the four years since Republicans won control of the House. He has put most of Obama's priorities to a vote while keeping nearly all conservative House-passed legislation off his desk.
However shaken, that alliance looks like it will be put to a new test in Obama's final two years. Despite the loss of at least seven seats and the majority, Reid plans to run again to lead the party in the minority. In that respect, he is following the path of Nancy Pelosi, the former Democratic House speaker who stayed on after her party was thrown out of power in 2010. Aides to Senators Richard Durbin and Charles Schumer–Reid's top lieutenants–confirmed on Wednesday morning that both would support him for leader rather than making a bid for the top spot.
Reid's essential role may not change all that much. Because of the minority's ability to filibuster, he will have to choose when to rally his members to block Republican legislation and when to stand aside and let it go to Obama for a likely veto. When it's time to deal, he'll be the one at the table. But with less power, fewer votes, and the tensions that come with defeat exposed for all to see, Reid's job will be more difficult than ever.
We want to hear what you think about this article. Submit a letter to the editor or write to letters@theatlantic.com.
Russell Berman
is a staff writer at
The Atlantic
, where he covers politics.