Chuck Hagel Is Out at the Pentagon
The Secretary of Defense announced his resignation on Monday, but many insiders are saying he was pushed.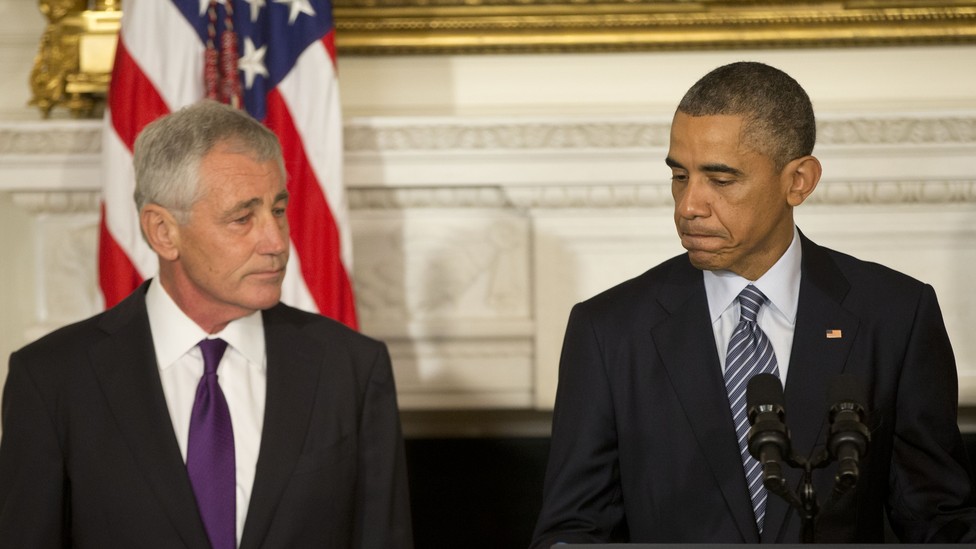 Secretary of Defense Chuck Hagel resigned on Monday after just under two years on the job. In an emotional press conference attended by President Obama and Vice President Joe Biden, Hagel said he would stay on the job until a successor is confirmed, adding, "I am immensely proud of what we have accomplished during this time."
Hagel's resignation was first reported by Helene Cooper at The New York Times, who wrote that President Obama decided to replace Hagel after coming to the conclusion over the last several weeks that the current Defense chief was not the right person to lead the fight against ISIS.
A senior administration official confirmed the decision via email, adding that Secretary Hagel and President Obama began discussing the possibility of his leaving back in October as part of "the natural post-midterms transition time."
The implication from Hagel's critics (and perhaps Hagel himself) was that he was brought in after the president's reelection in early 2013 to lead the military drawdown in Afghanistan and manage a shrinking Pentagon bureaucracy, but that the rise of this new threat in the Middle East will require a new direction and strategy.
Associate of Hagel's tells @jeffzeleny "he took job to end war, not start another one." Knew wasn't right man to contend with #ISIS threat

— Jon Williams (@WilliamsJon) November 24, 2014
At the Washington Ideas Forum last month, Hagel himself hinted at the endless long-term conflicts to be waged overseas, but gave no indication he wasn't up for the challenge—although he did lament the lack of cooperation with other branches of the government.
"I hope that changes after next Tuesday; I don't know," he said. "Partnership is critical, because its not a matter of 'We all have to agree.' We need different opinions, but ... both sides get to some conclusion and make a decision on how we go forward."
Others reportedly questioned his overall leadership of the department, saying he "struggled to inspire confidence" and "had problems articulating his thoughts—or administration policy—in an effective manner." Sources close to Hagel, however, blame those articulation problems on the White House's heavy-handed message control. They also told Bloomberg News that the relationship with the White House had soured so much that Hagel no longer spoke in meetings, because "White House aides with less experience in military affairs than the wounded Vietnam War veteran often ignored what he said."
Despite all that, his resignation is officially being portrayed as a mutual decision. Sources stressed to the Times that Hagel is not being fired even though CNN and Fox News report that their sources say it's clear he was "pushed out." Hagel will remain at his post until a new secretary is nominated and confirmed, which is unlikely to happen before the new Congress convenes next year.
Hagel, a former Republican Senator who served with the president on the same Foreign Relations Committee when they were both in Congress, was appointed to the post in February 2013 and was expected to serve out the remainder of the Obama administration.