Can Obama Split the Difference on Immigration?
Obama promised reform by the end of the year. Now he has to choose whom to offend. It's not a yes-or-no choice, but neither his critics nor his supporters will be happy with anything in between.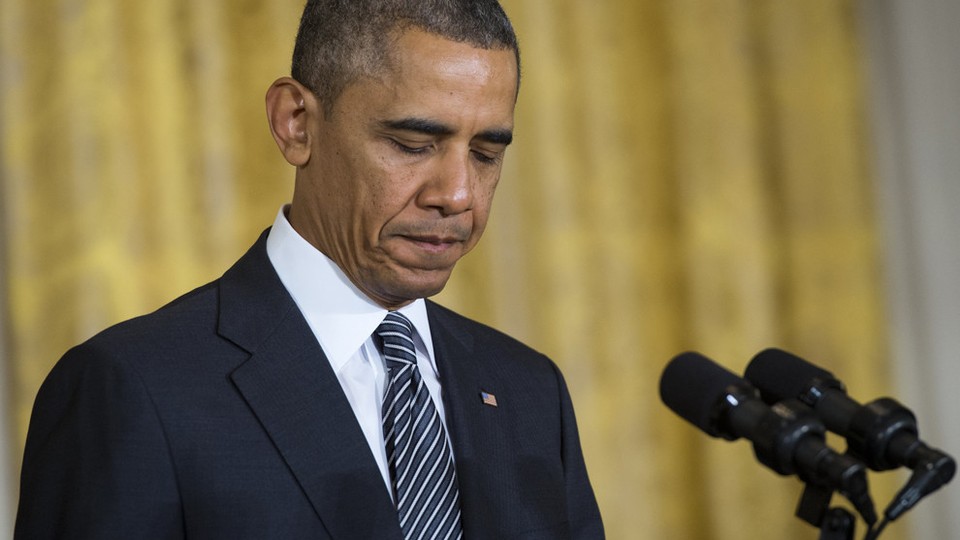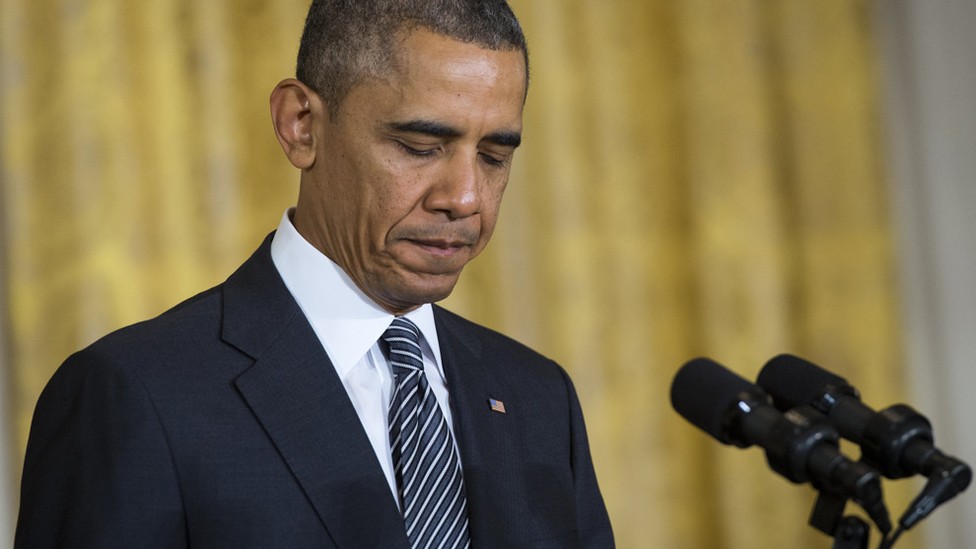 Washington is eagerly watching President Obama, seeking signals on whether the president will take executive action on immigration reform. The Latino community and pro-immigrant activists, already disgruntled by deportations and a lack of legislative progress, are ready to pounce if he doesn't. The Republican Party is set to strike if he does. And while everyone waits, speculation abounds. But much of the conversation has been will-he-or-won't-he speculation on immigration—and that's far too simple.
The president has a host of options at his disposal—from keeping the status quo, to making small tweaks to the way immigration laws are enforced, to implementing sweeping changes that would turn the system on his head.
But wherever he ultimately falls on the continuum, Obama is going to take plenty of heat. For months, there's been frustration and disappointment, anger and disillusionment in the Latino community. The president put off his executive action plans until after the election, and after enduring months more of policies they loathe, Obama's supporters are looking for him to deliver big. They argue that Republicans are going to hate whatever he does, so he might as well do it all.
Republicans are indeed waiting at the other end of the spectrum. Many say they should be afforded the chance to pass comprehensive legislation once the new Congress convenes. And some GOP lawmakers are threatening to tie the upcoming attorney general nomination to a larger debate on immigration and the president's possible administrative actions.
In sum, it sets up a series of difficult decisions for Obama that will go a long way toward defining the last chapter of his presidency. One at a time"¦
What can Obama legally do on immigration?
If he wants to go big, Obama can squash the fear of deportation for millions of undocumented immigrants, at least in the short term. To do this, he would create programs where undocumented immigrants can apply for temporary relief and have that relief granted if they meet specific criteria.
Obama could model this criteria over what was laid out in the bipartisan immigration-reform bill the Senate passed last year. That measure, which stalled in the House, would have given legal status to about 8 million undocumented immigrants, according to a June 2013 Congressional Budget Office analysis. It's a bill Obama supported then and still supports now.
But under the president's penning, the deportation relief would be temporary. Legally speaking, the president typically doesn't have the authority to grant permanent resident status to people who meet a specific criteria that hasn't been written into the law, said Gregory Chen, advocacy director for the American Immigration Lawyers Association. "He can't simply say, 'I'm going to change the criteria for a green card and give it to people I think should be eligible, such as someone who has lived here for five years and is contributing well to the community,' " Chen said.
But observers see deferral as the likely choice if Obama opts for broad action, especially because he could model it on actions he has already taken.
"Any kind of large-scale program would likely be deferred action," said Marshall Fitz, the Center for American Progress's immigration policy director. "They've got an operational precedent for it that I think is really helpful and worthwhile."
That "operational precedent" is DACA. This stands for Deferred Action for Childhood Arrivals, and it's an executive order President Obama announced in June 2012 that granted two-year relief from deportation for those who came to the United States before their 16th birthday (among other criteria). About 55 percent of the estimated 1.2 million eligible for the program applied as of July 20, according to a Migration Policy Institute report.
The administration could change DACA's eligibility requirements. Many options with varied results exist, and they could expand the number of people eligible by tens of thousands or nearly 2 million, according a September Migration Policy Institute report titled "Executive Action for Unauthorized Immigrants."
But Obama could create additional deportation relief programs that apply to more than those illegally brought to the United States when they were young. He could address the length of time a person has been in the country. He could base an eligibility requirement on close family ties to U.S. citizens, DACA recipients, or permanent residents. He could look to grant stay of removals to immediate relatives of U.S. citizens, according to the September MPI report.
The president has other, more narrow choices to stem deportations, according to a Center for American Progress July report titled "What the President Can Do on Immigration If Congress Fails to Act."
"Parole in place" is an option that would allow certain family members who are already eligible for legal status based on their family relationships to stay in the United States. Without parole in place, they would need to leave the country and wait for their green card to come through from abroad, according to the Center for American Progress report. Additionally, there's deferred enforced departure, allowing those from a specific country to avoid removal.
Enforcement reforms are another possibility, which would help ensure that low-priority individuals don't wind up in immigration detention or removal proceedings.
But these changes offer less benefits than affirmative relief, Fitz said. These undocumented immigrants would not be eligible for work authorization. DACA recipients are, though it's unclear if new deferred-action programs—if announced—would do the same. And it doesn't provide the same sense of comfort as temporary deportation deferrals. It's subjective, not objective.
"You can't come forward," Fitz said. "You're still running the risk [that] an officer runs you through the system and doesn't exercise discretion even though you seem to be a low-priority case."
Finally, Obama could just redirect his administration's priorities on whom to deport, focusing on a smaller swath of the undocumented population. For that, he could narrow and better adhere to the immigration enforcement priorities detailed in the "Morton Memos" from 2011, in which then-Immigrations and Customs Enforcement Director John Morton laid out the agency's immigration priorities. There were three: immigrants posing a national security or public safety risk, recent illegal entrants (meaning those apprehended within three years of coming to the U.S.), and those with prior immigration violations, according to the Center for American Progress.
"I think we have always felt like the agency could do a better job at adhering to its own articulated priorities," Fitz said.
What will be enough for his supporters?
Nothing short of big and bold changes.
For immigration advocates, that means using the bipartisan Senate bill as a template for executive action and allowing 8 million undocumented immigrants temporary deportation relief, according to Lynn Tramonte, America's Voice deputy director.
"We just think it makes sense if you support that legislation than you support protecting those people," she said. "It just makes perfect sense to us.
"The critics of this policy are going to be there whether it's 10 people or 10 million [granted relief] because they don't like immigrants or they don't like the president," Tramonte said. "There's no policy reason to go small. And there's no political reason to go small. The upside is to go big, move the ball forward significantly."
This seems to be the benchmark for the Congressional Hispanic Caucus, with members repeatedly calling on Obama to enact big and bold changes. In an April memorandum to Homeland Security Secretary Jeh Johnson, the CHC detailed how this relief could be provided. And in the introductory paragraph, the CHC stated the administration should use "all legal means available" to suspend, delay, or dispense with the deportations of those who would qualify for legal status under the bipartisan Senate bill.
But advocates also support throwing enforcement reforms into the mix. This means ensuring that low-priority individuals don't wind up in immigration detention or removal proceedings.
Is anything mild enough to appease Republicans?
Probably not. That's because this is not only a policy fight, but one over authority. Republicans disagree with Obama's aims, but they're also steamed that he's considering steps without congressional approval.
House Speaker John Boehner warned that executive action will halt the chances of Congress passing immigration reform and make it even more difficult for Congress and the White House to compromise. Incoming Majority Leader Sen. Mitch McConnell said executive action would be a "big mistake."
"It's like waving a red flag in front of a bull to say, 'You guys don't do what I want, I'm going to do it on my own," he said at a press conference last week. "The president has done that on Obamacare. He's done that on immigration, and he's threatening to do it again. I hope he won't do that, because I do think it poisons the well for the opportunity to address a very important domestic issue."
When is the decision coming?
The president has repeatedly said he'd take administrative action on immigration before the end of the year. It's a promise he made after he delayed the announcement, previously scheduled for the end of the summer, to after the midterm elections. It's a promise he made to hundreds of attendees at the Congressional Hispanic Caucus Institute's award gala in October. And it's a promise he reiterated at a press conference the day after midterm elections.
So, basically, expect an announcement sometime before New Year's Day. Though, at any time, this action can be undone with the passing and signing of a new law.
"The minute they pass a bill that addresses the problems with immigration reform, I will sign it," President Obama said on CBS's Face the Nation on Sunday, "and it supersedes whatever actions I take, and I'm encouraging them to do so."
For immigration advocates, that's the hope.
"The end game here is legislation," Fitz said. "Executive action is not the end game. This is a stepping stone to a last solution and that can only be provided through legislation."