Barack Obama, Ferguson, and the Evidence of Things Unsaid
Violence works. Nonviolence does too.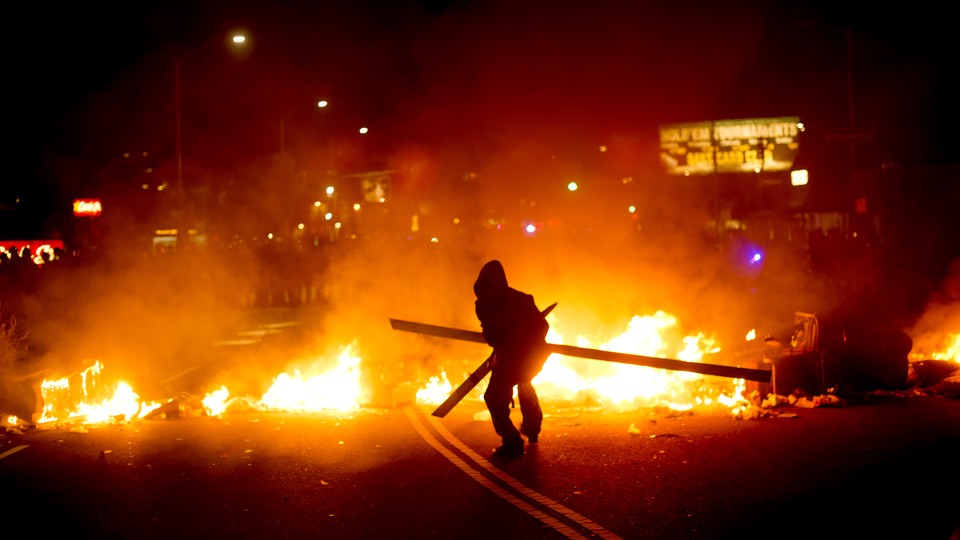 In a recent dispatch from Ferguson, Missouri, Jelani Cobb noted that President Obama's responses to "unpunished racial injustices" constitute "a genre unto themselves." Monday night, when Barack Obama stood before the nation to interpret the non-indictment of Darren Wilson for the killing of Michael Brown, he offered a particularly tame specimen. The elements of "the genre" were all on display—an unmitigated optimism, an urge for calm, a fantastic faith in American institutions, an even-handedness exercised to a fault. But if all the limbs of the construct were accounted for, the soul of the thing was not.
There was none of the spontaneous annoyance at the arrest of Henry Louis Gates, and little of the sheer pain exhibited in the line, "If I had a son, he'd look like Trayvon." The deft hand Obama employed in explaining to Americans why the acquittal of George Zimmerman so rankled had gone arthritic. This was a perfunctory execution of "the genre," offered with all the energy of a man ticking items off a to-do list.
Barack Obama is an earnest moderate. His instincts seem to lead him to the middle ground. For instance, he genuinely believes that there is more overlap between liberals and conservatives than generally admitted. On Monday he nodded toward the "deep distrust" that divides black and brown people from the police, and then pointed out that this was tragic because these are the communities most in need of "good policing." Whatever one makes of this pat framing, it is not a cynical centrism—he believes in the old wisdom of traditional America. This is his strength. This is his weakness. But Obama's moderation is as sincere and real as his blackness, and the latter almost certainly has granted him more knowledge of his country than he generally chooses to share.
In the case of Michael Brown, this is more disappointing than enraging. The genre of Obama race speeches has always been bounded by the job he was hired to do. Specifically, Barack Obama is the president of the United States of America. More specifically, Barack Obama is the president of a congenitally racist country, erected upon the plunder of life, liberty, labor, and land. This plunder has not been exclusive to black people. But black people, the community to which both Michael Brown and Barack Obama belong, have the distinct fortune of having survived in significant numbers. For a creedal country like America, this poses a problem—in nearly every major American city one can find a population of people whose very existence, whose very history, whose very traditions, are an assault upon this country's nationalist instincts. Black people are the chastener of their own country. Their experience says to America, "You wear the mask."
In 2008, Barack Obama's task was to capture the presidency of a country which historically has despised the community from which he hails. This was no mean feat. But more importantly, it was not unprecedented. And just as Léon Blum's prime ministership did not lead to a post-anti-Semitic France, Barack Obama's presidency should never have been expected to lead to a post-racist America. As it happens, there is nothing about a congenitally racist country that necessarily prevents an individual leader hailing from the pariah class. The office does not care where the leader originates, so long as the leader ultimately speaks for the state. On Monday night, watching Obama both be black and speak for the state was torturous. One got the sense of a man fatigued by people demanding he say something both eminently profound and only partially true. This must be tiring.
Black people know what cannot be said. What clearly cannot be said is that the events of Ferguson do not begin with Michael Brown lying dead in the street, but with policies set forth by government at every level. What clearly cannot be said is that the people of Ferguson are regularly plundered, as their grandparents were plundered, and generally regarded as a slush-fund for the government that has pledged to protect them. What clearly cannot be said is the idea of superhuman black men who "bulk up" to run through bullets is not an invention of Darren Wilson, but a staple of American racism.
What clearly cannot be said is that American society's affection for nonviolence is notional. What cannot be said is that American society's admiration for Martin Luther King Jr. increases with distance, that the movement he led was bugged, smeared, harassed, and attacked by the same country that now celebrates him. King had the courage to condemn not merely the violence of blacks, nor the violence of the Klan, but the violence of the American state itself.
What clearly cannot be said is that violence and nonviolence are tools, and that violence—like nonviolence—sometimes works. "Property damage and looting impede social progress," Jonathan Chait wrote Tuesday. He delivered this sentence with unearned authority. Taken together, property damage and looting have been the most effective tools of social progress for white people in America. They describe everything from enslavement to Jim Crow laws to lynching to red-lining.
"Property damage and looting"—perhaps more than nonviolence—has also been a significant tool in black "social progress." In 1851, when Shadrach Minkins was snatched off the streets of Boston under the authority of the Fugitive Slave Law, abolitionists "stormed the courtroom" and "overpowered the federal guards" to set Minkins free. That same year, when slaveholders came to Christiana, Pennsylvania, to reclaim their property under the same law, they were not greeted with prayer and hymnals but with gunfire.
"Property damage and looting" is a fairly accurate description of the emancipation of black people in 1865, who only five years earlier constituted some $4 billion in property. The Civil Rights Bill of 1964 is inseparable from the threat of riots. The housing bill of 1968—the most proactive civil-rights legislation on the books—is a direct response to the riots that swept American cities after King was killed. Violence, lingering on the outside, often backed nonviolence during the civil-rights movement. "We could go into meetings and say, 'Well, either deal with us or you will have Malcolm X coming into here,'" said SNCC organizer Gloria Richardson. "They would get just hysterical. The police chief would say, 'Oh no!'"
What cannot be said is that America does not really believe in nonviolence—Barack Obama has said as much—so much as it believes in order. What cannot be said is that there are very convincing reasons for black people in Ferguson to be nonviolent. But those reasons emanate from an intelligent fear of the law, not a benevolent respect for the law.
The fact is that when the president came to the podium on Monday night there actually was very little he could say. His mildest admonitions of racism had only earned him trouble. If the American public cannot stomach the idea that arresting a Harvard professor for breaking into his own home is "stupid," then there is virtually nothing worthwhile that Barack Obama can say about Michael Brown.
And that is because the death of all of our Michael Browns at the hands of people who are supposed to protect them originates in a force more powerful than any president: American society itself. This is the world our collective American ancestors wanted. This is the world our collective grandparents made. And this is the country that we, the people, now preserve in our fantastic dream. What can never be said is that the Fergusons of America can be changed—but, right now, we lack the will to do it.
Perhaps one day we won't, and maybe that is reason to hope. Hope is what Barack Obama promised to bring, but he was promising something he could never bring. Hope is not the naiveté that would change the face on a racist system and then wash its hands of its heritage. Hope is not feel-goodism built on the belief in unicorns. Martin Luther King had hope, but it was rooted in years of study and struggle, not in looking the other way. Hope is not magical. Hope is earned.