After Calls for His Ouster, Reid Adds New Leaders to Mend Fences
Jon Tester, Elizabeth Warren gain seats at more balanced leadership table.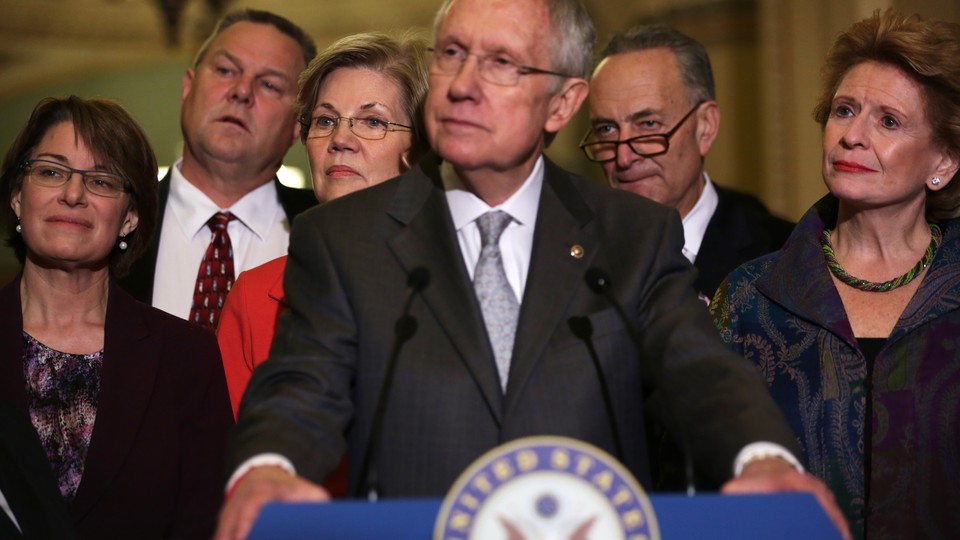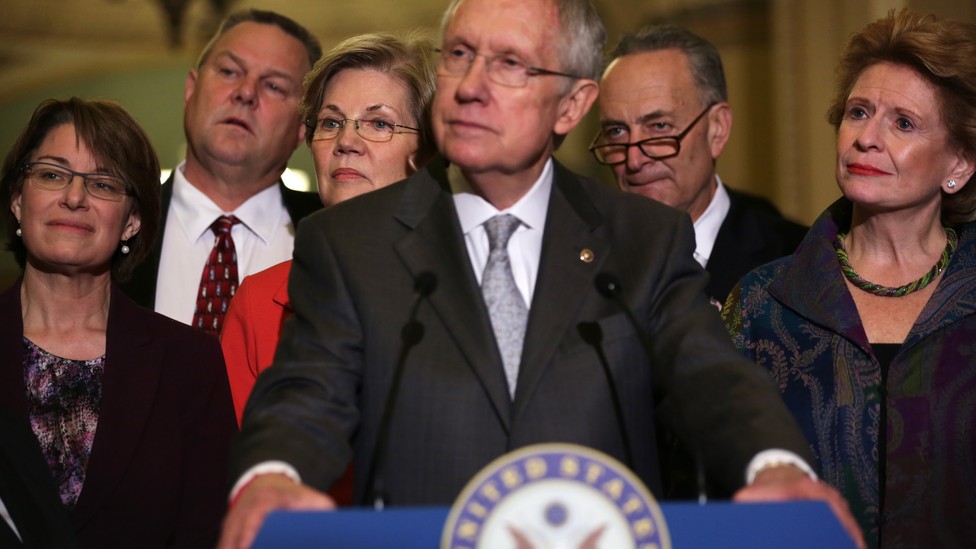 Senate Democrats gathered Thursday morning for what was expected to be a quick meeting to reelect their leadership. What soon-to-be-Minority Leader Harry Reid got instead was an earful.
Following difficult losses in the 2014 midterms that exceeded even the most pessimistic Democratic predictions, several members of the Democratic caucus on Thursday called for Reid to step aside. What was supposed to be an uncontested leadership election-by-affirmation turned into a four-hour talkathon in which several red-state Democrats stood up to criticize Reid's leadership and the Nevadan mounted a strong defense of his work.
When the dust settled, long after the new Republican majority had selected its leaders, Reid held onto his position, but invited both a red-state Democrat and a liberal lioness into the fold, balancing out his leadership team in a move that could placate detractors.
Reid selected Sen. Jon Tester of Montana to lead the Democratic Senatorial Campaign Committee and created a new leadership position for Sen. Elizabeth Warren of Massachusetts. The two senators represent opposite ends of the party ideologically and groups that haven't always been well-allied with Reid.
On Thursday morning, Sens. Claire McCaskill of Missouri and Joe Manchin of West Virginia led the fight against Reid, after informing the leader earlier in the week that they would oppose his reelection. The election was conducted by secret ballot, concealing the identities of Reid's opponents, though McCaskill, Manchin, and Sen. Mary Landrieu—who is still caught in an uphill runoff election to retain her Louisiana seat—all copped to voting against Reid. Neither Manchin nor McCaskill would say how many other members joined in their movement. "There were a number of voices that spoke out; it wasn't just me," McCaskill told reporters. "... People came up to me after the meeting saying, 'I'm glad some of you said things that needed to be said.' "
Democratic losses in 2014 made it clear that the voters want change—not just in their individual members, but in the way that the Democratic caucus operates, both Manchin and McCaskill said. "We've all had to make changes in our offices and had some difficult decisions to make," Manchin told reporters. "It can't be personal. Harry Reid's a good man. I just felt—and I was very up-front and forward with everybody—I just felt we needed a leadership change."
Democratic detractors did not have an alternative choice for leader. Manchin said he had asked Reid to delay the election for one week so that they could come up with a standard-bearer, but his request was ignored. "This type of an election, this type of a monumental switch needs time," Manchin said after the vote. "And we should discuss it and debate it. Harry could've made his pitch. If someone else would have come forward, we could have had her pitch."
But Manchin and McCaskill said that regardless of the efficacy of their nay votes, the conversation was important.
"We need to work harder on making sure that what we're doing every day is showing the American people that we're here to work for them and get things done—not to make the other guy look bad, not to score political points, not to be obstructionist, but to get things done for the American people that they're hankering to see us do," McCaskill said. "They want to see us work and do our jobs."
And the inclusion of Tester and Warren into the leadership could help to mend some of the frayed relationships between Reid's current team and the rest of a diverse caucus.
On the Left, Warren's appointment could ease some fears among liberals in the caucus, which will soon be forced to take a vote on the Keystone pipeline. Several members on the Left, including Tammy Baldwin of Wisconsin, Chris Murphy of Connecticut, and independent Bernie Sanders of Vermont, said that they did not blame Reid for allowing the vote, acknowledging that the bill would come up for a vote sooner or later given the new Republican majority.
Nonetheless, they and other liberals have strongly signaled their opposition to the measure. Having Warren in leadership could give those members a stronger voice in the next Congress.
For moderates, Tester represents one of their own. The red-state Democrat called Thursday morning's airing of grievances a "constructive conversation" and said he would "absolutely" bring his colleagues' concerns to the leadership table. "I think there was one message the voters sent out—a lot of them by not voting—was that we need to work together," he said in a press conference, flanked by Reid, Warren, and other members of the Democratic leadership.
Asked after the press conference about the concerns raised in the room, Tester said: "I think that we've got a very talented caucus, and those opinions that were put forward today are, I think, very valuable if we're going to be able to win this cycle and next cycle."
McCaskill said that having a person like Tester at the leadership table would benefit red-state Democrats like herself. "Jon is one of my best friends in the caucus, and he does come from a state like mine in terms of politics, so I think having him out there as one face of the leadership is important for states that aren't bright blue," McCaskill said. "But most importantly, he's smart, he works incredibly hard—I mean, this is a guy who goes home and repairs his own tractors on the weekend. He gets hard work."
McCaskill also praised Warren's appointment, noting: "We do our best work when we hear all different voices."