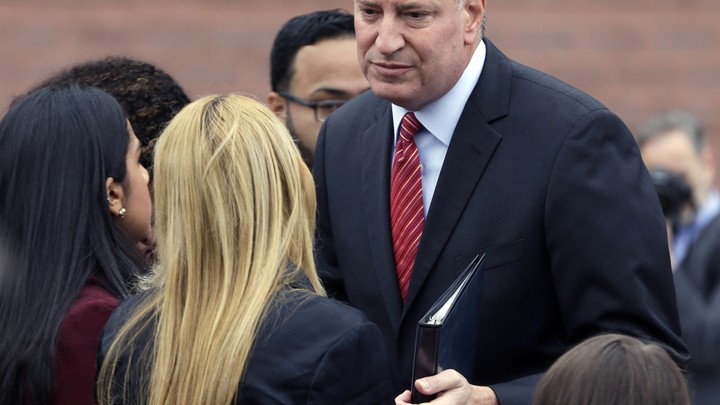 As the mayor of a city that prides itself on its hardy resilience, Bill de Blasio's excuse for missing the key moments of a Wednesday morning ceremony commemorating the victims of a plane crash was not very compelling.
"I had a very rough night, I woke up sluggish, and I should have gotten myself moving quicker," the mayor told reporters later in the day, according to Michael Grynbaum of The New York Times. "I woke up in the middle of the night, and couldn't get back to sleep." De Blasio showed up at 9:20 a.m. for an event where he was scheduled to speak at 9:05 a.m. He missed the tolling of a bell at 9:16 that marked the moment in 2001 when American Airlines Flight 287 crashed in Rockaway Park, killing 265 people and jolting a city that was shaken just two months earlier by the September 11 attacks.
City Hall initially told reporters that the mayor was late due to heavy fog that delayed his boat ride (yes, a boat ride) from Gracie Mansion. But de Blasio came out with the real reason when pressed later on.
Mayors are just like us, it seems: They toss and turn, hit the snooze button, and show up late to work. De Blasio is already becoming known for his tardiness: He once slept through an 11:30 a.m. campaign event during election season a year ago, the New York Observer reported. But the mayor's late arrival didn't go over well with family members who were waiting for him at Rockaway Park and who criticized de Blasio's "disrespect" on Twitter and complained to the Daily News that he didn't so much as apologize during the event. All of which could make for another restless night for the sleep-challenged mayor.
We want to hear what you think about this article. Submit a letter to the editor or write to letters@theatlantic.com.
Russell Berman
is a staff writer at
The Atlantic
, where he covers politics.