Republican Party Time
Like so many before him, Mitch McConnell promised an end to dysfunction as the next Senate majority leader.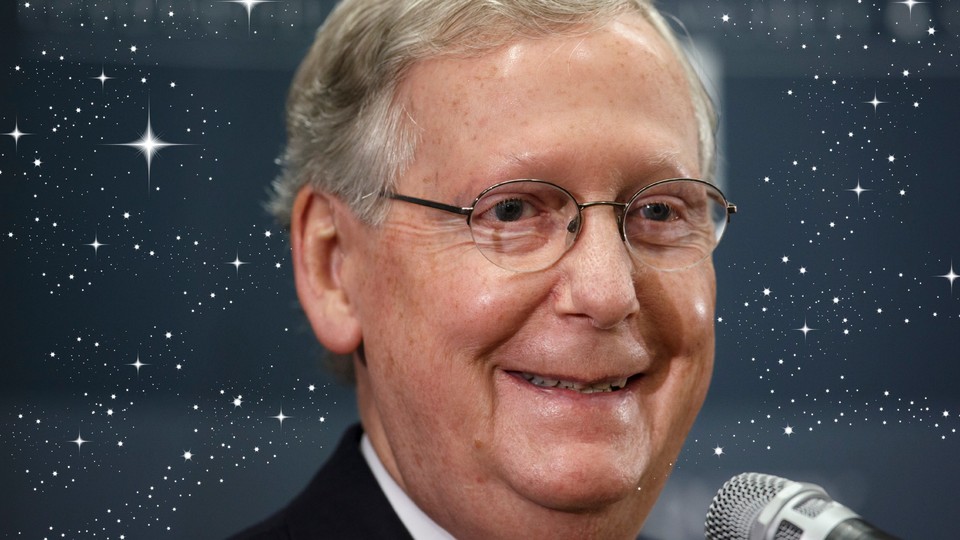 Mitch McConnell is a man frequently described as taciturn and occasionally compared, unfavorably, to a turtle. He has never been known for his smile, but on Wednesday afternoon the Kentucky conservative flashed it, dare we say, liberally.
The soon-to-be Senate majority leader greeted the press corps in Louisville to revel both in his own personal reelection win, which was wider than expected, and in the Republicans' broader accomplishment of winning control of the Senate. Exultant and confident, McConnell offered jokes about his adversaries and showed more deference than combativeness toward the president, even as he spoke only in general terms of how he plans to wield his newfound power.
More than any single policy, McConnell emphasized his desire to restore the Senate as a functioning legislative chamber. There will be longer hours and weeks, more committee work, more tough votes. Things, he said, will get done.
"From an institutional point of view, the Senate needs to be fixed," he said. "The first thing I need to do is to get the Senate back to normal, and that means working more."
Yet the American people didn't vote merely for an oil change in the creaky gears of legislative governance. And on questions of substance, McConnell was far more vague.
The Senate should be able to pass legislation to prod the administration on construction of the long-stalled Keystone pipeline, McConnell suggested, and he spoke optimistically about working with President Obama on trade deals and tax reform.
Where McConnell was most definitive was on what a Republican majority would not do: namely, repeat the fiscal brinksmanship of the past. "Let me make it clear: There will be no government shutdowns and no default on the national debt," he said. Republicans, he indicated, would look for other mechanisms to force reductions in government spending.
He made no promises about repealing the Affordable Care Act, and while other Republican leaders characterized the election as an explicit repudiation of Obama's policies, McConnell notably went out of his way to acknowledge the president's importance to the success of his new majority. "There's only one Democrat who counts: the president," he said. "The veto pen is a pretty big thing."
Again and again, McConnell returned to the idea of a working Senate, and it was there that his message aligned most closely with that from Obama. "I'm not sure he's going to sign everything, but we're going to function," he said. "This gridlock and dysfunction can be ended."
It's a line that voters have heard from nearly every elected leader in recent years. But starting in January, McConnell will have his turn at the helm. For a man who rarely shows emotion of any kind, he certainly seems excited for the chance to try.