2016 Candidates Are Losing Their Support at Home
But will presidential candidates be damaged by the voters who first put them in power?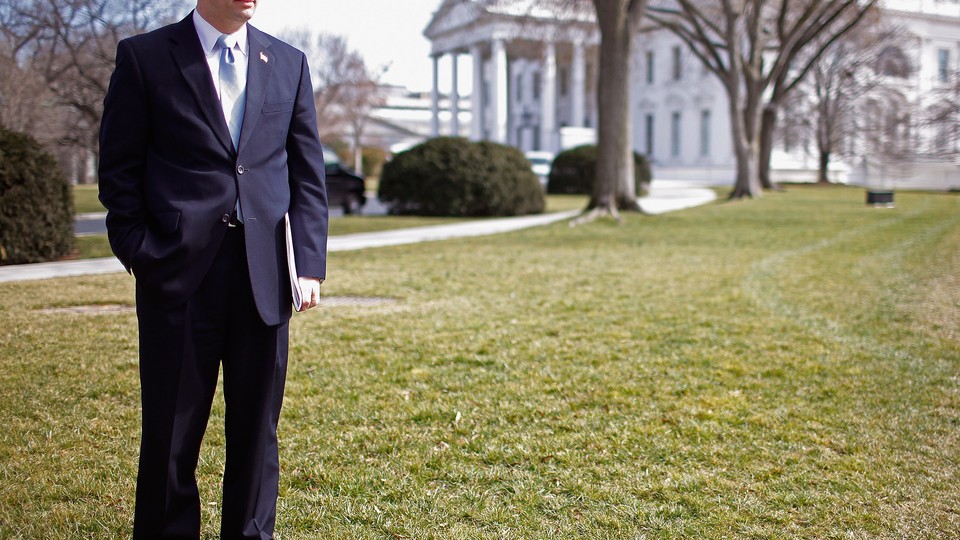 Potential White House candidates have spent the midterm season preparing to make their cases to national voters, but after spending much of the year traipsing around the country, many of them are having trouble holding their bases at home.
Former Sen. Rick Santorum of Pennsylvania, Louisiana Gov. Bobby Jindal, New Jersey Gov. Chris Christie, and Maryland Gov. Martin O'Malley are all underwater at home, with more voters viewing them unfavorably than favorably, according to an analysis of recent polling data.
Republican Sens. Marco Rubio of Florida and Ted Cruz of Texas are above water in favorability among home-state voters, but both have seen their numbers flag this year. And Wisconsin Gov. Scott Walker is locked in a dead-even reelection race and is hovering just over a net-zero favorability, with 50 percent of Wisconsinites reporting a favorable opinion of him and 48 percent saying they view him unfavorably in a Marquette poll this month.
Just nine of the field of 16 unofficial candidates have a favorability rating of at least 50 percentage points—and only two of them are Republicans: Walker and former Arkansas Gov. Mike Huckabee.
Part of the reason their numbers are so low is the national mood. Politicians in general are not well liked by the public, and the Congress in which many of them serve currently has an approval rating of 14 percent.
But in a two-year, national campaign for the presidency, does being popular in one's home state really matter?
In the 2012 campaign, none of the candidates with the lowest net-favorability ratings in their home states (Reps. Michele Bachmann, Thad McCotter, and Ron Paul) managed to win the Republican primary. But neither did those with the highest favorability ratings (former Utah Gov. Jon Huntsman and Texas Gov. Rick Perry).
Instead, the top two Republican finishers were former Massachusetts Gov. Mitt Romney and Santorum, both of whom pulled off upsets over Republicans with much better standing back home.
At the beginning of the 2012 campaign, Romney and Santorum were both underwater with their home state voters, with higher portions of Masschusetts and Pennsylvania voters viewing them unfavorably than favorably, by double-digit margins. Santorum lost his 2006 reelection race by almost 18 points, with just 37 percent of Pennsylvanians saying they approved of the job he'd done as a senator, according to a Survey USA poll, while a full 58 percent disapproved. Romney was in a similar boat, preparing to exit the Massachusetts governor's office in December of that year with a 39 percent job-approval rating, while 59 percent of Massachusetts voters said they disapproved of the job he had done.
At the beginning of the 2008 campaign, Sen. John McCain of Arizona won the Republican nomination despite having the second-worst home-state favorability rating in the field (behind Romney). Meanwhile, Obama won the Democratic nomination with the second-highest home-state favorability rating in the field, after Huckabee.
In other words, for a presidential candidate, being unpopular in your home state doesn't necessarily signal a death knell for the campaign. And being popular back home isn't a path to victory in itself.
It was not too many elections ago, however, that a home-state loss cost Democrats the presidency: Regardless of what happened in Florida, Al Gore would have won the White House in 2000 had he won Tennessee.
"Ignore your base, lose your home state, lose the presidency," said pollster Doug Schoen, who worked on Gore's campaign and those of numerous other Democrats. "Gore never asked or understood why the ticket won his home state in '96. Cost him the presidency four years later," Schoen said in an email.
And only two presidential candidates in history have won the general election after losing their home states: James Polk and Woodrow Wilson, according to numbers crunched by Virginia political analyst Larry Sabato. (In 1968, Richard Nixon lost New York, where he was living at the time, but won his home state of California.) Of the 33 other major-party candidates who fell short in their home states, not one of them won the presidency, including most recently Romney.
For red-state Republicans and blue-state Democrats, the stakes are lower; their party's nominee will likely hold their states in the general election regardless of their popularity at home. But that lack of popularity still must be addressed, several strategists and pollsters say.
"I think sometimes it depends on what reason your numbers go down," former Romney spokesman Kevin Madden said in an interview. "Sometimes those numbers go down because a particular candidate has made some difficult choices at home, and ultimately it takes a longer period for the benefits of that tough decision to bear out."
"Now, if it's just unpopularity because some of the voters in your state feel like you've abandoned them for greater or higher ambitions, it is something that has to be managed, for sure," he added.
That's the case for Jindal, who has seen his numbers drop dramatically as he's begun to focus on the 2016 campaign and local reports have centered more and more on his trips to Iowa and New Hampshire. A September Public Policy Polling survey showed that just 34 percent of Louisianans now approve of the job Jindal is doing as governor, while 55 percent disapprove. Those numbers are almost identical to Santorum's in 2006.
Although Louisiana is likely to be an easy win for the 2016 Republican nominee, poor polling numbers at home can be a burden early on in the primary campaign, when opponents will use the figures as fodder for attacks, and donors are looking to narrow the field.
"Being unpopular in your home state definitely creates a challenge for your campaign, and it definitely creates opportunities for your opponents," Madden said. "It really gives them a nice rhetorical touchstone, in the sense that they can constantly say, 'Don't ask me. Ask those that know the candidate best.' "
But many of those arguments have long been dealt with by the time most voters begin to tune into the elections. Those candidates who were hurt by the charges are often gone, or limping their way out the door. "A lot of presidential politics is a popularity contest, let's be honest. So popularity in your home state does matter."¦ But if you're one of the last few standing on that stage, that's a battle that's been fought and won, or you wouldn't be standing on that stage," said Hogan Gidley, a former spokesman for Santorum and longtime Huckabee staffer.
Gidley added that attacking a candidate for poor poll numbers at home can also backfire. "There is a little bit of that attitude [among voters] like, 'I can talk about my momma, but you can't talk about her,' " Gidley said. "When national media and other candidates start to try to pile on, it's almost a backlash. They say, 'Well, wait a minute; he's still better than anything you got. He's still from Florida. We still love him.' So that spigot runs dry in a hurry."
But long after the rhetoric has dried up, home-state disapproval can still be a problem in terms of getting a campaign off the ground. During the primary, when there are several potential nominees to choose from, donors and party operatives have a keen eye on their checkbooks. They don't want to be forced to spend money in a nominee's home state—especially in a state that would otherwise be a lock for their party.
"A lot of donors are essentially investors of the campaign, and investors don't want to put resources into something that was proven unsuccessful in its last test of the market," Madden said.
But for candidates who are struggling at home, all is not lost. Just look at the Santorum campaign. Despite that 18-point thrashing in 2006, Santorum argued to donors in 2012 that he had won Pennsylvania twice before. Unlike any of his opponents, Santorum had the proven ability to win a swing state.
Santorum's team downplayed the 2006 loss, pointing out that he lost his seat in a wave election year, when an unpopular president and the Iraq War brought down dozens of his colleagues.
Santorum's past victories in Pennsylvania were a big selling point for the campaign and one that several 2016ers can use to their advantage next cycle. Potential candidates like Walker, former Florida Gov. Jeb Bush, and Sen. Marco Rubio won't have to prove to Republican donors and general-election-minded voters that they can win in swing states; they already have.
Blue-state Republicans and red-state Democrats can use Romney, who wielded his negative numbers to his advantage, as a guide. The former governor 's favorability really started to drop during his final year in office when "he took on some issues that were quite divisive, like the Defense of Marriage [Act]," Madden said. That move may have hurt him in true-blue Massachusetts, but it caused a lot of Republicans "to then see him as a national candidate," Madden said.
Even Gidley agreed: "Remember, most Republicans don't like Massachusetts anyway. Massachusetts didn't like Mitt Romney? Well, we don't like Massachusetts."
Romney and Santorum also benefited from leaving office long before their 2012 campaigns. "Memories are short. No one's going to remember what he did as governor. It's our jobs as opponents of Mitt Romney to remind voters of what he did as governor, but no one is going to remember his popularity or his unpopularity," Gidley said.
Unfortunately for Walker, in particular, he doesn't have the benefit of time between a difficult swing-state reelection bid and a potential presidential campaign. "You hear a lot of people now saying that if Scott Walker doesn't win by a large margin, he's done for president," Gidley said. "I don't necessarily agree with that because people just have short memories. But from the donor class, those types of things scare them away a little bit."
Madden didn't want to comment specifically on Walker's chances in 2016, but said generally: "It becomes an extremely difficult challenge for any candidate "¦ who just lost their reelection statewide in their home state to make a case that they ought to deserve your vote for the nomination."
"In other words, Scott Walker circa 2012 was a hotter commodity than perhaps he'll be in 2016, if people detect a little bit of vulnerability there. However, he's still a hero. He's an absolute hero to some rank-and-file conservatives," Republican pollster Kellyanne Conway said.
Walker still could be an attractive candidate in 2016 "if he somehow does extremely well" in his reelection race, Conway argued, given that his state is in a key region for Democrats. The same goes for Republicans Rubio, Indiana Gov. Mike Pence, Ohio Gov. John Kasich, and Sen. Rob Portman of Ohio. Each lives in or near a major swing state and could help the party capture regions that have been historically difficult for the party. If Christie is able to raise his favorability numbers in New Jersey, he could join that group as well.
Conway suggests that 2016 candidates must demonstrate not only that they can win their home states, but that they also can win at least two contiguous states. That will be particularly key for Republicans, she says, who have lost the Electoral College two cycles running.
It's not enough for these candidates to improve their numbers at home, particularly in states that should otherwise be easy wins for their party. Conway pointed to Republicans Jindal and Cruz, but the same would be true for Maryland's O'Malley and New York Gov. Andrew Cuomo, if Hillary Clinton passes on a presidential bid this year, opening up the Democratic field. Unlike O'Malley, Cuomo is above water in his state and is headed for a double-digit reelection victory. But he has seen his numbers drop precipitously since taking office.
"Honestly, I think the home-state advantage can be a 'shucks' advantage" for red-state Republicans and blue-state Democrats, Conway said. "Meaning: 'Oh, you're a Republican who can carry Texas.' Or 'Bobby Jindal's going to carry Louisiana.' So am I. So would you as a Republican."¦ Republicans need to walk into Election Day with electoral votes already in their pocket, so that we're not wasting resources in states that you already have locked up."
"For all the talk about art and emotion in politics, ultimately you win the presidency through science and math," Conway said.
---
Stephanie Stamm contributed to this article