Why Washington Power Players Are Flocking to Seminary School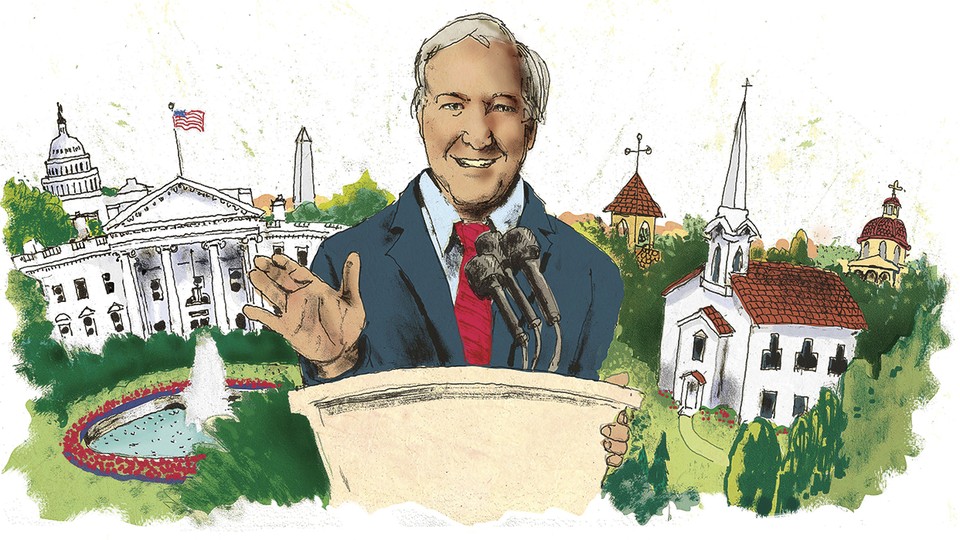 On the fourth floor of the Dorothy I. Height Building, a pink castle in Washington's Penn Quarter, Mike McCurry's corner office opens onto a common space filled with photos from his glory days as President Clinton's press secretary: McCurry surrounded by a press gaggle, McCurry commanding the Brady Room. But these days, when old colleagues and clients stop by to see him, they often have something else on their minds.
"The number of people ... " McCurry breaks off and laughs as he gestures around his cluttered office. "My clients say, 'I want to come talk to you, I have some stuff I want to go over.' They come over, do a little bit of business, and say, 'Well ... I'm really interested in theology. Tell me what that was like.' "
In addition to his work for Public Strategies Washington, the lobbying firm where he's a consultant, McCurry, now nearing 60, is a professor of public theology at Wesley Theological Seminary. And the onetime word-warrior, who received his master of arts degree from Wesley last year, has become a sort of shepherd to peers interested in making the transition from state to church. "I find myself doing a lot of personal recruiting," he says.
To the casual Washington observer, the path from partisan politics to theology might not be obvious, but it has nonetheless quietly become well trod. This past spring, former Mitt Romney adviser and longtime political operative Eric Fehrnstrom surprised colleagues by announcing he would pursue a master's in theological studies at Boston College. Like McCurry's degree, the credential Fehrnstrom is earning is academic—meaning that he isn't seeking to be ordained—and he continues to consult on political campaigns with the Shawmut Group. Over the summer, Matt Rhodes, a former spokesman for the House Budget Committee, left his position at the American Hotel & Lodging Association to follow a call to the seminary and ordained priesthood in the Episcopal Church.
Wesley's former students include Rep. Ed Whitfield, a Republican from Kentucky; former Democratic National Committee Chief of Staff Leah Daughtry; and NPR's Michel Martin. Former Senate staffers Donna Claycomb Sokol and Adam Briddell both left their jobs to pursue seminary training, and now serve, respectively, as pastor and associate pastor at area Methodist churches.
McCurry believes the glum state of national politics is one reason so many people are knocking on his door these days. "I think a lot of people inquire just because the culture of Washington is so broken right now. They didn't come here to just get in angry political fights every day. They want to do something positive, and they're looking for avenues to make that happen." Fellow Wesley professor Shaun Casey describes the link more bluntly: "The Hill can be a place where joy and hope go to die," he says. "A lot of people came to D.C. wanting to change the world, and they find it to be a particularly tough environment."
(There may also be an element of penance involved for some: In the late 1970s, former White House Deputy Communications Director Jeb Magruder followed up his prison sentence from the Watergate scandal by earning a master of divinity degree from Princeton Theological Seminary and being ordained a Presbyterian minister. Fellow Watergate figure Charles Colson, who also served a prison sentence, did not go back to school but became an evangelical leader and founded a ministry for prisoners.)
Casey, now on leave from Wesley to serve in the secretary of State's office, says his classes are filled with people from varying political backgrounds who seek answers to questions left unresolved in their public-service careers. "You can take courses in seminary on human rights, you can take courses on global poverty, you can take courses on the ethics of war and peace," he says. His students have ranged from retiring federal employees, who see the seminary as their next challenge, to eager young Hill staffers looking to make a bigger impact. "It's a two-way street," he explains. "They can, in their best lights, help the church be more effective in the things that the church should be about ... fighting for racial justice, fighting extreme poverty ... and the church can help them too, in the sense that it can transcend some of the partisan gridlock that has this town in a stranglehold."
Indeed, many describe the move from public service to seminary as less of a leap than a logical next step. They say they came to Washington expecting to create change through their jobs but eventually found better avenues through their churches. "I came to D.C. in '02, really wanting to be one of those change-the-world types," says Briddell. "Studied poli-sci in undergrad, came out here to go to a grad program, worked my way onto [the Senate's health committee]. But it can be hard to move the needle on the Hill. I had a great pastor who challenged me and said that the gifts that were serving me well on the Hill might also serve the church."
Among those who are thinking about making the move from public service to the faith-based kind, McCurry's story is something of a legend. Sixteen years ago, when he left the Clinton administration, McCurry was head-hunted—by his Kensington, Maryland, house of worship. "When I got out of the White House in '98, the guy who was our senior pastor said, 'Well, now that you're done with that, we've got something important for you to do,' " McCurry tells me. "And it turned out they wanted me to become the director of the Sunday School program."
The South Carolina native had long made his faith a priority. As Clinton's press secretary he woke up daily at dawn for a few minutes of prayer before facing a press corps determined to get answers about the president's relationship with Monica Lewinsky. He also managed to get to church most Sundays—thanks, he says, to the efforts of his staff and to a slower news cycle that allowed him to get away with skipping the morning talk shows as long as he caught up with the transcripts later.
He took the Sunday School job, and, before long, Wesley approached him. "I think I sent them a check or a contribution, just because I appreciated what they were doing," says McCurry. "And the guy who now is the president called up my pastor and said, 'Is this Mike McCurry? The same guy who worked at the White House?' He said yes, they made some contact with me, and in the year 2000 I went on the board of governors at Wesley Theological."
McCurry then decided to seek his master's degree, taking one class each semester while he pursued his consulting work. Soon after he graduated, he was named head of the school's National Capital Semester for Seminarians, which brings students from other schools to Washington to study ethics, theology, and public policy.
True to his communications roots, McCurry says he's especially interested in training young seminary students to facilitate meaningful conversations on controversial issues. He says he sees an opportunity for religious leaders to change the tone of political discussion. "Whether it's immigration reform, war and peace, or hunger or poverty, a lot of the items on the national agenda are very divisive. We ought to be having better conversations about those issues in places like churches, where it's kind of safe to come and state your point of view," he says.
However clear the connection between politics and the pulpit may be to McCurry and his fellow career-changers, he allows that they often face surprise, if not outright skepticism, from former colleagues. "A lot of my friends from politics tease me about it—'Oh, do we have to call you Reverend now?' " McCurry says. "And, you know, I was thoroughly a spin doctor, as politically charged as the next guy, so a lot of them find it mildly amusing that I am where I am now, using this for loving one another."