Why a GOP Senate Majority Could Be Short-Lived
The political map for Republicans in 2016 will be every bit as treacherous as it has been for Democrats this year.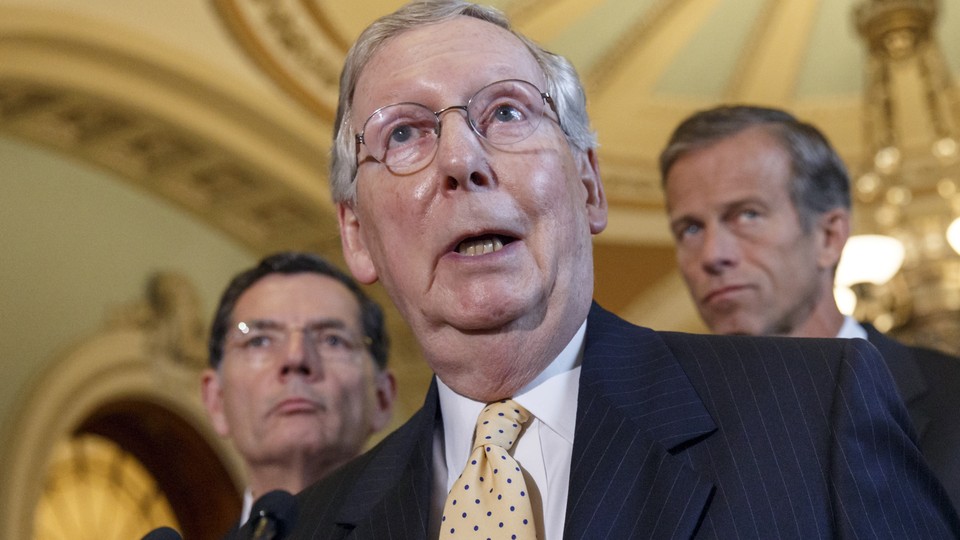 Mitch McConnell might not want to get too comfortable if he becomes Senate majority leader this January.
A favorable Senate map and political landscape have put Republicans on the cusp of winning back the majority they lost eight years ago, but their control of the chamber is likely to be in jeopardy almost from the moment the 114th Congress gavels into session.
Just as Democrats have had to protect seats this fall in deep red states captured in the wave year of 2008, Republicans in the next congressional elections will be defending territory they won in blue and purple states during their own sweeping victory in 2010.
"It's important for Republicans to do as well as they possibly can this fall, because the 2016 election is going to be fought on much different terrain," said Nathan Gonzales, a political analyst at the Rothenberg Political Report.
Senators Ron Johnson of Wisconsin, Pat Toomey of Pennsylvania, Kelly Ayotte of New Hampshire, Mark Kirk of Illinois, Rob Portman of Ohio and Marco Rubio of Florida all will be seeking second terms in states won by President Obama in 2012. Rubio is eyeing the White House and might not run for reelection at all, having said he won't seek both offices at the same time.
Republicans need to gain six seats to win the Senate, and while a complete sweep of races now in play would give them a net pick-up of 10, their majority is most likely to be narrow.
That reality could quickly temper the jubilation for conservatives who have long dreamt of ousting Harry Reid from the majority leader's perch and confronting President Obama on equal footing during his last two years in office.
It would also present party leaders with a critical—and immediate—choice.
"One of the first things Speaker Boehner and Senator McConnell will have to do is sit down and decide how much they want to legislate and compromise versus how much they want to use the floor of the House and Senate to protect their presidential candidates," said Jim Manley, a Democratic strategist and former Reid adviser.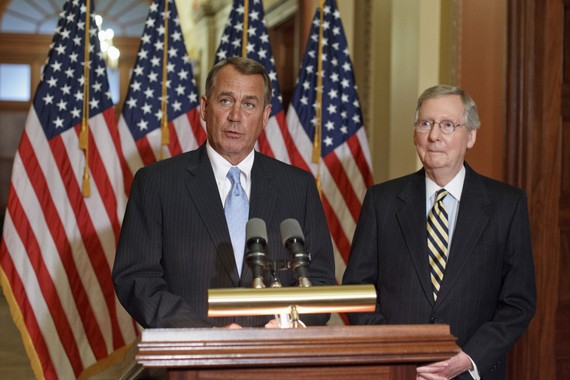 Their decision will have implications not only for Obama's hopes of getting anything through Congress for the remainder of his presidency, but also for the internal dynamics of a Republican Party that has been riven by divisions in recent years.
Conservatives in the House have made it clear that if the GOP takes the Senate they will demand an aggressive legislative agenda, with the hopes of jamming a lame-duck president with bills cutting spending, gutting the Affordable Care Act, and reversing a litany of Obama-era regulatory policies.
The prospects for major legislative breakthroughs are already close to nil, but would Ted Cruz and Rand Paul, for example, go along with modest agreements that Boehner and McConnell might strike with the White House?
And if McConnell chooses instead to heed the pleas of the right and bring forward a conservative wishlist, could he count on the support of lawmakers like Toomey and Kirk, who could be among the most vulnerable GOP incumbents?
Democrats also are banking on a better political climate in 2016. They have had much more success turning out younger and minority voters in presidential election years, and most party leaders hope to have Hillary Clinton topping their ticket.
Yet that may depend on the man now in the Oval Office, who could turn out to be every bit the political liability in 2016 that George W. Bush remained on his way out of the White House in 2008.
"President Obama is going to cast a shadow over those elections, and we just don't what his standing is going to be," Gonzales said.