16 Questions: The Louisiana Senate Race
In the first installment of The Atlantic's Midterm Cheat Sheet, longtime Nola columnist James Varney discusses the contest between Mary Landrieu, Bill Cassidy, and Rob Maness.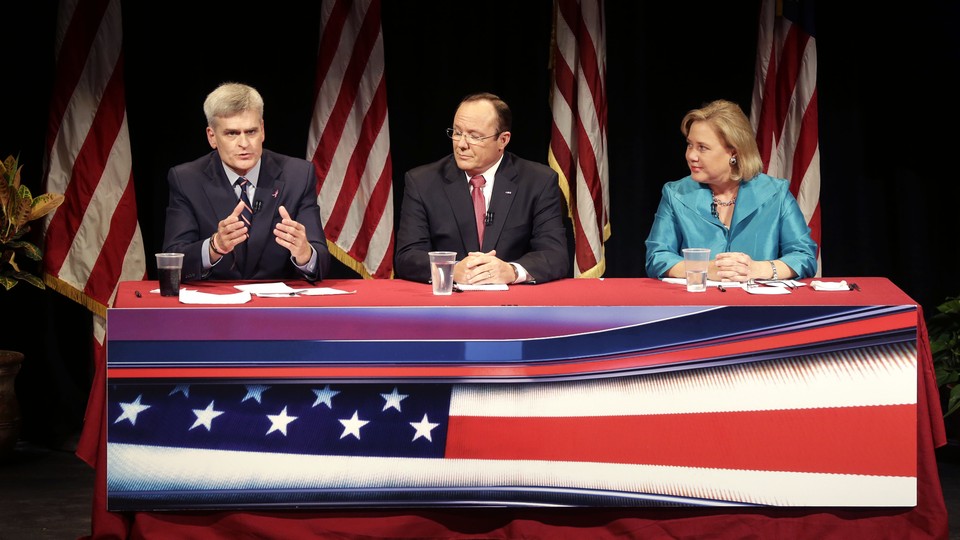 It's no secret that Americans are turned off politics and disgusted with Congress. Pundit after pundit has stepped forward to declare the 2014 midterms "an election about nothing." There are surely good reasons to be pessimistic, but for voters in states with crucial races, the election really is about something—local jobs, God-given freedoms, the right to control one's body, or how people in the state feel about President Obama. And the stakes are real: Control of the Senate hangs in the balance.
To understand what's going on in some of the hottest Senate races, The Atlantic has put together its own version of the Proust Questionnaire, focusing on the midterms. And we've asked top political reporters and columnists from those states to help understand what's going on and how it will affect the country.
Our first respondent is James Varney, a longtime political reporter and columnist at The Times-Picayune in New Orleans. He helps us analyze the race between incumbent Democratic Senator Mary Landrieu, Republican Representative Bill Cassidy, and Republican Rob Maness.
---
What's the biggest issue in this race?
Republicans want it to be President Obama; Mary Landrieu wants it to be her experience.
Describe Cassidy's campaign operation:
It's gotten better, but if you needed one word it would be "careful." You see that in his decision to participate in only two debates, which is rather low for a challenger. He doesn't want to make a mistake; he figures he could win in November but will win in December [in a probable runoff].
Describe Landrieu's campaign operation:
Professional, as you'd expect from a three-time incumbent. There's a faint sheen of desperation, though, as evidenced by her signing up for so many debates and sacking her campaign manager with less than a month to go.
What you'll remember in 10 years:
Who won.
Best/worst ad:
Landrieu had a good ad featuring a prominent Republican Louisianian. But it was a shipbuilder, Donald "Boyse" Bollinger, whose business is dependent on federal contracts, and it ran back in April so it's not helping her much now.
Biggest surprise:
Landrieu's ability and tenacity. She's proven she can win state-wide, but six years removed from her last victory and without President Obama atop the ticket, it's remarkable she's so in it in a state Romney carried by 17 points and in which she is the last remaining state-wide elected Democrat.
How nasty has the race been, on a scale of one to 10?
Maybe a three. It hasn't been that nasty, but of course it's getting a bit more so down the homestretch.
Biggest gaffe:
Landrieu having to repay more than $30,000 for flights she improperly billed to public Senate accounts but that her campaign should have paid. Made her look elitist and out-of-touch.
How his party sees Cassidy:
As their best shot at winning the seat. That is not a universal view among conservative voters, however, as evidenced by the lingering presence of retired Air Force Colonel Rob Maness.
How her party sees Landrieu:
A reliable vote. Landrieu is in a bind there because she is unquestionably with the Democratic leadership in Washington. She may be more centrist than it, but she hasn't voted that way.
Which group of voters will decide this race?
Conservative voters in parishes where Landrieu often does well for a Democrat. If she can maintain that, she's got a chance; if they come out strong she's probably done.
How the man on the street sees Cassidy in 10 words or less:
Who is this "Cassidy?"
How the man on the street sees Landrieu in 10 words or less:
As a Landrieu. She's got the name.
Favorite Louisiana food:
Raw oysters (in months that have an "r").
Favorite ever Louisiana politician:
None.
Favorite Louisianian, period: