16 Questions: The Georgia Senate Race
In the third installment of The Atlantic's Midterm Cheat Sheet, Daniel Malloy discusses the contest between David Perdue and Michelle Nunn.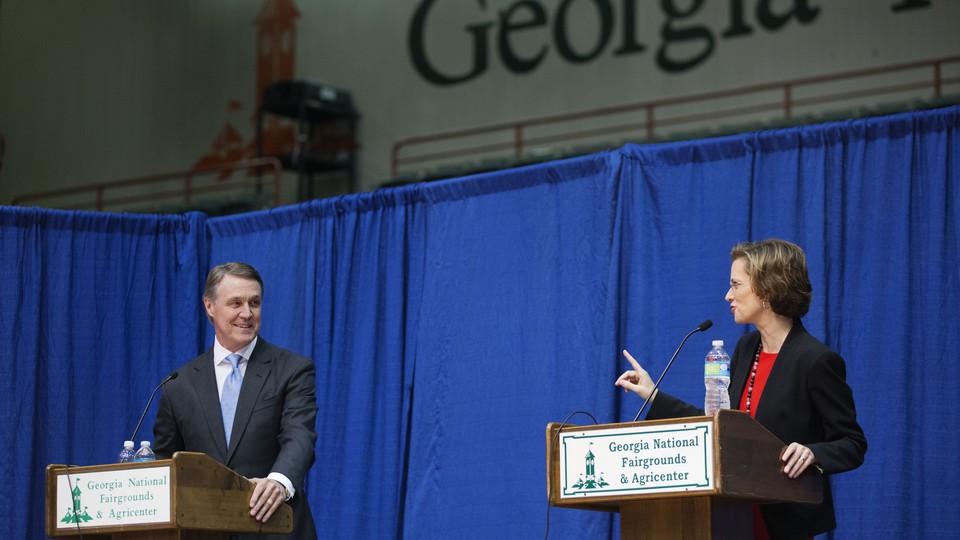 It's no secret that Americans are turned off politics and disgusted with Congress. Pundit after pundit has stepped forward to declare the 2014 midterms "an election about nothing." There are surely good reasons to be pessimistic, but for voters in states with crucial races, the election really is about something—local jobs, God-given freedoms, the right to control one's body, or how people in the state feel about President Obama. And the stakes are real: Control of the Senate hangs in the balance.
To understand what's going on in some of the hottest Senate races, The Atlantic has put together its own version of the Proust Questionnaire, focusing on the midterms. And we've asked top political reporters and columnists from those states to help understand what's going on and how it will affect the country.
The Georgia edition features Daniel Malloy, the Washington correspondent for The Atlanta Journal-Constitution and a contributor to that newspaper's Political Insider blog.
---
What's the biggest issue in this race?
The economy and jobs is always No. 1. In this case, when you are thinking about jobs, the David Perdue campaign wants you to think about their scarcity under President Obama, and the Michelle Nunn campaign wants you to think about the ones that Perdue sent overseas.
Describe Perdue's campaign operation:
Seasoned pros from the network of [Perdue's cousin] former Governor Sonny Perdue combined in the general election with D.C. hands.
Describe Nunn's campaign operation:
Georgia Democrats who have been in the wilderness for a decade, [her father] former Senator Sam Nunn's inner circle, and a few D.C. types.
What you'll remember in 10 years:
The Michelle Nunn internal campaign memo, an unvarnished window into what it takes to run a major Senate campaign in 2014. It will be studied in college political-science classes if it isn't already.
Best/worst ad:
The David Perdue ISIS/terrorists ad. It has been roundly denounced by fact checkers and Neil Bush—George H.W. Bush's son and Points of Light board chairman—for linking the charity with Hamas, not to mention the implication that the Senate immigration bill would allow ISIS fighters to cross the Rio Grande. But the Perdue folks wouldn't defend it if they didn't have reason to believe it is working.
Biggest surprise:
Jack Kingston losing the primary runoff to Perdue. It looked like Kingston had the bases of his fallen primary foes locked up, along with the state GOP establishment. But a low turnout, mid summer affair and the scarlet "Rep." next to his name did Kingston in.
How nasty has this race been on a scale of one to 10?
Eight. It could go higher in the next couple weeks, though.
Biggest gaffe:
Perdue saying he was "proud" of his career in outsourcing. Close second is Nunn's statement that "I defer to the president's judgment" on the VA. Both have lived on in TV ads.
How his party sees Perdue:
A cocky newcomer who we are not quite sure about, but our man to hold the seat.
How her party sees Nunn:
A little bland, but Democrats' best shot in a long time to win a Senate seat.
Which group of voters will decide the race?:
Minority voters. The proportion at which they show up is the key—closer to 30 percent of the electorate as African-American would aid Nunn, under 28 percent favors Perdue.
How the man on the street sees Perdue, in 10 words or less:
Haven't I seen that nice-looking man on TV?
How the man on the street sees Nunn, in 10 words or less:
She looks vaguely familiar from TV.
Favorite Georgian food:
Korean-influenced BBQ from
Heirloom Market
on the outskirts of Atlanta.
Favorite ever Georgia politician:
Herman Cain. Awww, shucky ducky.
Favorite Georgian, period:
Tie: Big Boi and Andre 3000.