What Is Ed Gillespie's Backup Plan?
Republicans insist he can win Tuesday. But if he doesn't, it doesn't have to be his last dance.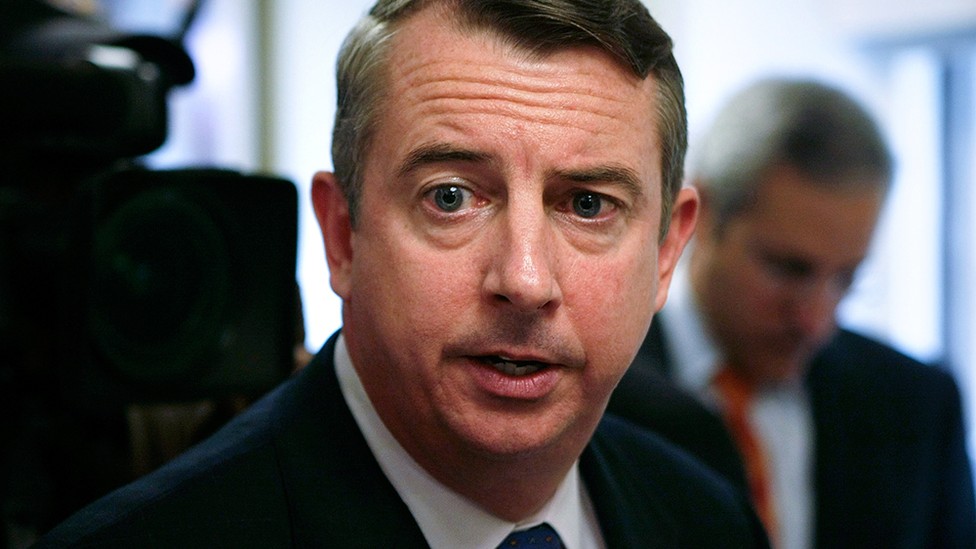 KILMARNOCK, Va.—In the 10 months since he launched his campaign for U.S. Senate, Ed Gillespie has not made many noticeable mistakes. He united the fractious Virginia GOP behind him, raised decent money, worked every corner of the state, and crafted a coherent message in an incessant effort to erode the standing of incumbent Mark Warner.
And after all that, he's losing anyway.
The size of Warner's edge is debatable. It could be that it's "a single-digit race, and we are closing every day," as Gillespie claimed Tuesday at a luncheon in Tappahannock. Or it could be that the polls are right: The last five nonpartisan, publicly released surveys have put the Democrat's lead between 10 and 12 points. Either way, Gillespie is widely regarded as the underdog in a race that never graduated to the top tier of national contests.
Gillespie is, by all accounts, a smart guy, the consummate political pro. So why did he run? What's his endgame? And if the polls are right, what's next for the Republican after his Tuesday night concession speech?
The simplest explanation is often the best one, and Gillespie himself and those close to him say he ran because he thought he could win—at the very least, because he thought it was worth a try.
"Ed Gillespie got into this race because he believed 2014 would be a good year. The environment is far better than he or just about any other Republican candidate could have dreamt of," said Pete Snyder, who ran for lieutenant governor in 2013 and ran the coordinated campaign in Virginia in 2012.
Gillespie was emphatic in an interview Tuesday afternoon in Kilmarnock that his focus is locked on the Senate. "This to me is the right time and the right position," Gillespie said. "I think I could be effective on Day One. The only other race I would want to run would be if I decided to run for reelection to this job after winning a week from today."
Similarly, he had no interest in entertaining a hypothetical about what he will do if he falls short Nov. 4—and whether he might be eyeing a race for governor in 2017 or another Senate bid in 2018.
But losing has been a first step on the path to victory in recent Virginia races, particularly for first-time candidates like Gillespie: Mark Warner lost a Senate race to John Warner in 1996, before rebounding to win the governorship in 2001. Terry McAuliffe was trounced in the 2009 Democratic primary for governor, then triumphed four years later. Both men learned lessons from those initial contests, building up statewide contacts and boosting their name ID.
Win or lose, Gillespie is well placed to follow suit.
He has gained invaluable experience this year. He's earned notice from Virginia Republicans for his willingness to travel to every corner of the state and engage with the grassroots, rather than sitting in his Northern Virginia headquarters and counting on ads to make his case.
He's also learned to be the man in front of the curtain, rather than behind it.
"I like being a candidate," Gillespie said. "I get energized by the campaign trail. ... When you're working for a candidate or in a campaign and you go into a roomful of people, you can kind of sidle up to the side and get a cup of coffee and hope the candidate doesn't make a mistake. Now, anytime you're in a room you've got to be on."
Though they control the General Assembly and a majority of the congressional delegation—with help from redistricting on both fronts—Virginia Republicans are in an electoral slump. They failed in all three statewide races last year, and have now lost three of the last four contests for governor and three consecutive Senate races. President Obama won the state in 2008, the first Democrat to do so in four decades, and again in 2012.
With no statewide elected officials, the Virginia GOP suffers from a leadership vacuum at the top and fierce divisions throughout its ranks, between centrists and conservatives, and between the party establishment and the grassroots. Those divides helped fuel economics professor David Brat's stunning primary upset of then-House Majority Leader Eric Cantor in June.
Given that environment, Gillespie's campaign has been notably unifying. While 2012 Senate nominee George Allen endured sniping from conservatives, and 2013 gubernatorial nominee Ken Cuccinelli got it from moderates, Gillespie has made peace across the spectrum.
"I think that Ed has been a very disciplined candidate and he has also shown a lot of people that he's a very hard worker. ... I think some people have been pleasantly surprised by that," said Susan Stimpson, a former Stafford County Board of Supervisors chair who ran for lieutenant governor last year. "I think he's working very hard on his relationships with people. ... I have seen him work to reach out to grassroots leaders."
When Gillespie got in the race, Stimpson said, "I think that many thought it would be quite probable this was just to lay the groundwork for something in 2017."
Yet Gillespie's path to victory in another race would be crowded.
State Sen. Mark Obenshain earned high marks within the party for the quality of his 2013 attorney general bid, and for how he conducted himself during the recount that handed the job to foe Mark Herring. Obenshain outperformed the rest of the GOP ticket in a tough year, and is expected by many to run for governor in 2017.
It's not clear whether Gillespie would be willing to run against Obenshain, as they have a close relationship. The Republican State Leadership Committee, led at the time by Gillespie, pumped millions of dollars into Obenshain's attorney general effort. Obenshain then became an early backer of Gillespie's Senate bid, and multiple staffers—including campaign manager Chris Leavitt—moved from Obenshain's campaign payroll directly to Gillespie's.
Beyond Obenshain, Snyder could run for governor or make another bid for lieutenant governor, after losing out on last year's GOP nomination to controversial minister E.W. Jackson. Other possible statewide candidates—for governor or to challenge Democratic Sen. Tim Kaine in 2018—include GOP Reps. Randy Forbes and Robert Wittman.
Part of Gillespie's appeal to Virginia Republicans as a candidate is his ability to raise cash. As the former head of the Republican National Committee who helped create American Crossroads, Gillespie has ties to donors across the country.
Through Oct. 15, Gillespie had raised $6.8 million. (Through the same period in 2012, George Allen—a former senator and governor who started his campaign much earlier in the cycle—had raised $12.5 million.)
But given the number of other close races to which GOP donors have been pushed to give, Gillespie has done well, said Republican consultant Dan Allen.
"I think he's raised good money," Allen said. "If you compare him to some of the other races that haven't been targeted nationally, I think he's done very well."
Gillespie has largely been on his own. Outside groups and the National Republican Senatorial Committee have not made the investments in Virginia they have in the other states seen as crucial to determining control of the Senate. Gillespie allies formed a super PAC to help him, the We Can Do Better PAC, but it has spent only about $120,000 on his behalf.
Democrats, for their part, scoff at the notion that this is a genuinely close race being misjudged by all the survey data.
"Our polling is in line with what public polls have shown," said a Warner campaign aide. "Ed Gillespie's line is what losing campaigns say when they're in the last week of the election."
Republican operatives in the state firmly believe the race is more competitive than national polls and prognosticators see it, because they expect turnout among Democrats to be exceptionally low. Part of Gillespie's job now is making that case to fellow Republicans, like William C. Smith, the owner of a sporting goods store in Kilmarnock.
"We need a big win" on Election Day, Smith told Gillespie Tuesday.
"I feel it coming," Gillespie assured him.
"I also felt it coming last election," Smith said. "It didn't happen."