Wave of Ethics Complaints Hits Top Races
As Election Day nears, allegations are often designed to generate headlines, not investigations.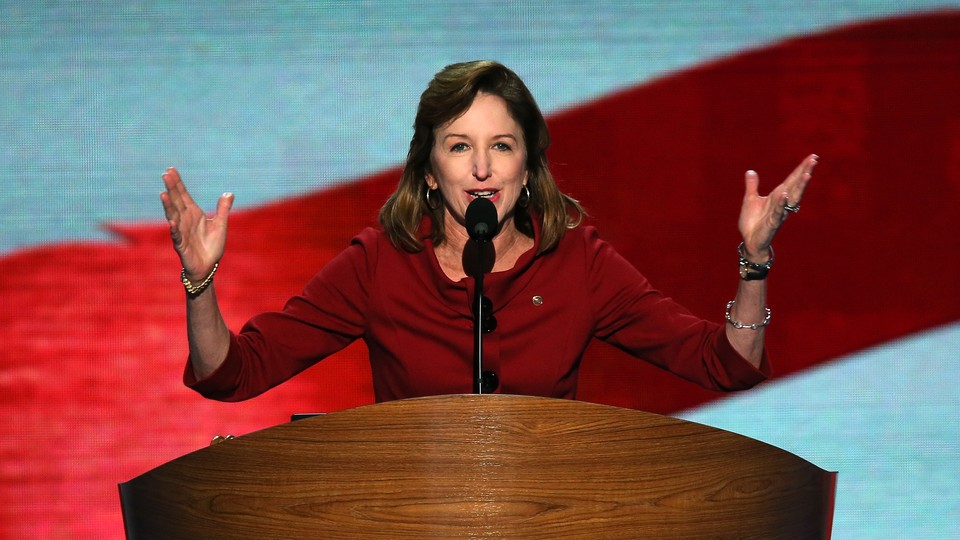 The closest races in the country have always attracted the most ad dollars, ground troops, and media attention. Now, with Election Day approaching, they've become a magnet for something else: ethics complaints.
Over the last month, watchdog groups and political parties have filed dozens of complaints against Republicans and Democrats in tough races, questioning fundraising tactics and accusing campaigns of improper coordination, among other allegations, just as voters begin to tune in to the election-year fight.
Regardless of their merits—and some make much stronger cases than others—the likelihood that any of these ethics complaints will be acted on before Election Day is slim. The Office of Congressional Ethics, for example, which deals with complaints against members of the House, is specifically prohibited from acting publicly on a complaint about a member within 60 days of any election in which he or she is on the ballot. And the Senate Ethics Committee hasn't taken public action against any senator in more than two years.
But for many of these groups, the result of a complaint isn't nearly as important as filing the complaint itself. "It's just a political tactic," says Meredith McGehee, the policy director for the Campaign Legal Center, a nonpartisan watchdog group, and a longtime ethics advocate.
The act of filing an ethics complaint allows campaigns and partisan groups to cast aspersions on their opponents in the press—as long as the press obliges by paying attention. In most cases, the question of whether their claims are legitimate will be left until long after Election Day.
The practice is hardly new, McGehee said. "It's been a fairly common political tactic certainly in the last 20 years," she said. "Though I would note that it seems to kind of go in and out of fashion. "¦ Some cycles you see more of it than others."
The 2014 cycle certainly appears to be one in which ethics battles are back in vogue. And a new group on the scene, the American Democracy Legal Fund, is laying the pathway for many more groups to wage political warfare through typically ignored regulatory filings and ethics-committee investigations in the future.
The ADLF represents a new breed of complainant in what McGehee terms "Dark Arts Campaigning 101." Whereas most ethics watchdogs maintain at least an appearance of bipartisanship, in the past month the ADLF has filed ethics complaints against nine Republican candidates, eight of whom are facing difficult elections in November, and not a single complaint against a Democrat. The ninth Republican targeted by the group, Sen. David Vitter of Louisiana, is running for governor in 2015.
"This looks like a pretty clear and straightforward attempt to go after one party," McGehee said. "I have to say I haven't really seen that before in this way. The groups that have been involved [in filing ethics complaints] have generally been pretty careful about trying to stay nonpartisan. This is kind of a different take on it."
The ADLF, which was established by Media Matters founder David Brock and run by Democratic operative Brad Woodhouse, declined to comment for this story. But the ADLF's website describes it as a group "established to hold candidates for office accountable for possible ethics and/or legal violations," making no mention of party affiliation.
The ADLF has some similarities to Citizens for Responsibility and Ethics in Washington, which is now run by Brock. But unlike CREW, which is incorporated as a nonpartisan nonprofit, the ADLF is registered as a 501(c)4 organization, which can engage in political activity.
All 10 of the ADLF's complaints (including two against Scott Brown, the former senator from Massachusetts now running against Sen. Jeanne Shaheen in New Hampshire) have been filed since September, giving little time for investigators to come to any conclusions before Election Day. "To me, I look at these when they're filed so close to the election—the intent is to influence the outcome of the election," McGehee said.
In that regard, the ADLF and other political groups seem to be having some success. The ADLF's two complaints against Brown in New Hampshire made headlines in a number of national publications. Complaints that the group filed against North Carolina state House Speaker Thom Tillis, Rep. Bill Cassidy of Louisiana, and Iowa state Sen. Joni Ernst—all Republicans running in tight Senate contests this fall—also received significant media attention.
Despite the headlines, the ADLF does not yet appear to be making waves in ethics circles. Staffers at top watchdog groups and even some of the organizations that have received complaints from the ADLF said that they had never heard of the group.
Though the ADLF appears to be the only group currently focused solely on filing ethics complaints against members and candidates of a single party in races across the country, a number of other groups are using similar tactics.
CREW, which identifies itself as a nonpartisan organization, filed a complaint with the Office of Congressional Ethics this week, asking the group to investigate whether Rep. Paul Ryan, who is not in a competitive race this year but is a potential 2016 presidential candidate, received special treatment from Amazon in selling his new book.
State parties have also gotten in on the act. Within the last month and a half, state parties have filed complaints against Republican Rep. Cory Gardner of Colorado; Sen. Mary Landrieu of Louisiana, and her Republican opponent, Cassidy; Democratic Rep. Mike Honda of California; and Senate Minority Leader Mitch McConnell and his Democratic challenger, Alison Lundergan Grimes. All are locked in tight races heading into November.
Additionally, the North Carolina Republican Party filed a complaint against Sen. Kay Hagan, one of the GOP's top targets this year, on Monday—just four weeks before Election Day. The state Democratic Party responded by filing a complaint of its own against Hagan's opponent, Tillis, the very next day.
State GOP spokesman William Allison defended the timing of the Hagan complaint in an interview, noting that the story upon which the allegations were based had been published just a week and a half earlier. "If the story is public, everyone knows that this happened, then I think that we have the responsibility to move in a timely fashion, which we have," Allison said.
All of those cases have received significant local coverage and are likely to play large roles in the final weeks of campaign advertising and debates. In some cases, the complaints have even received national coverage.
"The goal is to get the story written, pure and simple. It's often just to get the headline that suggests a candidate is now 'under investigation,'" said Elliot Berke, an attorney who handles ethics and campaign finance cases. But, he warned: "Such headlines are often misleading and lack context, and transparency without context is very dangerous and counterproductive."
Take this headline the North Carolina Republican Party used in a press release announcing its ethics complaint against Hagan: "Senate Ethics Committee Begins Formal Investigation of Kay Hagan's 'Stimulus' Payday."
Technically, the state party is correct. For many of these investigative bodies like the Federal Election Commission, the Senate Ethics Committee, and the Office of Congressional Ethics, the mere act of filing an ethics complaint against a candidate or member of Congress automatically triggers an investigation or at least a review of the allegation. That step could lead to weeks of interviews and potential ramifications for the candidate, or it could start and end with a staffer reading a complaint and throwing it in the trash. Whether the committee will pursue the complaint or believes that there are any merits to it—as the party's headline implies—is not clear. The Senate Ethics Committee does not comment on complaints or ongoing investigations.
When asked about the press release's potential to mislead voters, Allison, the state party's spokesman, defended the language as accurate. "What we're saying is that once the complaint is filed, they're automatically required to begin looking into to it," he said. "The precise steps that [the committee takes] to do that, they can speak for themselves. But they are automatically required to begin looking into it."
But that nuance isn't the only issue. Technically these watchdog groups and political parties can file ethics complaints against any individual, regardless of whether that candidate falls under an ethics committee or agency's jurisdiction. The ADLF, for example, filed a complaint with the Office of Congressional Ethics against Republican Barbara Comstock, who is running for a House seat in Virginia. The problem: The office can only investigate matters relating to members of the House, not candidates for Congress.
"ADLF filed the complaint with the Office of Congressional Ethics, and many media outlets reported that fact while stating that the complaint likely wouldn't be resolved before Election Day," said Berke, who is working as legal counsel for Comstock's campaign. "But what no one reported was that the OCE has no jurisdiction over nonincumbent candidates and, consequently, it has no power to even review the complaint. So there is literally nothing to resolve now or after Election Day."
Regardless of the eventual outcome—and the motivations of the filer—the specter of an ethics inquiry can still be damaging to a candidate heading into Election Day. And that's what many of these groups, Berke and McGehee say, are counting on.
"Everybody knows it's not going to get resolved between now and the election. Everybody knows it's a tactic. But, for the people who don't pay attention, it's a good lick to get in on your opponent," McGehee said.
McGehee and Berke said they worry that more and more groups dedicated specifically to filing ethics complaints against members of the opposing party in an election year, like the ADLF, will begin to emerge. Berke called it an "unfortunate trend," but a "profitable one," noting that campaigns and outside groups often use ethics complaints to solicit money from donors.
McGehee said she worries specifically that a flood of complaints with clear partisan goals could further turn off an electorate that already questions the ethics of their elected officials. "I think it turns people off from the process, and that's dangerous," she said. "When you start going down a partisan path, I think—to me, it begins to undermine the work that is done to try and say that, look, these are common standards that everyone regardless of partisan ideology agrees upon. And I think that's an incredibly important kind of line and principle to have, regardless of whether you're Republican or Democrat."
What's more, the use of ethics inquiries as a campaign tactic, particularly in cases without a solid foundation, could cause voters to have less faith in more legitimate cases. "It will either desensitize the voters to legitimate ethics cases, or it will continue to negatively affect the voters' confidence in our elected officials. And neither is good for our country," Berke said.
CORRECTIONS: An earlier version of this story incorrectly described how the Office of Congressional Ethics handles ethics complaints. OCE reviews every complaint it receives that falls within its jurisdiction, but is not required to launch a formal investigation in every case. An earlier version of this story also incorrectly described American Democracy Legal Fund as an "offshoot" of Citizens for Responsibility and Ethics in Washington. ADLF was established by David Brock, who also serves as chairman of CREW's board, but otherwise the two groups have no official relationship.