To Raise, Love, and Lose a Black Child
Jordan Davis's mother, Lucia McBath, reflects on the guilty verdict in his murderer's trial.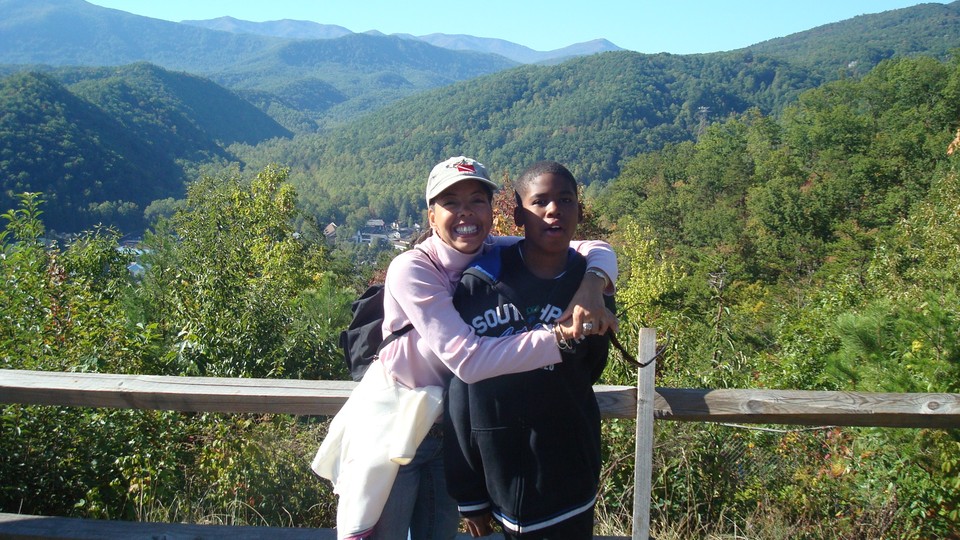 Last Friday, I called Jordan Davis's mother Lucia McBath. It's been almost two years since her son was murdered by a man who took offense to his music. The murderer was Michael Dunn. After shooting the boy, Dunn drove to a motel with his girlfriend. He ordered pizza. He mixed a few cocktails. Then, the next day, he turned himself in and claimed that he was defending himself against a shotgun-wielding Davis. No shotgun was ever found. In his first trial, Dunn was convicted of attempted murder, for shooting—unjustifiably—at Davis's friends. He was not convicted of murdering Jordan Davis after the jury deadlocked. The state of Florida retried the case, and this time convicted Dunn of first-degree murder.
McBath and I had talked twice before and each time I'd found her to be a woman of direct and open feeling. The first time we talked she cried as she recounted the life of her lost son. The second time she stood before my son and insisted that he mattered, though all the powers of the world might tell him different. With wild theories of phantom shotguns now banished, I wanted to know how McBath felt and how she was filling the yawning space left by her departed son.
"I guess I'm speechless," she said. "Excited. Happy. It feels like the weight of the world has been lifted. But I definitely am waffling back and forth. I was elated about justice for Jordan, but I would prefer to have him here, thriving and growing. I wish that was my reality, but in light of everything this is the best I can get."
She told me that she'd taken the energy that she'd once put into child-rearing and given herself over to activism. She has set up a scholarship fund in her son's name. She is working with President Obama's My Brother's Keeper initiative.
"I've been working with them because my heart is for our people," she said, speaking of My Brother's Keeper. "My heart is for everyone, but I know that there is a lot of work that has to be done for my own people."
McBath spoke about the need to inculcate our young with certain values and morals. But I knew that she had taught those same values and morals to her son. And they had not saved him.
"It's very difficult to know that it doesn't matter what morals you instill in your children," she said. "That there are certain people who will never see the value and known who they are."
Davis hailed from the striving class of America. He grew up with all the comforts and possibilities that black people associate with Atlanta, where he was raised, and which Americans at large associate with middle-class life. And yet African Americans raised in such circumstances understand that in so many ways they are not that far removed from the block. Many of them are just a generation away, and they still have cousins, brothers, and uncles struggling. Their country cannot see this complexity, and thinks of the entire mass as the undeserving poor—which is to say, in the language of our country, criminal.
"For these people, The Cosby Show was just amusement," McBath said. "They don't know that in the black community the Cosbys exist. They don't know that we educate our children, we train up our children, we have fathers, nurturing, and supporting. We have that. But that's the America that a lot of people don't know exists, and they don't know because they don't want to see it."
But American blindness had not dissuaded her, and when I asked about the path forward she spoke mostly (like the president she supports) of communal self-improvement. "We've become apathetic and comfortable, thinking we have arrived," she said. "A lot of us know we have an African-American president, but they don't know how he got there. They don't know what our forefathers did to get him there. And you can't fault our children. Shame on us, the parents. Shame on us."
In this I heard the essential problem of 21st-century black philosophy. Black people are a minority in the country they built. The legacy of that building has remanded them to the basement of America. There are only two conscious ways to escape the basement: (1) Appeal to the magnanimity of white people. (2) Become super-human. The first option is degrading and demoralizing, in that concedes the possibility of not being human. Whatever can be said of the nonviolent protests of the '60s, they rejected a right that Americans cherish in all their myths and histories: the right of self-defense. The appeal essentially says, "We will be human when you allow it."
The second option—being twice as good—is impossible as a reality. And, to paraphrase Michelle Alexander, this is not because there is something wrong or special about black people, but because we are, like everyone else, ultimately human. Indeed, the notion that 40 million people will prove themselves "twice as good" as some other million is the opposite of humanism. Perhaps "twice as good" works as a kind of religion—a personal inspiration for those of us who cannot bring themselves to say, "We will be human when they allow it."
The unspoken option is guns. But this is not really an option at all—and not merely because it is impractical. Black people are Americans, one of the oldest classes of Americans. It is crucial to understand this. We are not seeking integration into someone else's burning house. We built the house. It belongs to us as much as it belongs to anyone. And I think we will no more destroy our own American home than we would shoot down our own American children. Perhaps that isn't even the 21st-century problem. Perhaps it's the problem of a minority. But something happens to the black person who realizes that his fundamental political condition consists of navigating between a suite of bad choices.
And white people know this. And white people want no part of this. The day I talked to Lucia McBath, I read a story about a white couple suing over "wrongful birth." The "wrongful birth" came about because one of the mothers was mistakenly artificially inseminated by a black man. The mothers claimed that their desire was to "find a donor with genetic traits similar to them." There are all sorts of genetic traits influencing everything from height to weight to eye-color to predilections to certain diseases. But the traits that the couple wanted were those that firmly would place their child under the protective dome of white America.
Instead the parents (Jennifer and Amanda) got a black girl (Payton) who belongs to an outlaw class. One need not doubt the mothers' claims of love to understand what is happening here:
Jennifer bonded with Payton easily, and she and Amanda loved her very much .... Even so, Jennifer lives each day with fears, anxieties and uncertainty about her future and Payton's future .... One of Jennifer's biggest fears is the life experiences Payton will undergo, not only in her all-white community, but in her all-white, and often unconsciously insensitive family .... Jennifer's stress and anxiety intensifies when she envisions Payton entering an all-white school .... Jennifer is well aware of the child psychology research and literature correlating intolerance and racism with reduced academic and psychological well-being.
This scenario is almost indistinguishable from any black parent forced to confront the future of their child in this country. The heart of the problem is that the mother's child has been kicked out the dome and thrown into the wiles where—like all of us—her child stands a not-insignificant chance of becoming Jordan Davis.
And this was the summer of Jordan Davises, the summer of bodies when every day, a black parent could log on to the Internet and see the bodies of black people choked into oblivion, beaten on the side of the road, stalked and raped, tased for straying too long, pistol-whipped for running too fast, shot down for mental illness, shot down for cos-play, shot down for allegedly ignoring orders, shot down for too quickly obeying orders.
"I'm still watching," McBath told me. "It might be a different circumstance, but it all brings back to my mind what happened with Jordan. This is what certain individuals believe about black people. Our forefathers have spent a lot effort trying to get rid of these prejudicial ideas."
I asked her about Trayvon Martin. And she told me again that Jordan had been horrified by Martin's shooting. "Jordan kept saying, 'Mom, that could have been me. Mom, that could have been me.' We talked at length," she said. "He said, 'He didn't even do anything wrong.' And I told him, 'Jordan, you don't have to be doing anything wrong. You are a young black male and they are certain people who will never give you respect.'"