Three Questions Surrounding BP's Puzzling Politico Piece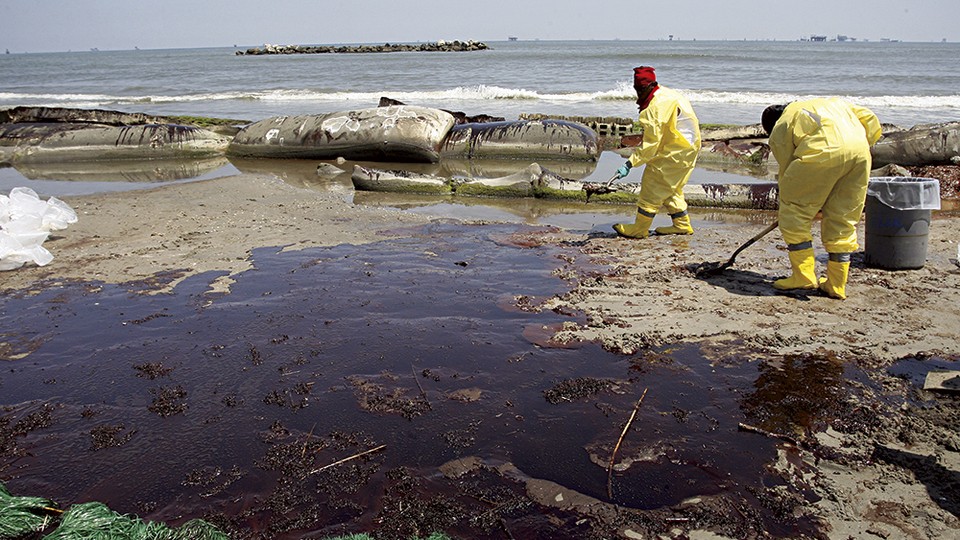 Politico Magazine on Wednesday published an editorial from oil major BP titled "No, BP Didn't Ruin the Gulf." It went poorly for everyone involved.
Media critics, including The New Republic and The Washington Post's Erik Wemple, panned the piece as a breach of journalistic ethics, noting that—despite being initially labeled as an environment story—the piece was actually authored by an oil company spokesman, a caveat not revealed until the bottom of the page. Adding to the criticism is BP's frequent appearance as a sponsor of Politico's Playbook newsletter. (Disclosure: BP also runs advertisements with National Journal.)
The BP argument has since been labeled an opinion piece. And Politico last year ran an opinion piece from the president of the National Audubon Society criticizing BP for its Gulf Coast efforts. But fair or not, no publication enjoys reading criticism of its integrity spread across the Internet.
Which brings us to BP. The oil giant's statement was mostly a reiteration of the company's case that it continues to successfully clean up the Gulf Coast following the largest oil spill in U.S. history. But it was also a rebuttal to ongoing criticisms that BP's damage remains undone—both from environmental groups and in mainstream media articles.
So who's behind BP's piece?
For Geoff Morrell, the BP spokesman who penned the piece, media scolding is nothing new.
Morrell was the press secretary for the Pentagon from 2007 until he joined BP in 2011, and he has been talking up the Gulf's recovery ever since. He's also not shy about taking aim at those who don't play up the rebounding environment. In a speech to a Society of Environmental Journalists conference in New Orleans last month, Morrell implicitly criticized his audience for failing to provide the "full context" in stories about the spill response.
"Many of you reported on the spill when it first happened—and in the months that followed—but what's happened in the years since, in my opinion, has been underreported," he told the reporters. "As a result, too few people realize that the Gulf has shown remarkable resilience, defying dire predictions made at the time of the accident."
And why does BP keep diving into the argument?
Attacks from environmental groups on oil companies come with a stream steady enough that they rarely raise eyebrows, even among environment and energy insiders. But when the tiger turns after its tail is pulled, that's when the companies find themselves in the limelight. And when the topic of discussion is an offshore oil accident that killed 11 people and leaked nearly 5 million barrels of oil, that limelight is rarely flattering.
Obviously, the company cares about its image, and wants to defend it in a public platform. "This was an opinion piece submitted by BP to an influential newspaper to counter several op-eds about the Gulf that previously were published in this and other media outlets. It's no different than any other op-ed by any other company in any other publication," BP spokesman Jason Ryan said in a statement.
But there's a bigger risk for BP than public image: Resolving oil spills—and the compensation claims they spawn—can easily become a perpetual process. Just ask ExxonMobil, which for more than two decades has been debating the impact of the Exxon Valdez disaster on Alaska's Prince William Sound, as well as fighting requests to continue to pay for it. The company has already paid out billions in fines and compensation for the spill, but the terms of its 1992 settlement with Alaska and the federal government allowed for the case to be reopened as damages continue to be assessed. Requests for more have come ever since.
In Alaska, the case hinges on how well the ecosystem has recovered from the spill. That's not an easy assessment: Ecosystems lack a static health condition before they're hit by an oil spill, nor do they maintain one after. Natural weather cycles (think polar vortex), climate change, environmental changes elsewhere, and subsequent human activity all complicate assessments of how well an ecosystem has healed.
If BP is to avoid a similar entanglement, the company will at some point have to convince enough elected officials and courts that the Gulf Coast has recovered and that the company's penance has been paid.
That process is far from finished: BP is appealing a Sept. 4 court ruling that found the company "grossly negligent" in the spill, opening it up to $18 billion in fines.
Is BP right about the recovery?
Consensus on when the Gulf's recovery is complete —or even on when BP has paid its dues—is not coming. The monetary stakes are too high, and the science isn't going to yield a definitive answer.
A 2014 study in Science found that toxins were having negative effects on bluefin tuna, while a separate study in the Proceedings of the National Academy of Sciences found deformities in some fish species exposed to oil. The National Wildlife Federation has compiled studies pointing to illnesses in the dolphin population following the spill, rates of stranded sea turtles five times what they were before the spill, and the potential loss of entire age classes of some fish. Scientists have cautioned that it could be years until the full effect is known. In a more literal example of the lasting impact of the spill, tar balls continue to wash up on Gulf shores.
But BP, via Morrell, is making a case that the Gulf continues to bounce back. The company notes that gulf shrimp landings are returning to pre-spill levels, tourism is on the rise, and fish are being caught at volumes not hit for more than 30 years. It's evidence, BP says, that the Gulf has rebounded better than expected, a narrative BP says will be borne out in the Natural Resource Damage Assessment from the government, state agencies, and BP itself.
The company pins those positive developments to its cleanup efforts, to initial overstatements of the damage done, and—in Morell's words—to the "Gulf's inherent resilience."