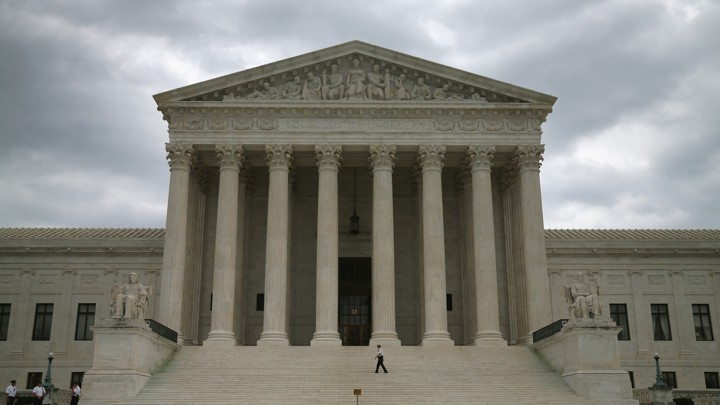 The Supreme Court on Monday declined to review seven same-sex marriage appeals, allowing same-sex marriages to go ahead in five states and putting off a potential landmark case on marriage at the Court.
After lower courts struck down same-sex marriage bans in Indiana, Oklahoma, Utah, Virginia, and Wisconsin, the decisions were appealed to the Supreme Court. By refusing to hear the appeals, the Supreme Court allowed the lower courts' decisions to stand, immediately ending obstacles to same-sex marriage in those five states.
Other states in the same Appeals Court circuits as the lower courts that struck down the bans will be affected as well: The path is clear for Colorado, Kansas, North Carolina, South Carolina, West Virginia, and Wyoming to move forward with same-sex marriages.
The decision makes same-sex marriage legal in 30 states and the District of Columbia.
While the Supreme Court's decision is a win for same-sex marriage activists in the short term, justices' refusal to review the lower courts' appeals means that gay marriage is still decided on the state level rather than affirmed or denied nationally.
"The Court's delay in affirming the freedom to marry nationwide prolongs the patchwork of state-to-state discrimination and the harms and indignity that the denial of marriage still inflicts on too many couples in too many places," said Evan Wolfson, president of Freedom to Marry, in a statement.
Although some technical steps remain, clerks in the affected states can already begin to issue marriage licenses, says Chris Ahmuty, executive director of the American Civil Liberties Union of Wisconsin. The Supreme Court's rejection of the states' appeals must first reach the circuit courts, which will each in turn issue a mandate that says same-sex marriages can go ahead.
Ahmuty says the mandates should be handed down "today or tomorrow." The 10th Circuit Appeals Court, which covers Oklahoma and most of Utah as well as four other states, has already issued its mandate. Until the rest of the mandates are passed down, it's up to each individual county clerk to start issuing licenses.
Virginia Attorney General Mark Herring announced in a tweet that Virginia would start conducting same-sex marriages at 1 p.m. Monday:
The 4th Circuit says their mandate will issue at 1 PM & marriages can then begin. What a momentous & joyous day for thousands of Virginians.

— AG Mark Herring (@AGMarkHerring) October 6, 2014
George Christensen, deputy county clerk of Milwaukee County, Wis., says that his court is prepared to issue same-sex marriage licenses immediately "based on the Supreme Court's decision to reject the appeal by the state of Wisconsin." Christensen said his office spoke to its legal counsel to "verify that our interpretation was correct," and decided that it's able to issue licenses immediately.
We want to hear what you think about this article. Submit a letter to the editor or write to letters@theatlantic.com.