Team Obama Isn't Blinking on Carbon Reduction
Even under the threat of a Republican Congress, Energy Secretary Ernest Moniz insists the White House will keep pushing for lower emissions.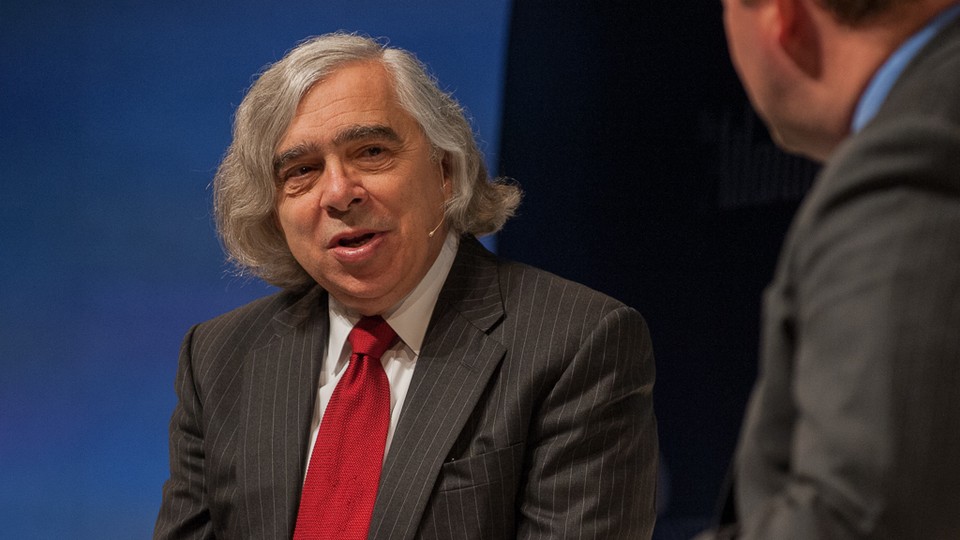 With most signs pointing toward a Republican victory in the midterm elections, is the Obama administration feeling the heat on climate-change policy?
It doesn't look like it. Pressed by Jonathan Allen on carbon policy and more at the Washington Ideas Forum Thursday, Energy Secretary Ernest Moniz was as unruffled as his famous hairstyle. Moniz said the White House was ready to forge ahead on carbon-reduction plans, offered no indication that it would change its view on the future of coal in America, and vowed to use executive actions to implement its climate-action plan, even if congressional Republicans don't like it.
"There isn't a war on coal," Moniz said. "There is, make no bones about it, a fundamental commitment, that starts with the president, on moving to a low-carbon future."
Obama's alleged antipathy to coal has been a major issue in some races, pulling down Democrats running in Appalachian states—in particular Senate nominees Alison Lundergan Grimes of Kentucky and Natalie Tennant of West Virginia, and Representative Nick Rahall of West Virginia. But Moniz said the administration really is committed to an "all of the above" energy policy, which means recognizing that coal is an essential (if shrinking) part of the U.S. portfolio and investing in ways to get the most energy from it with the lowest possible emissions.
What about approving the Keystone XL pipeline or lifting a ban on exports of crude oil, two policies favored by many Republicans and a good number of moderate and centrist Democrats? The secretary, who has remained tight-lipped on the issue in the past, happily skipped over the pipeline question, noting that the decision lies with Secretary of State John Kerry. And while he wouldn't take a clear stand on the export ban, Moniz didn't seem especially eager to change current policy.
"We're evaluating all of the factors. The arguments are a little overventilated there," Moniz said, emphasizing that while the U.S. doesn't export crude oil, it's still a major exporter of refined petroleum products. And, he noted, there's no reason to believe that pushing American crude onto the market would make a huge difference for people trying to fill up at the local gas station. "We remain linked to the global oil market and global oil prices."
One proponent of lifting the ban is Senator Lisa Murkowski of Alaska, one of the nation's biggest oil producers. Murkowski is also the ranking member on the Senate Energy and Natural Resources Committee and stands to take over the committee if Republicans win control of the Senate Tuesday. Moniz said the administration has a good relationship with both Murkowski and the current chair, Democratic Senator Mary Landrieu of Louisiana, but he said the Obama administration would forge forward, Senate backing or not.
"When it comes to the climate-action plan, which is our main guide for what we are doing, we are exercising all of those programs through existing executive authority," he said. "We will continue to aggressively pursue our programs with our executive authority."
That's similar to what other Cabinet members, and the president himself, have said already. But with chances of a Republican takeover looking higher and higher, Moniz's words are a preview not only of what to expect from U.S. energy policy over the next two years, but of what to expect from the White House overall: Not many new initiatives, constrained horizons, and a focus on finding ways to execute existing policy through executive authority.