The NSA's Moonlighting Problem
A former NSA head has recruited one of his underlings for his lucrative cybersecurity firm—but that underling still works for the agency.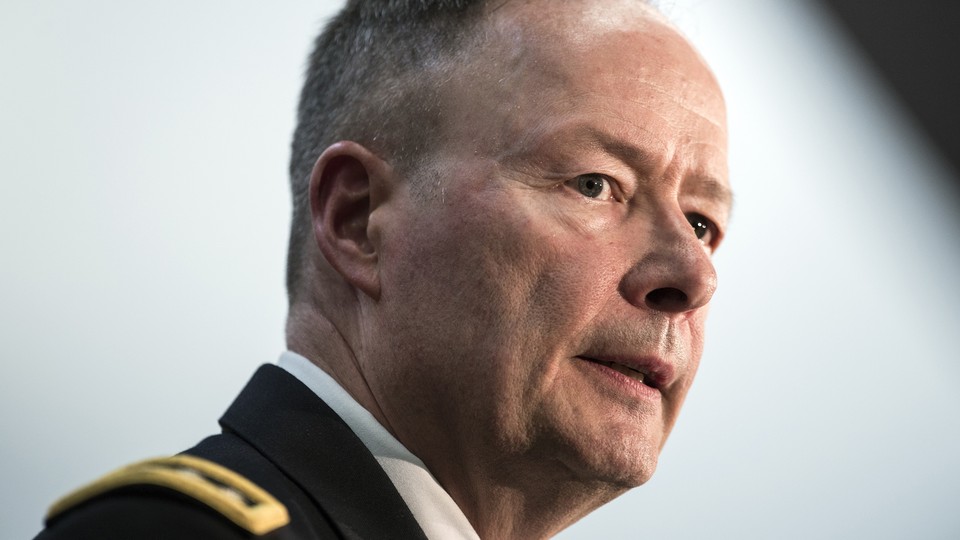 In Washington, the revolving door between government service and more lucrative ventures is common, if not expected. However, having one foot in each has raised questions for the National Security Agency, which has launched an internal review of one senior official who was recruited by former NSA director Keith Alexander to work for his new—and very lucrative—cybersecurity private venture.
Patrick Dowd, the NSA's chief technological officer, is allowed to work up to 20 hours a week for Alexander's firm, IronNet Cybersecurity, Inc., according to Reuters, which broke the story on the deal. Although the arrangement was apparently approved by NSA managers and does not appear to break any laws on its face, it does raise questions about ethics and the dividing line between business and one of the most secretive agencies in government.
NSA spokeswoman Vanee Vines told Reuters, "This matter is under internal review. While NSA does not comment on specific employees, NSA takes seriously ethics laws and regulations at all levels of the organization."
Alexander, acknowledging that the dual roles were "awkward," said that Dowd wanted to join IronNet full-time, but he declined the request, saying, "I wanted Pat to stay at NSA." He added: "I just felt that his leaving the government was the wrong thing for NSA and our nation."
Alexander, who retired from the NSA in March, was the founding general in charge of U.S. Cyber Command. His firm ostensibly draws on the prestige of that post—something that caused at least a little eyebrow-raising. Over the summer, it was revealed that Alexander's firm would charge as much as $1 million a month to help banks protect their assets against digital assaults. Others have criticized him for filing anti-hacking patents on technology that he developed while he was the head of the NSA. Some of these were co-filed with Dowd.
In other words, it already seemed as though Alexander profited from work he did while employed by the government. Now, we know he's profiting from employing somebody who still has agency access.
This isn't the only conflict-of-interest case confronting the NSA. Last month, BuzzFeed reported that Teresa Shea, the head of the overseas electronic eavesdropping efforts within the NSA, is married to a vice president of DRS Signal Solutions. DRS Signal Solutions is a contractor for the NSA. A subsequent report revealed that Shea was running an office and electronics sales and rental business out of her home.
The Pentagon's inspector general found in August that Regina Dugan, the former director of DARPA, used her position to bring agency attention to a technology research company that she created. But Dugan's career hasn't exactly petered out: She's now Google's vice president for Engineering, Advanced Technology and Projects. And just what does that sector of the giant do?
Among other things, it works on robotics projects for the military.