The Larger Question of Quarantine
Poor execution doesn't really say anything about the method.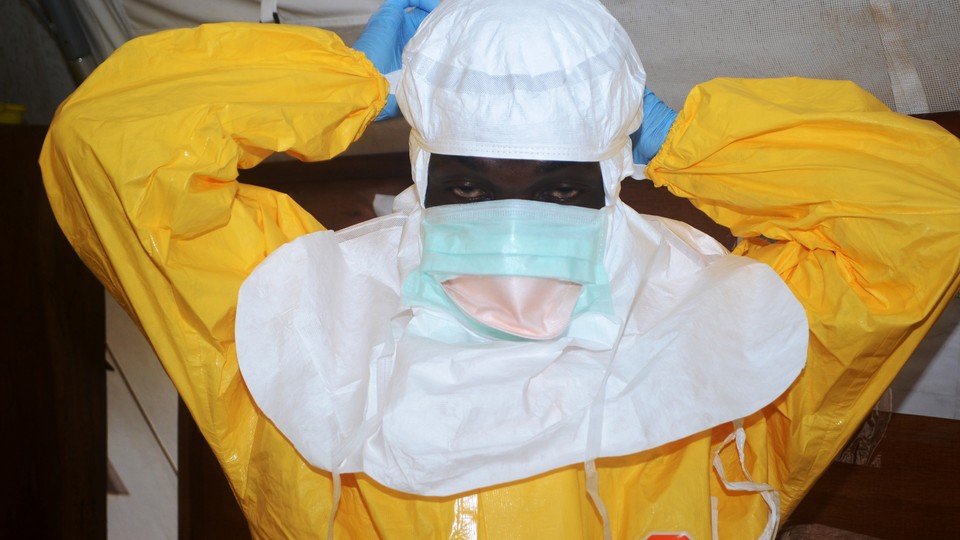 Kaci Hickox, a nurse returning from treating Ebola patients in Sierra Leone on Friday, was the first American to be forced into involuntary quarantine following a new policy enacted by New Jersey Gov. Chris Christie. By Saturday, she had penned a first-person account in The Dallas Morning News of what she described as her inhumane treatment at a New Jersey hospital. And by Sunday, Hickox had hired lawyers to mount a legal challenge.
In an editorial published Monday, The New England Journal of Medicine called the quarantine approach "not scientifically based," "unfair and unwise." But the journal also added that in the event a returning worker comes down with a fever, that person should immediately get to a hospital. "At this point the public does need assurances that returning workers will have their temperatures and health status monitored according to a set, documented protocol," the authors note. "In the unlikely event that they become febrile, they can follow the example of Craig Spencer, the physician from New York who alerted public health officials of his fever."
While the initial quarantine policies enacted by New York and New Jersey have been widely criticized as overreaction, Christie has defended his decision to quarantine Hickox in particular as the lesser of two evils. "I'm sorry if in any way she was inconvenienced, but inconvenience that could occur from having folks that are symptomatic and ill out amongst the public is a much, much greater concern of mine," Christie said Saturday. New York Gov. Andrew Cuomo, after softening his state's quarantine policy over the weekend, explained: "My personal practice is to err on the side of caution."
But that a nurse returning from treating Ebola patients in West Africa with risk factors such as a probable fever could reasonably be assumed to need further testing—that seems rather reasonable. Indeed there's a good case to be made that quarantining her while a suspected fever is sorted out is decidedly not, in fact, "an insane overreaction." According to the Center for Disease Control and Prevention's guidelines, Ebola is detected in the blood only after the onset of symptoms and "it may take up to three days after symptoms appear for the virus to reach detectable levels." (On Monday, Hickox having been shown to have no sustained fever or symptoms, was released from supervision.)
Airport authorities flagged Hickox for quarantine after she registered a 101-degree temperature on a surface thermometer. Also known as a forehead scanner, the surface thermometer works by using an infrared light applied to the patient's forehead to take her temperature. In her account in the Morning News, Hickox said she believed her flushed face contributed to the initial elevated reading. "I explained that an oral thermometer would be more accurate and that the forehead scanner was recording an elevated temperature because I was flushed and upset," she wrote. It's an open question whether she indeed had a fever, and in the end, she said, the government authorities won.
Even if it's true, as Hickox argues, that forehead scanners are much less reliable than regular thermometers, officials in the airport still had good reason to use instruments like scanners that would protect their own safety, and act on the findings.
What is most offensive, then, about what happened to Hickox is not the quarantine itself but the way she was cared for in New Jersey. Or hardly cared for, as the case may be.
She was locked in a tent without so much as a television or shower. When she was hungry and thirsty she was given only a granola bar and some water. These details of her story speak to a troubling lack of government thought put into who is quarantined and how. It may even raise the question of whether quarantine is so logistically unwieldy that it's not worthwhile.
Many have argued that quarantining health care workers could make the Ebola epidemic worse by discouraging them from going overseas to treat the sick in the first place. "We do not ask that doctors who treat patients with infectious disease spend their lives in quarantine—and for good reason," wrote Vox's Sarah Kliff. "If the cost of treating infectious diseases was to give up everything else you love in life, no doctors would treat infectious diseases, and we would all be at much greater risk."
But nobody's proposing that Hickox (or any of the other returning doctors, for that matter) spend their life in quarantine. Hickox had the same exposure as practically every other person to contract Ebola in the country: With the exception of Thomas Eric Duncan, the Liberian visiting family in Dallas who became the first Ebola patient diagnosed in the United States, the people affected by the disease in the U.S. have all been health workers working with Ebola patients. That is why health officials in New Jersey were worried enough to detain her.
And the question at hand—namely, whether someone exhibiting symptoms and a history like Hickox's should be quarantined until her fever clears—should not be conflated with the particulars of her terrible treatment in New Jersey.